Autumn 2000 (8.3)
Page 97
SOCAR Section
LUKOIL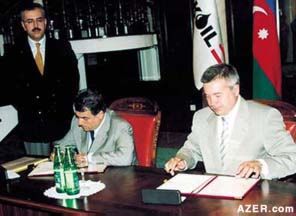 In September, Azerbaijan's President Heydar Aliyev awarded Vagit Alakbarov, an Azerbaijani, who heads Moscow-based LUKOIL with one of the highest state honors - that of the "Shohrat" Order.

Left: Natig Aliyev, President of SOCAR, and Vagit Alakbarov, President of LUKOIL, at the June 5 signing ceremony for the Zigh-Hovsan contract.

The President congratulated Alakbarov on his 50th birthday and wished him strong health and success in his work. He added, "The participation of your esteemed company in international projects in the Azerbaijan sector of the Caspian plays an important role in the development of Azerbaijan's oil industry, the country's integration with the world economy, as well as the development of economic partnership between Azerbaijan and Russia. Together with all the people of Azerbaijan, I am proud of your achievements and hope that your activity will continue serving the friendship between Russia and Azerbaijan.

On June 5, 2000, LUKOIL took part in a Signing Ceremony for the development of the Zigh-Hovsan prospect, located onshore on the Absheron Peninsula. The project is shared equally between SOCAR and LUKOIL.
_____

From Azerbaijan International (8.3) Autumn 2000.
© Azerbaijan International 2000. All rights reserved.
Back to Index AI 8.3 (Autumn 2000)
AI Home | Magazine Choice | Topics | Store | Contact us