Autumn 2000 (8.3)
Pages 90-91


Off to Sydney!
Olympic Games 2000



Above left: Olympic hopeful Mahaj Nuriddinov, 23, has won first place in his weight category at several international tournaments.
Above right: Wrestler Namig Abdullayev, 28, will compete at the 2000 Olympic Games in Sydney.

Azerbaijan's Olympic Hopefuls
At this year's Olympic Games in Australia, 31 athletes are representing Azerbaijan in nine different sports, including wrestling (both Greco-Roman and freestyle), judo, shooting, weight-lifting, diving, swimming, and track and field. The athletes and the 48 people accompanying them (physicians, coaches, instructors, sports specialists and interpreters) left for Sydney on September 2 and will return October 2. Opening Ceremonies take place on September 15. Azerbaijan's team will make the long flight east via the Emirates and Singapore.

"Traditionally we are strong in wrestling, both Greco-Roman and freestyle," says Husein Aliyev, Executive Manager of Azerbaijan's National Olympic Committee. "This time we're better prepared than when we went to Atlanta (1996). Our wrestlers, boxers and weight lifters have undergone special training for the Olympics. But who knows? Maybe we'll have some victories in other sports, too. It's impossible to predict."

For an athlete to qualify he or she must have placed at least eighth in any world championship or third in any European championship. In addition they had to compete in eight tournaments to gather a cumulative total of 76 points.

Support for the Olympic team came primarily from President Heydar Aliyev and his son Ilham, President of Azerbaijan's National Olympic Committee. Corporate sponsors include the international oil company Conoco, which has recently returned to set up office again in Baku after pulling out last year.

Azerbaijan's involvement in the games can be categorized into three main time periods. At first, Azerbaijan's athletes represented the Soviet Union from 1952 until its collapse in 1991. The following year, they competed under the umbrella of the CIS (Commonwealth of Independent States). Not until 1996 did Azerbaijan participate as a sovereign country at these international competitions.

1952 Helsinki
Azerbaijan's first appearance at the Olympics took place in 1952 during the 15th Summer Games held in Helsinki, Finland. Five Azerbaijani athletes competed for the USSR team: Rashid Mammadbeyov, Georgy Sayadov, Ibrahimpasha Dadashov (freestyle wrestling), Artyom Teryan (Greco-Roman wrestling) and Khandadash Madatov (long jump). Mammadbeyov won a silver medal in freestyle wrestling in the 52kg weight category. It was the first medal ever won by an Azerbaijani athlete at the Olympics. Teryan took a bronze. Sayadov placed 4th and Dadashov 8th. Of course, it was the Soviet Union that gained recognition for these victories.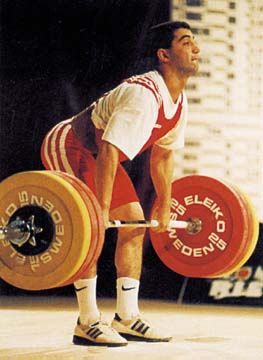 1956 Melbourne
Azerbaijani sprinter Yury Konovalov won the silver medal in the 4x200m relay at the 16th Olympic Games held in Melbourne, Australia.

1960 Rome
Two Azerbaijani athletes, runner Yury Konovalov and water polo player Yevgeni Saltsin, captured silver medals at the Rome Olympiad.

Left: Weightlifter Elkhan Suleymanov, 26, hopes to take home a gold medal from this year's Olympics.

1964 Tokyo
Six athletes from Azerbaijan competed in the 18th Summer Olympic Games held in Tokyo. Medalists included: Viktor Mineyev (gold in pentathlon), Inna Riskal (silver in volleyball) and Aydin Ibrahimov (bronze in wrestling). Bortkevich and Kuznetsov took bronze medals in water polo.

1992 Barcelona
By the time the 1992 Summer Olympic Games were held in Barcelona, Spain, the USSR had already collapsed. Five Azerbaijani athletes competed as members of the CIS team: Nazim Huseinov (judo), gymnast Valery Belenky, fencer Ilgar Mammadov, shooter Valery Timokhin and table tennis player Valentina Popova. Belenky took home a bronze medal. The 1992 Olympics marked the first time that Azerbaijan's national flag was raised as an independent nation at the Games.

1996 Atlanta
Azerbaijan participated as a sovereign country for the first time at the 26th Olympic Games held in Atlanta, Georgia (U.S.) in 1996. No longer were the athletes under the Soviet Union or the CIS. There were 23 Azerbaijani athletes who participated in 11 events. Freestyle wrestler Namig Abdullayev brought home the first silver medal for the Republic of Azerbaijan. A stamp was issued to commemorate the event.

1998 Nagano
At the 18th Winter Olympic Games in Nagano, Japan, Azerbaijan sent athletes to compete in both singles and doubles figure skating as well as alpine skiing. Competitors included Igor Pashkevich, Yuliya Vorobyova, Alexander Anishenko and Inga Rodionova. As Azerbaijan is mostly viewed as a warmer country, it was quite a feat to qualify to participate in the winter sports.


Much of the above information was taken from the newly published book "Azerbaijan at the 27th Olympic Games: Sydney 2000." Arzu Aghayeva also contributed to this article.

_____

From Azerbaijan International (8.3) Autumn 2000.
© Azerbaijan International 2000. All rights reserved.

Back to Index AI 8.3 (Autumn 2000)
AI Home | Magazine Choice | Topics | Store | Contact us