Autumn 2000 (8.3)
Page 82
Education
Connected to the Web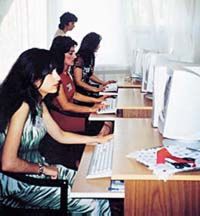 Baku's National Akhundov Library opened its brand-new Internet Hall on July 18, 2000, making it the first State library to offer access to the Internet. The project was the brainchild of Director Leyla Gafurova, who approached the Eurasia Foundation in 1998 and applied for grants for renovation, equipment and training of librarians.

Via seven IBM computers, patrons now have access to other libraries and Web sites and can print out information that they need. The service, which is restricted to educational purposes, costs users half that of Baku's local Internet clubs. In the future, Gafurova intends to post library catalogs on the Internet along with books in Azeri.

Azerbaijan's Medical University has also acquired access to the Internet, enabling doctors and scientific researchers to begin to make up for lost time brought on by isolation and economic restraints after the collapse of the Soviet Union. Free access is available at the University's Medical Information Center (MIC). Open Society Institute (Soros Foundation) facilitated this project by supplying $160,000 worth of equipment.

Contact: Azerbaijan Medical University in Baku at 98-75-36.
More: Akhundov Library is featured in Summer 2000 (AI 8.2) and Azerbaijan's Medical University is described in Winter 95 (AI 3.4). SEARCH at AZER.com.

_____

From Azerbaijan International (8.3) Autumn 2000.
© Azerbaijan International 2000. All rights reserved.
Back to Education
Back to Index AI 8.3 (Autumn 2000)
AI Home | Magazine Choice | Topics | Store | Contact us