Autumn 2000 (8.3)
Page 88
Business & Opportunities
Sea View Plaza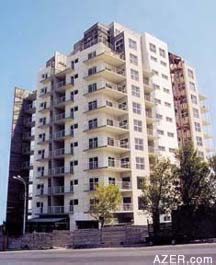 Sea View Plaza, a luxury apartment complex located on the hillside in front of the Narimanov Statue in downtown Baku, is nearing completion and scheduled to open by the end of 2000. With its distinctive design, the high-rise is one of the most attractive new buildings in Baku. Each of the 40 units contains 3 bedrooms, 2 1/2 baths, jacuzzi, living room, dining room, kitchen, breakfast bar and fireplace along with spectacular views of downtown and the Caspian Sea. Four executive penthouse duplexes are also available.

A California-styled restaurant called "The Palms" will open on the ground floor. The complex will have 24-hour security as well as three levels of underground secure parking and storage.

The complex was designed by California-based architect Pirouz Khanlou and is being built by Anglo-American Development.





Contact: Vafa Mastanova, Marketing Manager, Sea View Plaza, Baku.
Tel: (99-412) 98-93-53
Fax: (99-412) 98-31-8

or in the U.S.:

Tel: (818) 785-0077
Fax: (818) 997-7337
E-mail: ai@artnet.net.

_____

From Azerbaijan International (8.3) Autumn 2000.
© Azerbaijan International 2000. All rights reserved.
Back to Business & Opportunities
Back to Index AI 8.3 (Autumn 2000)
AI Home | Magazine Choice | Topics | Store | Contact us