Summer 2000 (8.2)
Pages 70-71
The Passage
Street Vendors

by Vafa Mastanova




Typical scenes in "The Passage"
Above: Watch seller, Vladimir Slavin, showing wares to Vafa Mastanova of Azerbaijan International's staff. Photo: Khanlou

"Watches for sale!" "Rare antiques, right here!" "Paintings of the Old City!" You're likely to hear at least some of these phrases - in English - at the Passage, an outdoor shopping area where Baku vendors sell items to passersby. Many of the vendors sell pieces of artwork, especially ones that feature scenes of Ichari Shahar (Inner City). Antiques, silverware and watches also compete for the buyer's attention.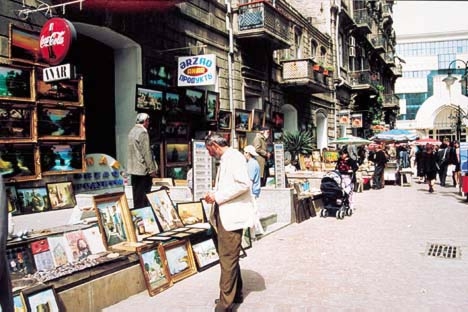 Above: Street artists are a regular feature in the Passage. Often someone is there to sketch portraits. Photo: Khanlou

The Passage, also known as Torgovaya Street, used to have a tram line. Nearly 20 years ago, it was closed to traffic and made accessible only to pedestrians. After Perestroika, vendors started selling paintings and other items there. Before Perestroika, they did so illegally. Today, everyone who sells items at the Passage has to have a license. Each vendor pays about $400 in taxes to the government per year.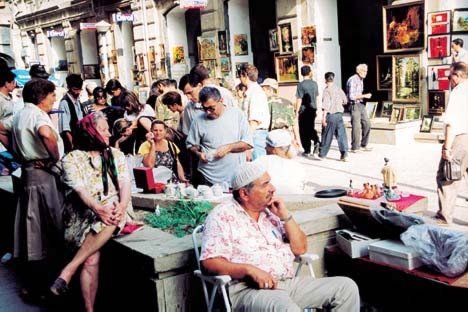 Above: Typical scenes along the busy thoroughfare of the Passage where vendors sell all sorts of wares. Photo: Khanlou

Vladimir Slavin, 54, has sold watches on this street for the past five years. Slavin was born in Baku and spent most of his life in the Soviet Army. Nine years ago, he retired on his pension. Slavin has two children and two grandchildren; his son and grandchildren now live in Chicago.

As you might expect, Slavin insists that his watches are of high quality - not fakes. "The watches are made in Moscow, Tatarstan and the Ural mountains," Slavin insists. "Every year the styles change. For example, last week I was in Moscow and I brought back some new styles."

Often, customers try to bargain with him or ask for a discount, but Slavin says that he has to stick with the price list that he's been given by the company. He receives a 5 percent commission on every sale.

Slavin's customers are usually foreigners. He says that while Azerbaijanis can appreciate the quality of his watches, they don't have any money to buy them. For example, his least expensive watch costs about $20. For most Azerbaijanis, this would be their whole monthly salary.

One mark of being a good salesman is the ability to speak the language of the customer - in this case, English. "I learned English in school," says Slavin. "Today, to be successful in my job, I have to speak English all the time. My duty is to give the customer information about my watches. I repeat the same phrases a thousand times a day.

"Every foreigner speaks English. Nearby is the French Embassy, around another corner is the German Embassy. All of them speak English. Even if I see a Chinese person, I speak English to them."

Slavin is amazed about how attitudes towards foreigners have changed so dramatically in Baku. "Nearly 40 years ago," says Slavin, "when I was quite young, I met two foreigners in this place, and they were speaking English. At the time, seeing foreigners was very rare in our city; it was almost as if Martians had dropped in for a visit. I went up to them and began speaking English, saying things like: 'How do you do? How do you like our city?'

"A few minutes later, two men came up to me and took me to the police station. They asked me what I had been talking about with the two foreigners. One of them told me, 'You need to realize that every foreigner is a spy. If you don't want to get sent to Siberia, never speak with foreigners. They are all spies.'

"At that time, we were very afraid of foreigners. After that incident, I tried to forget English. After I graduated from the Institute and went into the Soviet Army, I used to teach my soldiers never to speak with foreigners. But today is a new day and I speak English to foreigners openly without being afraid. In fact, English speakers are my best customers."
The Passage
Located off Fountain Square
Corner of Khagani and Rasul Reza Streets
You'll see a real mix of quality and items, but it's worth a stroll. And if you see something you like, don't walk on by. It's not likely to be there the next time you come back.


From Azerbaijan International (8.2) Summer 2000.
© Azerbaijan International 2000. All rights reserved.
Back to Index AI 8.2 (Summer 2000)
AI Home | Magazine Choice | Topics | Store | Contact us