Summer 2000 (8.2)
Pages 60-61
Curtain Call
Opera and Ballet Theater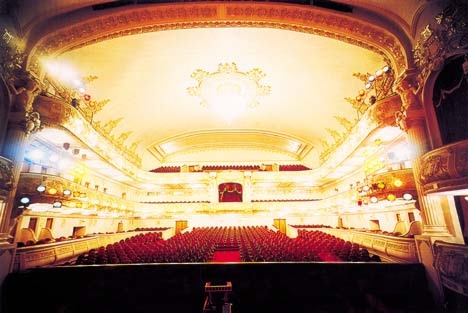 Above: Interior of Baku's Opera and Ballet Theater. Courtesy: UNDP

When a famous Italian opera singer visited Baku in 1909, she was shocked to learn that Baku had no opera house. And so the diva refused to sing at all, anywhere. To her good fortune, an oil baron named Mailov fell in love with her and promised to build her an opera house if she would only return to Baku the following year.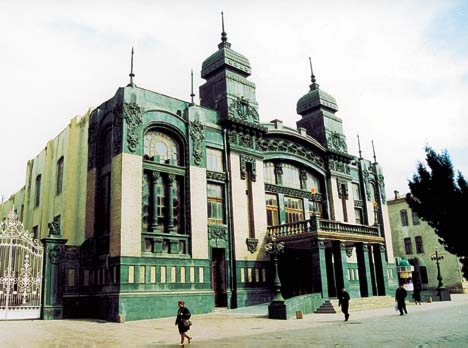 Above: Opera and Ballet Theater after its reconstruction in the late 1980s. Photo: Khanlou

Another oil baron, Haji Zeynalabdin Taghiyev, who was experienced in organizing major construction projects, scoffed at Mailov's naivete to think an opera house could be built in such a short time. He challenged Mailov, betting that the building could not be completed within the year. So convinced he was of his opinion that he promised to underwrite the costs for its construction if the deadline was met.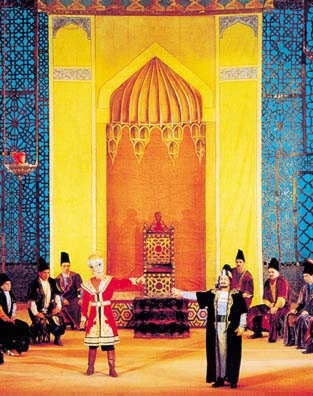 Less than a year later, the building was finished and Taghiyev had to fork over about $30,000 - an enormous sum of money in those days. At least that's the version of the story that Manaf Suleymanov heard and recorded in his book, "The Bygone Days." And so today Baku has its Opera House, though the name of the persistent Italian diva seems to have faded into oblivion. No one mentions whether she really did return the following year or not.

Left: Performance of the opera Vagif by Mustafayev based on a play written by Samad Vurghun.

The Azerbaijan State Theater of Opera and Ballet, designed by architect N. G. Bayev, is one of the most ornate music halls in Baku. It remained open until 1983, when it was closed for renovation. By 1985 the building was ready for use again, but burned down under mysterious circumstances. The building was restored once again and reopened on January 3, 1988.

Opera and Ballet Fund
When Azerbaijan gained its independence in 1991, all the performing arts were soon feeling financially strapped because the government could no longer carry the weight of expenses as it had during the Soviet period. So in 1997, several international companies established the Opera House Trust Fund in order to support the Opera and Ballet Theater. This effort, initiated by U.N. Representative in Azerbaijan Paolo Lembo, included Founding Members: Agip, Amoco, Arco, HSBC (British Bank), Mobil, Shell, Texaco, Pennzoil and Wicklow Group.

The Opera House Trust Fund has already facilitated the renovation of the ballet stage flooring where rehearsals are conducted. It also has sponsored preparations for performances of "Sevil" by Fikrat Amirov and "Maiden's Tower" by Afrasiyab Babalbeyli. Funds also have been allocated to create new set designs, costumes and even to buy new strings for some of the instruments in the orchestra.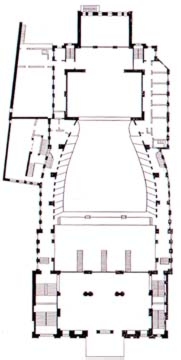 Traveling Abroad
This summer, a group of performers from the Theater will travel to Turkey to participate in the International Festival of Theater Ballet Arts. There they will perform the "Maiden's Tower" ballet, the first ballet ever produced in Azerbaijan (1940). (For more information on the rewriting and restaging of the "Maiden's Tower" ballet, see AI 7.4, Winter 1999, page 54.) The ballet group has also performed "Arabian Nights" by Fikrat Amirov in Jordan (1990) and "Seven Beauties" in Germany (1992).

Left: Floor Plan of Opera and Ballet Theater by Shamil Fatullayev

New Season
A performance at the Opera and Ballet Theater is something that any visitor to Baku should not lose the chance to see. Where else in the world can you see a high-quality opera or ballet for less than $5?

Recent opera and ballet performances in Baku have included Bizet's "Carmen" (May 13); the opera "Ashig Garib" by Zulfugar Hajibeyov (May 14); Tchaikovsky's "Swan Lake" ballet (May 20) and the opera "Leyli and Majnun" by Uzeyir Hajibeyov (May 21). The ballet "Black and White", written by People's Actor of Azerbaijan Khayyam Mirzazade, will premiere at the Theater this June.

Later this year, the Theater will stage the ballet "Don Quixote", directed by Georgiy Kovtun, famous Russian ballet master. Gara Garayev's "Leyli and Majnun" ballet is scheduled to be performed as well, under the direction of famous Russian choreographer Mikhail Lavrovski.
Opera and Ballet Theater
Address: 28th of May St. 8 (formerly Telegraph St.)
Admission: 10,000 to 60,000 manats ($2.50 - $15)
Box Office: 10 a.m. to 7 p.m.
Tel: (99-412) 93-61-05, 93-71-76, or 93-31-88
Akif Malikov contributed to this article. To hear samples of Azerbaijani operas, click on Music Section.


From Azerbaijan International (8.2) Summer 2000.
© Azerbaijan International 2000. All rights reserved.
Back to Index AI 8.2 (Summer 2000)
AI Home | Magazine Choice | Topics | Store | Contact us