Summer 2000 (8.2)
Page 12
Reader's Forum
Karate World Champion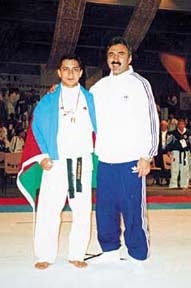 Azerbaijani blackbelt Gurban Taghiyev recently took the World Championship in the Kumite form of Karate. The 21-year-old competed in Bali, Indonesia on April 21-23 against 65 other competitors. This is not the first time that Taghiyev has won the world champion.

He did it before in 1995 in the "age 16 and under category" for Kata in Mexico. He was also named European Champion in the 1998 competition held in Germany. In 1997, he won silver in the World Championship in Japan in the category of "up to 19 years old".

Photo: World Karate Champion Gurban Taghiyev with Yashar Bashirov, President of the National Karate Federation of Azerbaijan.

Taghiyev began training in Karate 11 years ago with coach Akif Aliyev in Ganja, a city in Northwestern Azerbaijan. In 1995, he entered the Azerbaijan State Physical Training Academy in Baku. His coach is Hidayat Shabanov. Today Taghiyev is an instructor in various types of World Karate at Azerbaijan's National Karate-do Federation and also serves as a member in Azerbaijan's armed forces.

From Azerbaijan International (8.2) Summer 2000.
© Azerbaijan International 2000. All rights reserved.
Back to Reader's Forum
Back to Index AI 8.2 (Summer 2000)
AI Home | Magazine Choice | Topics | Store | Contact us