Summer 2000 (8.2)
Pages 56-59
Carpets Made to Last
A Walk Through Baku's National Carpet Museum




Above: The Carpet Museum is now housed in what used to be the Lenin Museum. Photo: Azerbaijan National Photo and Cinema Archives

While touring Baku, you're likely to discover that many of its museums are found in buildings that were constructed for entirely different purposes. Take the former Lenin museum, for instance. As with corresponding Lenin museums in other Soviet republics, Baku's version once displayed items related to Lenin's life: letters, speeches, telegrams - even replicas of his clothing.

Lenin, the founder of the Soviet system, believed material wealth should be shared - not accumulated in the hands of a privileged few. A generation ago, it would have been inconceivable that the museum honoring his memory would eventually be transformed into an Azerbaijani repository of material items representing wealth. The collection, compiled by the National Carpet Museum, celebrates the treasures of Azerbaijani craftsmanship. Exhibited items include primarily carpets, but jewelry and copper vessels are also on display.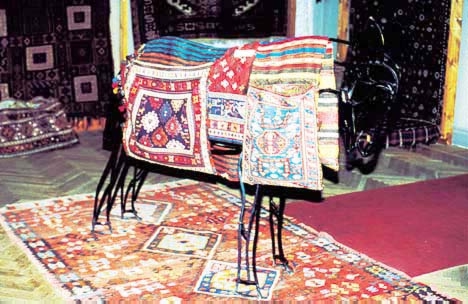 Above: Saddle bags and horse blankets are also on display at the Carpet Museum. Photo: Blair

_____
The State Museum of Azerbaijani Carpets and Decorative Applied Arts named after Latif Karimov holds close to 10,000 items, including a wide range of carpets, traditional clothing, jewelry, shoes and copper goods like plates, jugs, mugs and samovars.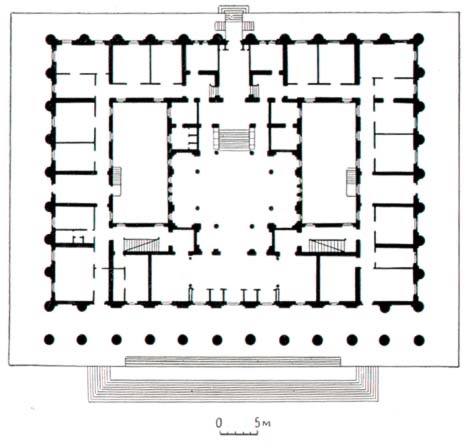 Above: Floor plan of Art Museum by Shamil Fatullayev. Formerly Lenin Museum in Baku, Azerbaijan

The museum first opened in 1967 in a former mosque in Ichari Shahar (Inner City) known as the Friday Mosque. The mosque was built in the 15th century and renovated in the late 19th century. During the Soviet period, it was closed but not torn down, unlike most of the mosques in Baku. In 1992, after Azerbaijan gained its independence, the Carpet Museum moved to its current location - the former Lenin Museum. The Friday Mosque has been returned to its original purpose as a house of worship.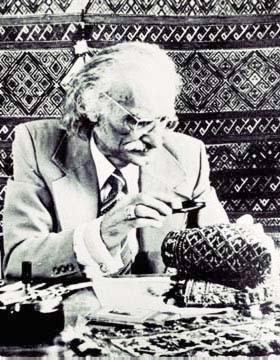 Karimov's Legacy

Left: Latif Karimov, carpet weaver who systematized carpet types in Azerbaijan.

The museum is named after Latif Karimov (1906-1991), who established the collection in 1967. Karimov was a scholar and carpet-maker who meticulously researched the history of Azerbaijani carpets and systematized 144 styles based on geographical regions (cities, towns, villages).

These are subgrouped under four major regional groups, which include (1) Guba-Shirvan (which also includes Baku); (2) Ganja-Kazakh; (3) Karabakh (which also includes Shusha and Jabrayil) and (4) Tabriz (southern Azerbaijan in Iran which also includes carpet styles of Ardebil).

Karimov was born in Shusha, which has been occupied by Armenian military forces since 1992 when all Azerbaijanis were forced to flee. He then moved with his family to Mashad, Iran in 1912. During his childhood, he became inspired by the beautiful carpets that he saw there and often helped his mother weave carpets.

In 1934, he created his masterpiece portrait of Ferdowsi - an ornamental carpet dedicated to the 1,000th Anniversary of the poet - which went on display at the International Exhibition in Paris in 1937.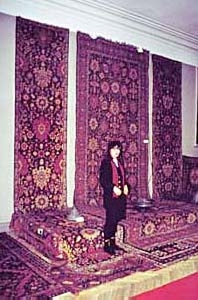 Later, as Director of the Carpet Weaving faculty at Azerbaijan's Academy of Sciences, Karimov became an expert in the field of carpet arts and wrote a three-volume series entitled "Azerbaijan Carpet."

He identified four major types of Azerbaijani carpets based on geographical origin - namely, the Guba-Shirvan, Ganja-Gazakh, Garabagh (Karabakh) and Tabriz (Iran) schools. Each school has its own distinct characteristics and coloring; examples of each school are on display at the Carpet Museum.

Left: Director of the Carpet Museum, Roya Taghiyeva.

Though carpets vary according to region, there are some general characteristics of Azerbaijani carpets characterized by their symmetry, bold design and juxtaposition of colors. Of course, there are exceptions to every generality.

Scholars continue Karimov's research at today's Carpet Museum. Both modern and ancient carpets are collected from private parties, then sorted according to type. Exhibits are divided between knotted and flat weave and the region to which the carpets belong. For instance, the museum has carpets from Southern Azerbaijan (now part of Iran) as well as from Azerbaijani villages in Armenia and Georgia. Of the museum's collection of 6,000 carpets, about 1,300 of them are on display at any one time.

The Karabakh Collection
The museum's permanent collection includes a group of carpets from the former Shusha Carpet Museum. When Shusha - the cultural center of the Karabakh - came under siege by Armenians in early 1992, there was a real danger that the museum's carpets would be lost or destroyed in the war. In an effort to preserve these rare artifacts, the Shusha museum's director, arranged for 600 carpets to be evacuated from the city in army vehicles. Today the carpets can be found at the Baku museum in an exhibition titled "Burnt Culture."


| | |
| --- | --- |
| | |

Above left and right: Some samples of carpets which are on display at the Carpet Museum. Photos: Blair

Must-See Carpets
One of the oldest carpets on display at Baku's Carpet Museum is a 17th-century fragment from the Tabriz Carpet School. Tabriz, a city in South Azerbaijan, founded its own carpet school during the Middle Ages. Tabriz-style carpets tend to depict hunting scenes, images from Nizami and Omar Khayyam poems as well as popular legends. Flowers and branches often ornament the elaborate, colorful displays.


Left: A sample of carpets which are on display at the Carpet Museum.
Right: Sunburst pattern typical of some Azerbaijani carpets.

The museum's oldest specimen from the Tabriz School, known as "Shah Abbas", depicts a hunting scene in bold colors: dark blue and dark red. Shah Abbas (1587-1629) was an Azerbaijani and Safavid king who Persianized the country. The carpet's complicated, delicate design borrows from a style of miniature art that originated in Tabriz' influential Miniatures School in the 16th century. As with other carpets from Tabriz, "Shah Abbas" is made of wool with a thick pile, as opposed to "palaz", a type of carpet without pile.

Baku also had its own school for carpet-making. "Khila Afshan", an 18th-century carpet displayed at the museum, was made in Baku's Khila village (now known as Amirjan). "Afshan" refers to a specific style that was adapted from the Tabriz school. Whereas Afshan carpets from Tabriz have soft, subtle colors without much variation, the Baku version of the Afshan design stands out in its use of contrasting colors: red, white, and dark blue. The wool carpet is decorated throughout with flowers; individual petals frame the edges.

Wedding Gifts
Some of the carpets on display are family heirlooms that were sold or donated to the museum. For instance, scholars at the museum suspect that the 1724 "Khurjun" (saddlebag) on display was given by a bride-to-be to her future husband. It used to be a tradition for brides to give a saddlebag and horsecloth to their grooms as a wedding present. The cloth shows little signs of wear, indicating that it was probably passed down from generation to generation but never used.

The saddlebag's design is composed of a series of diamonds, a pattern that was specific to the Gobustan carpets of the Shirvan school. Vibrant colors like red, green, blue and white dominate the 118 x 47 cm cloth.

Another probable wedding present is the "Chul" (horsecloth) made in 1727. This cloth was also made in the Shirvan style, but is slightly larger and features a different design from the saddlebag. On it, mythological birds symbolize a wish for happiness. The coloring is also slightly different, featuring dark red, light green, yellow and dark blue as dominant colors.

One of the museum's most striking exhibits is a carpet that was made only a few decades ago. Latif Karimov's "Song of Centuries" carpet, made in 1980, combines ancient motifs from the various carpet schools of Azerbaijan. Human beings, mythical birds and other animals all share the same space in this tribute to the history of Azerbaijani carpet-making. Dark blue and black are contrasted with lighter shades such as white and yellow.

Public Outreach
Items from the Carpet Museum often are sent on exhibit to other countries. For example, in 1998 UNESCO organized an exhibition in Paris featuring carpets and everyday utensils from the Middle Ages. The conference was held on the occasion of the poet Fuzuli's Jubilee. In 1999, carpets traveled from the museum to another exhibition in Paris that was devoted to Dada Gorgud's 1,300th Jubilee. An upcoming exhibition in Hanover, Germany will give the museum a chance to display some of its Azerbaijani folk applied art items, including copper jugs, mugs, buckets and saddle-bags.

Within the community, the Carpet Museum organizes lectures and often invites students from local schools to come to the museum to learn more about the art of carpet-making.

To supplement the museum collection, Director Roya Taghiyeva has written a book called "Azerbaijan's Carpet" (1999). The 262-page book features hundreds of color photos depicting the historical development of Azerbaijan's carpet. It was published by BP Amoco with support from the UN, UNDP and Baku Art and Culture Helpers. The volume is available for sale at the Carpet Museum.

National Carpet Museum
123 Neftchilar Avenue (former Lenin Museum),
Tel: (99-412) 93-05-01, 93-66-85
Hours: Tuesday to Sunday, 9 a.m. to 6 p.m., closed Mondays
Admission: 3,000-12,000 manats
Students: 1,000 manats; extra charge for guide

Roya Taghiyeva, Director of the Museum, and Khadija Asadova, Scientific Secretary, were both interviewed by Farida Sadikhova.


From Azerbaijan International (8.2) Summer 2000.
© Azerbaijan International 2000. All rights reserved.

Back to Index AI 8.2 (Summer 2000)
AI Home | Magazine Choice | Topics | Store | Contact us