Winter 1999 (7.4)
Page 89
SOCAR Section
LUKOIL Refurbishes Old Hotel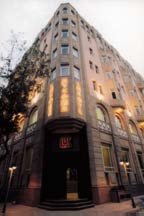 The former New Europe Hotel, which was famous at the turn of the last century, is new once again, thanks to the recent renovation by Russian oil company LUKOIL. In October 1999, the company moved its offices from Ichari Shahar (Inner City) to the reconstructed building near Fountain Square.

The hotel was originally built at the beginning of the 20th century by Azerbaijani Oil Baron Musa Naghiyev. While preserving the historic exterior of the building, LUKOIL equipped the interior with a modern work environment. One of its most dramatic attractions is the stained glass windows that can be viewed from the glass elevator as it rises to the seventh floor. Artist Altay Hajiyev designed the windows.

Attendees at the official October 1, 1999 opening ceremony included Azerbaijani President Heydar Aliyev, Prime Minister Artur Rasizade, Russian Ambassador Aleksander Blokhin, LUKOIL President Vahid Alakbarov, SOCAR President Natig Aliyev, President of LUKoil Europe Ltd Valery Golovushkin, Representative of LUKOIL's President in Azerbaijan Fikrat Aliyev and other officials.

Photo: LUKOIL's new office building, the refurbished New Europe Hotel, 1999.

President Aliyev spoke about the "glorious old days" of the hotel. "I have many memories connected with this hotel," he said. "When I came to Baku in 1950, I had no place to live. I was told to stay in this hotel for a month or so until I got an apartment. But instead of two months I lived here for eight months. This hotel became home for me. It was one of the earliest buildings in Baku to have an elevator." Aliyev observed that at the end of the last century, Naghiyev, known as the wealthiest of all Baku oil barons, built the hotel to accommodate guests on oil-related business. Now at the end of this century the building once again is serving people involved in the oil industry. Aliyev expressed his gratitude to LUKoil and its President Vahid Alakbarov for "breathing new life into this building."



Photo: President Aliyev attending the opening of LUKOIL's new office building, the refurbished New Europe Hotel, October1999.

LUKoil President Alakbarov, an Azerbaijani, expressed hope for the future. "The relations between our two countries [Azerbaijan and Russia] encourage me to look into the future with hope, to believe that not only LUKoil, but also many other companies in Russia, will start investing in Azerbaijan and that, in turn, Azerbaijani companies will initiate joint projects in the Russian Federation."

In Azerbaijan, LUKoil is currently active in various projects such as petrol stations, telecommunications and insurance. They are also involved in three major oil projects including the AIOC consortium for the development of the Azeri, Chirag and the deep-water part of Gunashli fields; the gas-condensate field Shah Daniz; and the prospective hydrocarbon structure Yalama (block D-222) on the Caspian shelf.


From Azerbaijan International (7.4) Winter 1999.
© Azerbaijan International 1999. All rights reserved.

Back to Index AI 7.4 (Winter 1999)
AI Home | Magazine Choice | Topics | Store | Contact us