Winter 1999 (7.4)
Page 90
SOCAR Section
ExxonMobil Supports Education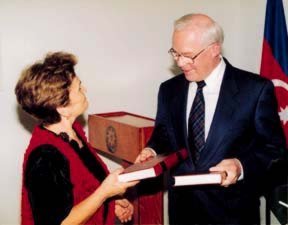 With a literacy rate around 99 percent during Soviet times, Azerbaijan places a high value on giving its young people a well-rounded education. Since independence in 1991, Azerbaijan has reintroduced the Azeri Latin alphabet and begun to focus on Azeri history, language and literature.

All of these goals are enormous undertakings and Exxon Azerbaijan Operating Company, a subsidiary of ExxonMobil Corporation, has been actively involved in supporting these efforts since they came to Azerbaijan five years ago. Manager George MacDonald describes the rationale behind their involvement: "We believe that by supporting the education of youth today we are helping to build a strong Azerbaijan for tomorrow. We feel it is particularly important to assist in educating refugee children who run the risk of becoming a lost generation educationally."

Photo: Exxon's General Manager George MacDonald presenting the new Azeri English Dictionary, the publication of which they sponsored, to Leyla Gafurova, Head of Akhundov Library.

Exxon funded the publication of the first major Azeri-English dictionary in Cyrillic (1996) and Latin script (1998) through the Institute of Foreign Languages. The dictionary of 45,000 terms represents more than 25 years of research by linguists under the guidance and editorship of Vice-Rector Oruj Musayev. The dictionary now is in libraries around the world.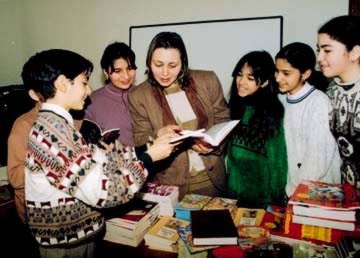 Photo: Exxon providing educational support to students and faculty of Baku School No. 46. Exxon announced that they will be the corporate sponsor for this school.

In 1997, Exxon, in cooperation with Ayna publishing house, helped publish the first ABC textbook in the Azeri Latin alphabet. The company provided a grant to print and distribute 50,000 copies to Baku schools and libraries. Copies have also gone to refugee camps in Bilasuvar, Saatli, Sabirabad and Sumgayit.

More recently, Exxon helped publish the first Children's Encyclopedia in Azeri Latin. The five-volume set focuses on nature, history, art, planet Earth and biology. Azerbaijani writers, artists and scientists prepared the text and illustrations. The first two volumes have been published and donated to all Baku schools and libraries; the remaining three volumes are expected in early 2000.

Exxon has another long-term tradition of encouraging volunteerism among its employees and their families. Pat Gabel, spouse of an Exxon attorney, is a volunteer teacher at several Baku schools and Baku State University. She was instrumental in coordinating the Azerbaijan International Council for Education (AICE), a non-profit association of volunteers. Last year, AICE facilitated corporate sponsorship for five Baku schools; Exxon itself adopted School No. 46. The company has donated hundreds of English-language textbooks and materials, including audio-visual equipment and writing boards. Exxon has also given more than 300 English-language textbooks to Baku State University.

Exxon's emphasis on education has carried over into another priority area - support for refugees. In cooperation with several relief organizations, Exxon has undertaken programs to improve conditions in the southern camps, including Bilasuvar. Nearly 3,400 children received much-needed educational and classroom materials purchased by the Red Cross with a grant from Exxon. More than 11,000 textbooks and hundreds of maps, charts and other materials were distributed to 18 schools in the seven camps.

Exxon has also established two scholarship programs for Azerbaijani students to study in the U.S. These programs are administered by the Institute of International Education (IIE) and the American Geological Institute, enabling four Azerbaijani students to study business and petroleum engineering at Texas universities each year.


From Azerbaijan International (7.4) Winter 1999.
© Azerbaijan International 1999. All rights reserved.

Back to Index AI 7.4 (Winter 1999)
AI Home | Magazine Choice | Topics | Store | Contact us