Winter 1999 (7.4)
Page 21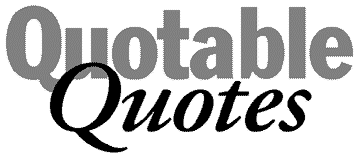 Unchanged - People's Trust




"Europe, and the whole world as well, have radically changed during the past 25 years. Communism collapsed, and with it went the Iron Curtain as well as the entire previous world order based upon the principle of bipolarity. But one thing has remained unchanged. There still are people who place their faith in our words, take them seriously, trust them, and demand that we translate them into action.

"There are places . . . still recovering from the Ice Age that came with Communism - where people have not lost hope in the validity of all the fundamental documents on human rights, beginning with the Universal Declaration of Human Rights of the United Nations and ending with the papers which we shall approve today. Many share the faith that if - with the help of all the others who espouse democracy - they demand observance of undersigned intentions or commitments, their fight will be successful in the end.

"We must not disappoint all these people. We must not disappoint all those who believe our words and declarations, take them seriously, and invoke them in their quests for freedom and justice. We must guard, cultivate and enhance the authority of our words.

"By the same token, we must build and strengthen the various institutional tools that can help us to translate such words into deeds, or at least, to give effective assistance to all those who strive to accomplish such in their countries."
Vaclav Havel, President of the Czech Republic, addressing representatives of the 54 nation states at the 1999 Summit of the OSCE (Organization for the Security and Cooperation in Europe) which took place in Istanbul's Jiragan Palace on November 18, 1999.


From Azerbaijan International (7.4) Winter 1999.
© Azerbaijan International 1999. All rights reserved.

Back to Quotable Quotes (AI 7.4)
More Quotes
Back to Index AI 7.4 (Winter 1999)
AI Home | Magazine Choice | Topics | Store | Contact us