Winter 1999 (7.4)
Pages 38-39
Famous People: Then and Now
Ogtay Mirgasimov
Film Director (1943 - )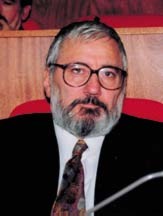 Ogtay Mirgasimov (pronounced og - TAI mir - gah - SI - mov) has been involved in Azerbaijan's film industry for the past 40 years. He is currently the Executive Secretary of the Filmmaker's Union and has held the position of General Director of the State Film Company since 1992. He holds the title of Honored Art Worker.

Photo: Ogtay Mirgasimov, late 1990s

A number of his films have been awarded first prizes both in the Soviet Union as well as Azerbaijan. Among them is the short documentary, "Roads" (1965), a full - length documentary, "This is the Mistake of the Truth" (1969) and a full - length feature film "Devil in Front of My Eyes" (1987).

Mirgasimov has directed more than 40 documentary films, many short - length as well as television films. His other feature films include: "1001th Tour" (1976), "I Want to Understand" (1980), "Silvery Van" (1982), and "Jinn in the Microdistrict."

What experiences and interests in childhood would you say shaped your life and career?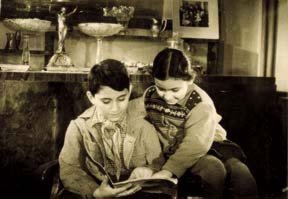 As a kid, I loved watching movies. Maybe that's why I decided to devote my life to cinema. There was one Russian film that I liked in particular, directed by Gregory Chukhray. It was about a young Russian soldier who returns from the war and goes to see his mother. On the way home, a number of things happen to him. When I was 15, it was my favorite film. My father was the first President of the Academy of Sciences. He was a surgeon. He died in 1958 when I was 14. At the age of 16, I started working as a worker in a chemical lab at Cinema Studio. I wanted to get into the world of cinema, but I was too young, so they offered me a job as a worker.

Photo: Mirgasimov at about age 10 in the early 1958s.

After applying to the Moscow Cinematography Institute three times, I was finally admitted in 1963. Getting into the school was so competitive. I created several films while I was a student there. I used to come to Baku to shoot them at the Baku Cinema Studio and then took them back to the Institute in Moscow. I received several awards for my student footage. My films included "The Sea", "Gobustan" and "This is the Voice of Nature".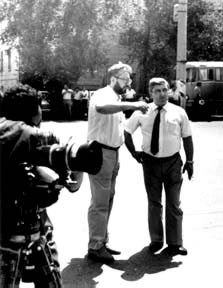 I received my first award in 1965 at the All - Union Student Festival of Films held in Moscow. I received first place for "Yollar" (Ways), a four - minute film that showed the passages of life. I was so proud that someone from Azerbaijan had won first prize in such a stiff competition. What was interesting is that I had entered my film in the Festival and then returned to Baku to shoot another film. So I was very surprised when our cameraman called from Moscow to say that I had won first prize! I considered it a victory for our entire nation, not just for me. I thought: "Great, an Azerbaijani has won the prize!" I never thought of that prize as just being mine.

Photo: Mirgasimov on location, filming "Devil in Front of my Eyes" (1987).

That recognition changed my life completely. I was the youngest of five children and I had such an inferiority complex. There were always very talented young students at our Institute and I considered them to be much more clever than me. Whenever I tried to make a name for myself, it seemed impossible. My victory at the Festival gave me much more confidence.

How was your own childhood different from that of kids growing up today?

There's so much that is different, of course. Our parents and grandparents used to say: "In our day children were better, they were more obedient," and things like that. I didn't always take their words seriously. But now I see that much of what they used to say is still deeply embedded in my consciousness.

I consider myself a man of the 19th century, not the 20th. Why? My father was born in 1883. His lifestyle, philosophy, ethics and rules all dated back to the 19th century. He left some traces, of course, and I absorbed some of his way of thinking. I see that the rules that I'm used to do not coincide with modern ones. I still prefer the old ways.

I don't worry about our future, because I'm content with the past. Our past is so beautiful and strong from all points of view.

Technical progress is an objective reality. But at the same time, it can result in negative things as well. For example, it can negatively influence the environment. Computers are good, but the more people use them, the more their brains become passive.

We are living in difficult days now. The only thing that always helps is optimism. Even those who were destined to spend many years in exile in Siberia came back and even wrote books. How did they do it? Optimism drove them.

What advice would you give to young people as they enter the 21st century?

We shouldn't say my interests, my land, my family, my happiness, but rather our interests, our land, our happiness, our economy, our atmosphere, our air. In physics there is a Law of Connectivity. This law should be applied to society as well. We are all interconnected. Youth should understand this.

We must know that if today we close libraries and open restaurants instead, then tomorrow our children will be a lost generation. The young must read a lot in order to know how to protect the land and the nation. The young must know that everything is connected in life. If sports do not develop, then we won't have a strong army.

One more thing - we must protect education. The young must read more and more. I say it to you openly - today's young are not aware of anything. Some of them don't even know how the Earth is shaped: round, square or flat. It's so bad.

What would you say is your greatest achievement in life? What do you want to be remembered for most?

The work that I consider my best is a 10 - minute film called "Night Talk". Of course, this doesn't mean that I don't like my other works. No, they are all close to my heart. Very soon I'll start working on another film called "Recovery Book", which depicts events at the beginning of the century. I think the films that have yet to be shot always seem to be much more interesting, since they represent a dream and a wish. Man always has this innate wish to create better and more beautiful things.

Ogtay Mirgasimov was interviewed by Farida Sadikhova.


From Azerbaijan International (7.4) Winter 1999.
© Azerbaijan International 1999. All rights reserved.

Back to Index AI 7.4 (Winter 1999)
AI Home | Magazine Choice | Topics | Store | Contact us