Winter 1999 (7.4)
Pages 36-37

Famous People: Then and Now
Rafig Huseinov
TV Announcer (1946-)





Rafig Huseinov at age 15 in 1961 and today.

Rafig Huseinov (pronounced ra-FIG hoo-SEY-nov) is remembered as one of the most prominent television personalities in Azerbaijan, having worked in the field for 28 years. He began as a lighting technician and worked himself into an announcer position and eventually was named chief news announcer. He also is fondly remembered for hosting such programs as "In Television's Sitting Room" (1989-1990) and "Dalgha" (Sea Wave). Later he became Deputy Director of Azerbaijan Radio and Television. As a professor at the Arts Institute and Institute of Politology, he taught culture of speech. He now serves as Executive Director of the Center of National Cinematographics and conducts the program, "Look at Baku" on ABA TV.

What experiences and interests in childhood would you say shaped your life and career?

In my childhood I never thought that someday I would become a TV announcer or anything like that. I had many different interests as a child. I played volleyball as well as went to music school but it never occurred to me that I would become what I am today.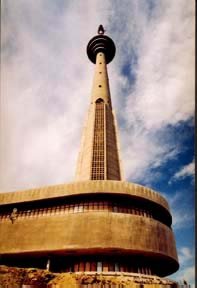 After finishing secondary school, I had hoped to enter the Institute of Oriental Studies, but I couldn't because it didn't have a Russian sector and I didn't know Azeri well. To enter another Institute, I had to wait for the next year to be admitted.

But I couldn't afford to waste a year and so I started looking for a job. My family's economic conditions were very hard-my father had just died. It was very difficult for us.

One day we were sitting at home watching TV and I turned to my mother and told her that I would work in TV. My mother thought they wouldn't hire me, but I said that there was no harm in trying.

So I went to AzTV. Fortunately, they hired me and I started working in lighting. After a while, there was an opening for an announcer position and I was invited to try out for it. I never could believe that they would ever have chosen me. To my surprise, they did. I spent some time learning better Azeri as I was not fluent. And that's how I got started in the television business.

Photo: Television broadcast tower in Baku

How was your own childhood different from that of kids growing up today?

I grew up in the atmosphere of Ichari Shahar (pronounced ee-cha-RI sha-HAR, meaning "Inner City" but commonly referred to as "Old City" by foreigners). It had its own laws and rules of conduct including respect for one's elders and friendship between nationalities. Ichari Shahar taught me loyalty and kindness-it brought me up as a "good guy." Up to this day, I maintain the principles that I learned there and I'll continue to try to keep them throughout my life. Times are changing and people change as well, but I try not to lose the common decencies that I learned during childhood.

The first major difference between our childhood and that of kids growing up today is that we tried to read as much as we could. Childhood is the best time for reading. Children have sharper memories, they don't have to worry about jobs and families. They should take advantage of this time. It's a pity that I don't see kids reading very much these days.

Nor do I see what I consider to be proper respect for adults. Today's kids are more independent. On the one hand, that's not a bad sign. Let them act independently and do things according to their own abilities and wishes. There's always been a generation gap and there always will be. It's only natural. The older generation always wants to teach youth their most important experiences, and sometimes such experiences seem irrelevant to youth and they go a different direction.

I hope we won't lose our national spirit. Today's youth seem to ignore this, but I don't think that this will last long. We have just gained our independence and youth want their freedom. But after they get enough of it, they'll understand that in order to find your place in society-any society, you need knowledge, ability and intelligence.

Also, it seems to me that their sphere of interests is not as large as ours used to be. I remember doing a lot of things every single day-sports, music, school, homework, hanging out with my friends as well as reading books. And today I reap the rewards of all those interests. All the knowledge and experience that I gathered back in my youth provides the basis for what I do today.

What advice would you give to young people as they enter the 21st century?

Let them read a lot. Let them master the profession that they choose and do their best to become experts. The 21st century will create different demands upon us than the Soviet system did. People will be evaluated according to their abilities. The more you know, the more advantages you'll have. Knowledge, education and professionalism-that's what future centuries are going to demand from us. In order to succeed, you'll have to work hard.

What would you say is your greatest achievement in life? What do you want to be remembered for most?

I think my greatest achievement in life is that I could make the simple name of Rafig Huseinov known among the general public, the people-so that when this name is mentioned, people know who I am, what I am capable of doing and how I relate to society. I would say this is my greatest achievement.

As for what I want to be remembered for most, I want people to remember me for my humility, simplicity, my unpretentiousness. I didn't lose these qualities even though I became a popular TV announcer. If they want to remember me in the future, let them do it for this.


Rafig Huseinov was interviewed by Aynur Hajiyeva.

From Azerbaijan International (7.4) Winter 1999.
© Azerbaijan International 1999. All rights reserved.

Back to Index AI 7.4 (Winter 1999)
AI Home | Magazine Choice | Topics | Store | Contact us