Winter 1999 (7.4)
Pages 68-71


Amil Hasanoghlu
Bursting Into Song - Young Vocalist Takes the Stage

by Jean Patterson
With a powerful voice and a commanding stage presence, Amil Hasanoghlu, 13, has been turning heads from Baku to Bishkekand he's just getting started. We feature him here because we think you'll be hearing more from him in the 21st century.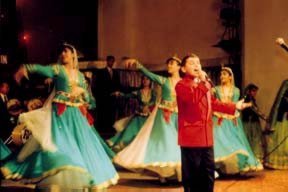 Amil's album, entitled "Azerbaijan", is available on CD and cassette which were sponsored by AZAL Airlines. Contact Amil or his parents at Vidadi Street 102, Apt. 1, Baku. Tel: (99-412) 95-46-17; Mobile: (99-450) 312-47-57. It is also available from Azerbaijan International.

To listen to selections from the album, go to "Music" section.
Photo: Amil Hasanoghlu, performing at ceremonies dedicated to the Day of Solidarity in Azerbaijan, December 31, 1998.

When world-renowned cellist Mstislav Rostropovich was in Baku in 1998, many young Azerbaijani musicians were anxious to perform for him, in hopes of being "discovered". Rostropovich had been born in Baku, had moved to Moscow at the age of four, and caused a shocking sensation in the West in the 1970s when he defected from the Soviet Union to the U.S. In 1997, Rostropovich returned to Baku for the national celebration of his 70th birthday. Since then, he has been going back every year to give Master Classes.

Songster Amil Hasanoghlu, now 13, almost missed this highly anticipated event. He had just come back from Tirana, Albania, where he had taken First Place at the European Children's Song Festival. He and his parents found out at the last minute that some students from the school that Amil attended were taking part in a final performance for Rostropovich and Azerbaijan's President, Heydar Aliyev. Since Amil had been out of the country, his name had been left off the program. It was an important opportunity that he couldn't afford to miss.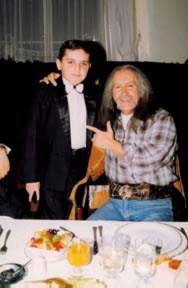 Fortunately, the music school's director, Nigar Asgarova, was determined to get Amil onstage. She whisked him past the Presidential security guards and told the announcer to introduce Amil, mentioning his latest honor in Albania. The crucial moment had arrived.

Amil recalls, "First I sang the song 'Hayif Ki, Yokhdur' (I Regret That There Is No..., composed by Bika Akhundova with lyrics by Molla Panah Vagif, a famous 18th-century Azerbaijani poet). Then I realized that the audience didn't want me to leave the stage. They started shouting, 'Bravo! Bravo!' In an instant, I announced that I would sing another song, the Italian love song - 'O Sole Mio.'"

Photo: Amil with the late Turkish pop singer, Barish Mancho, November 1998.

Amil's mother Ziyafat proudly remembers: "We have a video tape from television that captures the whole scene. Rostropovich was in the hall sitting beside the President, and Amil was onstage. Rostropovich was so excited about Amil's singing that he sat there gazing at him with his mouth wide open. Amil was lucky to have the chance to sing for him."

Amil's talent also attracted the attention of Azerbaijan's President. Not long after Rostropovich left, President Aliyev had the chance to hear Amil sing at a government-sponsored concert. After the program, the President greeted the performers and asked Amil to come up to him. He told Amil: "Do you know that I have listed you, too?" Amil looked confused and then the President added, smiling: "I've listed you in the Golden Book along with the names of other young talents. Protect your voice. Our nation needs you."
Those were unforgettable words for Amil and his parents. Being listed in the Golden Book of Young Talents is not only a great honor. It also means that he receives a $250 stipend each month - a substantial sum in Azerbaijan today where a professor's governmental salary is the equivalent of only $40 to $50. Amil's stipend is a godsend to his family.

Pursuing His Dream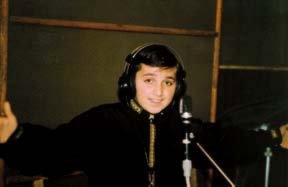 Amil started his musical training only three years ago. His talent remained basically unnoticed until he was 10 years old. At his father's birthday party that year, Amil offered to sing his own rendition of the song "Happy Birthday". The guests were impressed as was his father, himself a musician. Later that night, Amil's father asked him if he would like to make a profession of it. Amil got excited about the possibility. So, father and son started working together to strengthen his singing. Up until then, Amil had had no formal musical education.

Photo: Amil, 12, recording his first CD, "Azerbaijan", in January 1999.

Soon afterwards, Amil's parents decided to enroll him in the Bulbul School of Music, a public school known for its quality music instruction. To be admitted, Amil had to audition. "I was such a short little boy then. Everybody was looking at me in surprise, wondering how such a little kid could have such a strong voice." Needless to say, Amil got into the school and now studies piano, sight-reading and voice.

His family then sold their four-room house in Gunashli, about an hour's distance from Baku, and moved to a smaller apartment closer to Amil's school. Their new house is much too small, with only one bedroom for the family of four. Nevertheless, the family saw the relocation as a challenge that needed to be faced so that Amil could pursue his education.

Amil aspires to grow up and become like one of his favorite singers, none other than the Italian tenor Luciano Pavarotti. He hopes some day to study music in Italy and already has some Italian songs in his repertoire along with songs in Azeri, English and Uzbek.

As for Azerbaijani music, Amil also enjoys listening to the performances of Rashid Behbudov, Bulbul, the sisters Khuraman and Fidan Gasimova and Azer Zeynalov. "Sevgili Janan" (Sweetheart) and "Sansiz" (Without You) are among his favorites. Some day he hopes to be cast as Asgar in Uzeyir Hajibeyov's comic opera, "Arshin Mal Alan" (The Cloth Peddler), because he loves singing Asgar's Aria.

Family Support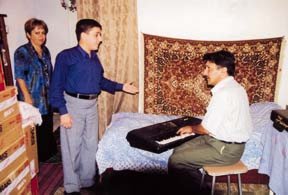 Amil's mother, Ziyafat, and father, Hasan, deserve much of the credit for launching his singing career. Both parents spend a considerable amount of time helping him prepare for performances. Amil's father used to be a soloist in Uzbekistan for Nasiba Abdullayeva's ensemble. Amil was actually born in Samarkand while his father was working there. The family moved back to Baku in 1989.

Photo: Amil practicing at home with his father Hasan who is also a musician. His mother Ziyafat looks on, October 1999.


Everyday, father and son set up the simple electronic keyboard on a narrow bed and practice. When a composer suggests a new song, Amil listens to it with his father. Sometimes they make suggestions to the composer about changes or additions to the song. For example, composer Bika Akhundova set Mirvarid Dilbazi's poem "Mother" to music. Amil and his father decided that it might be more effective to recite the poem in the middle of the song. In turn, the composer took their advice and reworked the song. The new version worked out well.

Amil's mother gets involved especially in helping him memorize the lyrics. She says, "I give him ten minutes to memorize the words. He likes to shut himself up in the bathroom so as not to be distracted. After about ten minutes, he comes out and recites the words to me. We make sure Amil understands the meaning of every single word."

Amil's older brother Arif also contributes, especially whenever there's a song in English that Amil wants to learn. Arif knows English and often can find the lyrics on the Internet. Part of Amil's monthly Golden Book stipend goes to help pay for Arif's law school tuition at Gafgaz University.

When Amil participates in a contest, at least one of his parents always accompanies him on the trip. His mother explains, "Every time Amil goes onstage, he searches for us in the crowd. After he spots us, then he's ready to sing. Amil needs to feel our moral support. He may look older when he's onstage, but he's still just a child. If he had to perform without us there, he wouldn't be able to sing. He would feel lonely."

Contests and Awards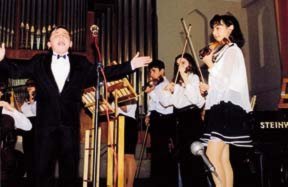 Amil has established a pattern of winning song festivals. Sometimes his parents provide added incentive. His father recalls, "Last year we were on our way Almaty, Kazakhstan. Amil had been begging me to buy him a bicycle so I made a deal with him. I told him: 'You've already won First Place in two festivals. Now I want you to try again for First Prize in this contest as well.'"

Photo: Amil, performing at the Music Academy at the concert dedicated to the 75th Anniversary of Bulbul Music School, December 1998.

Amil countered: "What will you buy me if I win?"

"What do you want?"

"A bicycle," he replied.

Amil promised to sing his very best. That was the end of the story. Amil got his bike and nowadays, you can find him peddling around Fountain Square close to their home. "The exercise is making a difference in Amil's singing," his father observes.

After the contest in Kazakhstan, Amil traveled with his mother to Bishkek, Kyrgyzstan, at the personal invitation of the wife of the Kyrgyz President. He again won First Prize at the International Festival of Young Talents, just as he had the previous year.

Next on the circuit of international contests was Crimea, Ukraine. Amil again won First Place and this time took home a Golden Microphone. He made such a good showing that the judges didn't award second place to anyone, explaining that there was such a large gap between the first and second places that they couldn't name a second-place winner.

Amil recently traveled with his father to Honolulu, Hawaii to perform at the Millennium Young People's Congress. He went as the soloist for Azerbaijan's Eastern Stars Ensemble. Thirty Azerbaijani children went to Hawaii to perform at the festival.

In the Spotlight
Amil remembers being somewhat nervous during his first onstage performance. Since then he has learned to overcome such fear. He remembers, "I sang onstage for the first time in 1997 for the 'Dan Ulduzu' (Morning Star) Festival. I sang the song 'Shukriyya' (composed by Emin Sabitoghlu and lyrics by the poet Ahmad Javad). After the song, Mom felt that my hand was wet with cold sweat. But now everything is different. I'm getting used to the stage. I try not to get so nervous."

Despite his confidence and talent, there's a humility about Amil and his family, and it manifests itself in unusual situations. At a concert in Bishkek this year, the announcer apologized that the time was limited, so the Azerbaijani team could only sing one song. Amil was chosen to sing. He noticed that another boy on his team got red in the face when he learned that he wouldn't have a chance to perform.

Amil didn't want the boy to be disappointed, so he asked the announcer how much time they could give him. "As much time as you need," the announcer replied. Amil asked if they could give him 5 minutes. They could. "Then I'll sing for 2 1/2 minutes," offered Amil, "and then I want this other guy to sing for the remainder of time." The announcer relented and gave the entire Azerbaijani team an opportunity to perform.

Music requires discipline. Amil follows a specific regimen prior to critical performances, especially the night prior to the event:

Don't drink cold water. Don't eat sunflower seeds or ice cream. Drink milk with honey. Review the lyrics. Don't shout or strain my voice. Go to bed early for a good night's sleep. Don't get nervous.
The next morning, he goes through his daily vocal exercises. After taking some deep breaths backstage, he's ready for the concert.

Amil's family tries to create balance in their lives and cultivate other interests. In addition to riding his bike, Amil likes to rollerblade and play with his two parakeets, Kesha and Gosha. And then there's his inclination to take things apart and put them back together again, like his new bicycle.

At school he favors literature, Azeri language studies and history. He dreams of the day when he won't have to study math, physics and chemistry ever again.

But music is really his life and he's the first to admit, "If I couldn't get up on a stage or if I couldn't sing even for just five days, I think I'd die."

It used to be that Amil relied on a key collection for good luck. Ever since he was little, he used to collect different kinds of keys and had gathered quite a collection of more than 200 keys. He says he likes the jingling sound that they make, so he picks them up from the street whenever he sees them. When he went to audition at Bulbul Music School, he filled his pockets with those keys for good luck. When it was time to perform, his father heard something jingling in Amil's pockets. He discovered more than 60 keys.
These days, Amil no longer has to depend on a pocket full of keys in order to perform well. With his enthusiasm and determination, plus incredible support from his family, he's well on his way, with or without them.

Now that Amil sings, life has changed for the family. "We're much busier than we ever were before," says his dad. "Our duties and cares have increased. I gave up my job to work with my son because I thought it would be too hard for him on his own. When he grows up, he'll be on his own. I'm sure he'll be able to handle everything himself then."

Amil does receive preferential treatment in public these days. "Everywhere we go, people stop and kiss him and congratulate him," observes his mom. His friends treat him like he's a very famous singer but most kids are afraid of him." Once on television, he admitted that he sensed this distancing by other kids. "But who cares if I'm a singer," he said. "I'm just a kid like the rest of you."


From Azerbaijan International (7.4) Winter 1999.
© Azerbaijan International 1999. All rights reserved.

Back to Index AI 7.4 (Winter 1999)
AI Home | Magazine Choice | Topics | Store | Contact us