Winter 1999 (7.4)

Heydar Aliyev
Major Career Milestones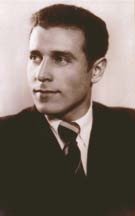 In 1969 Heydar Aliyev was elected First Secretary of the Central Committee of Soviet Azerbaijan, the highest position in the Republic. He held the post for 14 years.

In 1982, Aliyev was appointed as a Full Member of the Politburo, the highest decision - making body in the Soviet Union. At the time, the Politburo had 11 to 12 members, 8 or 9 of whom resided in Moscow (the remainder living in the "periphery" and not as involved with policy making). Aliyev was the only Azerbaijani or Muslim ever to hold such a position in the Kremlin.

During this period, most of the Politburo members were quite old, with the exception of Aliyev, Peripheral Member Eduard Shevardnadze (1928- ), Mikhail Gorbachev (1931- ) and Grigory Romanov. At the beginning of Aliyev's term in the Politburo while he was head of Azerbaijan, Brezhnev (1906-1982) was the Secretary-General of the Communist Party and the Chairman of Parliament. Yuri Andropov (1914-1984) succeeded him but died shortly afterwards as did Chernenko who followed him (1911-1985).
Aliyev was appointed as First Deputy Prime Minister of the USSR (1982-87) when the Prime Minister was Nikolay Tikhonov, about 80. This made Aliyev one of the principal policy makers and enabled him to use his authority to continue the development of Azerbaijan in receiving its fair share of attention.
The fact that Aliyev was not a Russian seems to be one of the major reasons why he was eventually overlooked for the top position in the Soviet Union (in the 1980s between the years when Brezhnev and Gorbachev headed the Soviet Union). In 1987, Aliyev resigned from the Politburo under pressure from Gorbachev and remained in Moscow under travel restrictions until 1990. The Black January events in Azerbaijan [when Soviet troops attacked Baku civilians] led him to formally resign from the Communist Party on July 19, 1990.

Aliyev returned to Azerbaijan in mid-1990, but the Communist system was still very strong so it was impossible for him to remain in Baku. He went to Nakhchivan where he had grown up and was soon chosen as a member of Azerbaijan's Parliament representing Nakhchivan. In June 1993, he was elected Chairman of the Parliament of the Azerbaijan Republic. Nine days later he was appointed Acting President when the former president, Abulfaz Elchibey, left Baku during further social and political unrest. On October 3, 1993 Aliyev was elected President. On October 11, 1998, he was re-elected for a second five-year term.

From Azerbaijan International (7.4) Winter 1999.
© Azerbaijan International 1999. All rights reserved.
Back to Aliyev
Back to Index AI 7.4 (Winter 1999)
AI Home | Magazine Choice | Topics | Store | Contact us