Autumn 1999 (7.3)
Pages 72-73
Shollar Water-A Century Later
Black January­January 20, 1990

by Jean Patterson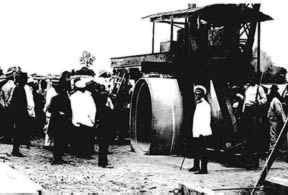 When Alex Parviz and his business associates were trying to figure out what kind of business to set up in Azerbaijan a few years ago, they began looking at some of the greatest needs in the country. It wasn't long before they decided to do something related to water. So many places in Baku have to deal with constant interruptions of the water supply. Any time of day or night, most people in Baku cannot rely on even having a supply of water in their homes much less a safe source for drinking. One major exception is the central part of Baku, thanks to the foresight of Oil Baron and philanthropist Haji Zeynalabdin Taghiyev (1823-1924) nearly a century ago.

Constructing the Shollar-Baku water supply pipeline, which originates in the Khachmaz region of Azerbaijan. Courtesy: National Archives.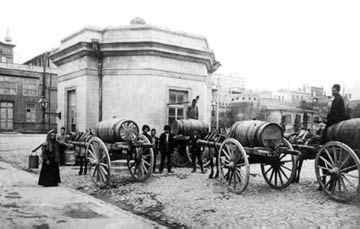 In the late 1800s, potable drinking water was a serious problem for most people living in Baku. Taghiyev decided to do something about it. Various projects had been attempted, including building a pipeline from the Kur River, but costs were too prohibitive and the project was dropped.

Water distribution in Baku at the turn of the century. Courtesy: National Archives.

It was while Taghiyev was in Paris that he got the idea to build a pipeline from the foothills of the Caucasus mountains to Baku to convey this precious resource. In 1899, Taghiyev brought engineer William Lindley to Baku. Lindley had designed many of the water systems in Europe. His first task was to identify a fresh water source that could not easily be exhausted. Lindley decided to tap into springs near Guba, an ancient city 190 km north of Baku, located in the foothills of the snow-capped Caucasus Mountains.


Baku's municipal government was against the project, but Taghiyev insisted. "As long as Shahdagh Mountain has ice on its peak," he declared, "Shollar will never run out." He told the city government that he didn't expect to recover his investment on the project, though, of course, he would be happy if he did.

Shollar's manager Alex Parviz standing in front of Tagiyev's portrait.

In January 1917, they began laying a pipeline that would supply 3 million buckets of water daily to Baku residents. The pipeline travels through the hills of Khudat in Guba, to Khirdalan in Baku. It cost 27 million manat to construct, which was an enormous sum at the time. When they finished, Taghiyev was satisfied that he had solved the water problem for Baku. But the population back then was only a few thousand, while today it exceeds 2.5 million.


Today's Challenges
Having dependable access to clean drinking water is still a severe problem for most of Azerbaijan today. The Absheron peninsula, in particular, does not have good quality water: its groundwater is polluted and contaminated by various sources. When it comes to bottled drinking water, 24 varieties are imported from other countries such as Iran, Turkey and even the United Arab Emirates. But Azerbaijan has numerous fresh water and mineral water supplies itself and should not have to rely on imported sources.


Manufacturing Shollar bottled water. Baku, 1999.

That's why Parviz decided to follow Taghiyev's example and check into the possibility of using Shollar water as a source for a bottling operation. "We took a sample from the Shollar spring and sent it to Germany to be tested," said Parviz. "They confirmed that it was an excellent source for drinking."

Shollar started operating on July 1, 1997 and immediately started hiring Azerbaijanis to work in the factory. The company bottles water from Taghiyev's original pipeline, which has been active for the past 80 years. In fact, the factory is located just across the road from the original pipeline.

The operation has been successful in selling water throughout Azerbaijan in .5, 1 and 1.5 liter plastic bottles, the largest size selling for about 1,800 manat (approximately 50 cents). The company has since expanded their operation and is bottling soft drinks such as cola and orange-flavored soda.


Gulnara Akbarova also contributed to this article.

From Azerbaijan International (7.3) Autumn 1999.
© Azerbaijan International 1998. All rights reserved.

Back to Index AI 7.3 (Autumn 99)
AI Home | Magazine Choice | Topics | Store | Contact us