Autumn 1999 (7.3)
Pages 84-87
Welcome Mat for Foreign Investment
Interview with Paolo Parviz, Hyatt's co-owner


In 1995, Hyatt Regency became the first five-star hotel in Baku, setting the standard for world-class accommodations in the city. In August 1999, the even more luxurious Park Hyatt Baku opened its doors, offering additional high-tech health and recreational facilities, a business center and a nightclub. AI's Publisher Pirouz Khanlou interviewed Hyatt's co-owner, Paolo Parviz who is known around town for his pragmatism, determination and dynamism, not to mention his outspokenness and humor.

Here he shares his personal experiences and vision for the socio-economic development in Azerbaijan from his point of view as a pioneer industrialist and investor in the country. The Hyatt hotel complex marks the most significant foreign investment in the non-oil sector since Azerbaijan's Independence.
Photo below:
President Aliyev (right) attending the opening of Park Hyatt with co-owner Paola Parviz. August 1999.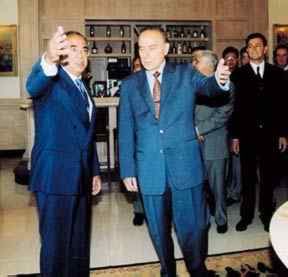 Since Baku's oil boom at the turn of the last century, I think it's fair to say that no private investor has carried out so much construction in this country as you have. I'm not talking about state development, but private investment.

Well, it's a love affair-not just something I do for the money. Building this complex has given me great pleasure. Unfortunately, it's difficult to build in Baku because of the lack of materials. Nearly 95 percent of the supplies has to be imported and that creates serious logistical problems. That's why I think it's been a great achievement to put up these buildings.

Others could have done it, too, maybe even better. But nobody could have done it within the time frame that I did. I always do things fast-quicker than anybody else I know.

What brought you to Baku?
I'm an Azeri from Iran who has spent much of my life in Europe and the States. I have a cousin in Moscow who once said: "Why don't we go to Baku and listen to some Azerbaijani music?" So we came here. I stayed in the Azerbaijan Hotel for three days under very trying conditions, and that's how I got the idea to build a hotel. The country was just developing. There were no hotels with the amenities that Westerners were used to. Then I ran into a Turkish guy who had signed a contract to renovate the Nakhchivan Hotel.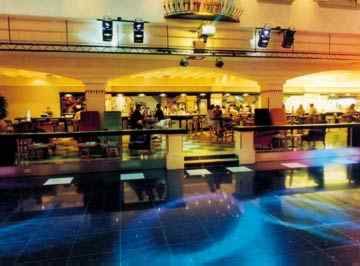 That was 1993.
October, I think. At that time, this place was in total anarchy. There was shooting in the streets-total confusion as the government changed. You know the rest of the story.

Club 1033 (Ismir Street) at the newly opened Park Hyatt, one of the hottest nightclubs in town.
So you decided to bring Hyatt?

I'm a friend of the Pritzkers who own Hyatt. Jay Pritzker telephoned me from Athens and asked: "What are you doing in Baku?" I said: "Well, I'm just looking around." Then he said: "I want to come and visit, too." I told him: "Look, the hotels are very bad here." But he didn't mind. So he flew into Baku the next day in his private jet.

Remember those days? There was nothing downtown to eat-no restaurants. Nothing to buy-no soap, no toilet paper-not a damned thing.


The new Park Hyatt which now joins Hyatt Regency and Hyatt Tower in downtown Baku.

So Jay said: "I'm coming." When he arrived, I told him that I'd found an old hotel. We went to look at it and he said: "Why don't we make this into a Hyatt?" So we went into partnership and that's how the Hyatt Hotel was born in Baku.

But since the hotel was old, it was very difficult to remodel into a first-class hotel. We had so many headaches, like with the air conditioning ducts, for example.

But we felt that to survive as the first modern hotel in Baku, we had to make a classy place. If we didn't, we knew someone else would beat us to it.

So I renovated the hotel and Heydar Aliyev became President and stabilized the country. And gradually, day by day, shops started to open. The country went from having a socialist economy to having a market economy. The hotel became very successful when the oil companies started opening offices in Baku. We decided to reinvest our money here. Basically, we've never taken a penny out of this country.

Hyatt Corporation has three kinds of hotels: the Grand Hyatt with 500 to 1,000 rooms and big convention centers; the Hyatt Regency with 200 to 300 rooms and Park Hyatt, a luxury line. Out of Hyatt's 240 hotels worldwide, only 16 are Park Hyatt. That's what we have now-Hyatt Regency and Park Hyatt.

I don't believe there's any place in the world where a 160-room hotel has so many amenities. The amenities here are four times larger than the hotel itself, with indoor and outdoor Olympic-sized pools and a huge gym. We have two courts where people can play squash as well as indoor and outdoor tennis courts. And I don't think Europe even has a nightclub comparable to ours.

We never had the attitude, "Well, it's good enough for Baku. It doesn't have to be perfect." Baku has 2.5 million residents who are exposed to the outside world and know what quality is all about. We felt that if we did anything below standard, they would know the difference right away. They'll respect you if you do something serious. What we've built here, you could put anywhere in Europe or America. You know, it really doesn't take that much more effort to build a first-class hotel. So why not?

As the President Aliyev said when we opened the Park Hyatt, "If people enjoy it here, they'll stay longer. If they don't enjoy it, they'll leave thinking that this is not a place to invest in."

Quality accommodations are crucial for a country that wants to encourage foreign investment and tourism. You have to have a good airport and supporting facilities, good hotels and infrastructure. It's that simple.

You've often expressed your views to me about the economic development of this country during this transition period.

It's amazing how much has taken place in six years in building up this country. It's impossible to solve so many great difficulties during such a short period of time. The Russians wanted to maintain their sphere of influence-they didn't want to give away the Caucasus, especially Azerbaijan. Even when the Soviet Union collapsed, the Russians wanted to keep their troops here. There are so many problems-Russia to the North, Armenia to the West, the Islamic Republic of Iran to the South, the lack of money. Consider what happens when a country suddenly collapses: it has no government, no money and yet it must become a country. With empty hands, they have created a country. Anyone who has been involved in building a business, or anything else for that matter, can appreciate that.

And that's why I have enormous respect for this President. You can be critical of this Administration if you want, but you miss the point. This country has a President who has reestablished stability and taken guns away from people. You can walk the streets of Baku day or night, and you don't have to worry about kidnappings or muggings.

So you have to give the government credit. There is stability in this country-a President, a Prime Minister, a Parliament. They've built it all in seven years. That's why I don't think I can give myself so much credit for putting up half a dozen buildings here so quickly. To create a country that has to deal with so many obstacles is an enormous achievement.

I remember when we came here in 1993, there wasn't a single shop. Well, there was one shop but the owner was stupid. He would import cheese one week, and the next week something else. So we ate whatever he had, not what we wanted. Now you can find everything in Baku. These are the realities. In the life of a nation, six or seven years is not such a long time, though for a human being, it is.

History will tell about Aliyev. Even his own critics and the opposition, whoever they may be, cannot take these achievements away from him. He has a charismatic personality and a great speaking ability. To deal with all these obstacles, while introducing Azerbaijan to the world, to develop oil and use it for politics-I think this is a great achievement. I would be very happy to debate these issues on TV. I'd like to see them introduce me as the second person who could have done it!

The real question is "Where do you go from here?" What do you do with a gigantic bureaucracy that used to try to solve everything-economically, culturally, and socially-from A to Z?

I've told the President that with only one-third of the existing bureaucracy, he could run this country much more efficiently. At the same time, of course, you can't throw people out into the street when there are no jobs in the marketplace.

The only solution is to build the market economy as rapidly as possible so that there will be jobs. That way, the bureaucrats themselves will say: "Listen, thank you very much, but I don't want to work for you for $50 a month anymore. I can work in the private sector for $500 a month."

So the bureaucracy would become smaller on its own. The government could get rid of three people and give their combined salary to one person, and everything would be much more efficient. The only solution is rapid development of the economy in the private sector. But not just in oil-oil can only represent 20 percent of the economy. The remaining 80 percent should be invested in agriculture and other sectors of the economy.

Take a look at the resources of this country. Everyone is always talking about the oil, gold and other such resources. For me, I would say there are even greater resources out there. Azerbaijan has a good climate. It has water, mountains, sea, desert and wetlands. I think that this country is going to be enormously successful in the next 50 years.

They are going to be able to feed themselves without buying wheat from one country, cucumbers from another and tomatoes from someplace else. Azerbaijan, with all of its agricultural potential, annually imports $60 million worth of chicken and $5 million worth of eggs. They even import flowers from Israel-what a joke!

This country needs efficient foreign investment laws. Anybody who wants to invest his capital should be welcome. Capital should not have any identity or nationality, as long as it produces jobs for people and pays taxes to the government. But the Communist bureaucracy, which is a hangover from the past, is suspicious of the capitalist system. In addition, international organizations such as the International Monetary Fund (IMF) and the World Bank put Western restrictions on their loans.

Today there are so many Soviet laws mixed with the Western laws. Even in the bureaucracy they are debating which is which. The result is that if you want to buy a piece of land or a factory over here, as I have, you have to have 200 signatures. The bureaucracy is clumsy; everybody has to put his signature here and there, just to keep busy.

I think the agricultural sector is more important than heavy industry. Russians put a lot of heavy industry here, which is obsolete now. There's no market for most of these products anymore. Very few of them can be exported.

Azerbaijan's industry was developed to serve the former Soviet Union and the Eastern Bloc. Those markets have changed now because they're buying Western goods. So, if I were running the economy here, I would develop the agriculture.

An enormous country like Iran with all its wealth, imports both wheat and sugar. Since their Revolution (1979), they've reversed themselves 50 years and are now importing everything they eat. Iran has the potential to become a large market for Azerbaijan.

People, especially foreigners, talk a lot about corruption in this country. The President even spoke about the corruption you had to deal with in building the Hyatt.

In Azerbaijan there's a huge bureaucracy that's underpaid. You can't expect a policeman who makes a monthly salary of $30 or $40 not to stop your car and ask for something. This is corruption. You might call it a "necessary kind of corruption". But the guy has to eat.

It's the same old story. You have a new country, and the government was the biggest and the single employer during the Communist system. It still is the only employer, except for a bunch of shopkeepers. There are more people working in one large factory than in half the shops in Baku. Since the oil revenue is not coming so quickly and the local capital is not that great, there's not much capital to redevelop this young country.

So, foreign capital is fundamental for this country.

During the Soviet system, they wouldn't allow foreigners to own things here. They didn't sell land to foreigners. Why not? Land is the best thing to sell, because you sell it and yet it still remains your own. A foreigner can't take land away. When he buys land, he creates something on it which, in turn, creates jobs for the country and revenue for the government.

In the 1980s, everybody was saying that the Japanese were buying out America because they had so much money. Jay Pritzker once told me: "They can buy it almost as quickly as we can build it." But, so what if the Japanese bought a building for $100 million on 20,000 square meters of land? Do you know how many square meters of land are still left in America?

So it made absolutely no difference. As it turned out, the Japanese ran out of money much quicker than the Americans ran out of land and buildings. As a matter of fact, the Japanese are now selling those buildings back at half the price they originally paid for them. So I think Azerbaijanis have to get rid of this "foreigner vs. local" mentality. There is no difference.

There's an old Russian joke: A group of Ford automotive engineers from America come to visit a Moskvich factory. An American asks: "Where are the other cars?" On the way out, the American sees a black ZIM car. He asks: "But whose car is that? Why don't you put it here?" The Russian replies: "Oh, that car belongs to the director of the factory. The director owns that car, but we the workers own the factory."

Later, the Americans invited their Russian counterparts to visit the Ford Motor Company. On the way out, the American engineer took the Russian engineer through the back door of the Ford factory and showed him 20,000 cars in the parking lot.

The Russian engineer asks: "Wow, whose cars are those?"

The American engineer answers: "Oh, those cars are ours, Mr. Ford owns the factory."

Ownership is an integral part of human nature. That's why a great country like the Soviet Union with all the resources in the world was a good social system but a lousy economic system. It went against "the nature of the beast".

On the other hand, the capitalistic system is a great economic system but not as great a social system. At the end of the day, the rich get richer and the poor remain poor because God didn't create us equally.

In fact, if you want true democracy, you'd better accept inequality. Communism tried to make all people equal. It didn't work because people aren't born equal. In the Soviet Union, no matter how hard you worked, you got the same salary. So the diligent workers came to the conclusion: "Why should I work so hard? I get the same pay no matter what. If I slack off, what difference will it make?" That's why the Soviets didn't produce so much in their factories.

Elaborate on the human resources and potential you see here.

Human resource is one of the greatest legacies that Socialism left behind because it provided free education for all people. I think the average educational level here is higher than in many other countries, including Europe and the United States.

When people are educated, they can be trained much easier. We have no problem finding good people-it's an enormous resource for the society. Our personnel in Baku, for example, won the prize for the best-trained staff among 247 hotels around the world.

We hire young people who are educated. They come to us already speaking some English, and so it's easy to train them. Now there are Azeris working in Hyatt hotels in other countries. We supply them from here. In fact, other hotels would take a lot more, but I won't let them: This isn't a training school for Hyatt International. Whenever new hotels are opened, we lend employees for a month or two to help out. But I want my people back here.

It's not a typical third-world country at all in that sense-98 percent of the people are literate. As I understand, Hyatt's policy is to hire young people who don't have any previous hotel experience.

Yes, that was one of the problems we faced when introducing the service sector in Baku. Serving others was not part of the mentality. You don't serve others by calling them "comrades."

If God wanted everybody to be alike, he would have made us all the same size, the same color, the same beauty or the same ugliness. Then we would have been "comrades". Unfortunately, it doesn't work that way.

Smart, good-looking men and women get ahead of others, because life simply is not fair. So, if somebody doesn't like that and has God's fax number, they could complain to Him about it. When we consider the diversity in God's creation-mentally, physically and otherwise-you have to admit that we do a pretty good job of managing in the world. So that's why I said if you want democracy, you have to accept inequality.

So you take these young people with "zero experience"?
We have a training program. Employees receive a daily training program in various sectors. The majority of our managers are now Azeris.

But we do have a serious problem with other companies luring our personnel away. We pay taxes and make our people pay taxes. Without a doubt, we're the largest taxpayer in the country. For every dollar earned, our people pay 38 cents to the government. So they only take home 62 cents.

But when these small companies come along and see how well trained our people are and how well they speak English, they take them away from us. They approach our people and ask: "How much do you make?" The worker doesn't say $1,000. He counts only his take-home pay and says $600. So the company makes an offer of $700 or $800 cash and lures them away (but pay no taxes).

It's a serious problem for us. To work honestly in this country is much more difficult than getting established in another country. It costs you more. And that's why if you go around town here, you'll see Hyatt people in all of the major foreign companies. They still say: "Salam, Parviz Bey. How are you?" I always feel at home in Baku because my people are everywhere!

What would you recommend to foreign investors-especially for somebody who has heard a lot of negative things, and who might be frightened by taxation, the many rules and outdated bureaucracy?

You can choose between not having these problems or face enormous competition getting established in the West. I've succeeded in the hotel business here with much higher returns on my investment than if I had done it in the West. So you can't "have your cake and eat it, too."

You have to be a bit of a philosopher. There are disadvantages, but there are also a lot of advantages. I don't have any problem with government offices. They don't ask me for bribes. I think that even today if you're creating something that needs to be done, you can do it. I'm very privileged in that I can see any Minister-anybody I want-because they know I'm not here to take the national resources and run home. Hyatt is a part of this community. I'm a part of this community. I feel like an Azeri, I have a lot of friends, so I don't have any problems.

Of course, a lot of people will talk behind your back because they're envious. But once you put up a building, it remains there. You can't take it away. At the end of the day, people respect it.

Let's talk about foreign policy here, because it greatly effects economic development.

I think we can say that America has been the most decent of the Great Powers. Because when we consider Great Powers in history, we see that they have actually taken more than they have given. For instance, the British Empire and the Russian Empire ruled 25 percent of the world with a merciless axe. However, one of the problems America now finds itself in is being the only Superpower in the world. They have economic and military power, aircraft carriers and the money to run them.

Once when we were having a conference in the U.S. about the need to repeal Section 907 of the Freedom Support Act (which denies aid to the Azerbaijani government), I talked to Senator Gephardt about how the U.S. has a heterogeneous society made up of different nationalities and religions. America boasts that it is a "melting pot" for the world's cultures, but the truth is, they don't "melt" very much. The Italians stick together, Irish with Irish, Jews with Jews, Armenians with Armenians.

Unfortunately, there aren't enough Azeris to form a significant Azeri lobby or political force in the U.S.

Because America is large and has democratic institutions, people have managed to live together somehow without all these skirmishes and wars. In Europe, there are always a lot of conflicts, especially over land, not necessarily ethnicity because of its size.

In America if you don't like the Irish, you go and live in an Italian or Jewish neighborhood. So the vast size of the land has made the country function well, despite the fact that it is so heterogeneous.

However, when it comes to U.S. foreign policy, Americans are at a terrible disadvantage. They say their foreign policy is based on justice. But it isn't just all the time. It is shaped by political lobbies that are influenced by various ethnic groups in America. If this trend continues, there's a serious danger that America will lose its leadership role in the world as an honest broker. People are going to say that America is not fair and just.

Take the Karabakh war between Armenia and Azerbaijan. It's the first time that we see the victim being punished rather than the aggressor. Armenians have occupied nearly 20 percent of Azerbaijan's land and yet America places an embargo against Azerbaijan. But when Iraq attacked Kuwait, America landed half a million soldiers there to kick Saddam Husein out of Kuwait.

Why? Because they had oil and economic interests over there. And also because of the Israeli geopolitic interests. The point I'm making is that so often the foreign policy decisions of the U.S. are not based on justice but rather the interests of local politicians. And there are rich Armenians in America with a lot of influence.

The American people know who is right, and who is wrong. But now to change this thing in Congress, to pass it through-that's another story.

What do you think is going to happen?

We need to get more and more Americans involved over here. The more that American companies make investments in Azerbaijan, the more they will influence Congress. Eventually, if there is enough interest over here, not just from oil companies but also in other sectors, the companies will go back and lobby against 907. It has to change and it will change.

Tell me more about yourself. Who is Paolo Parviz?

Really, nobody. Truly.

Tell me about your professional experience, your education.

Frankly speaking, on an international scale of dimensions, I'm nobody. In my own little world, I wake up very early every morning. I'm not a great intellect, I haven't invented anything. I just wake up in the morning and phone some other guys, and think, what I am going to do today? And I work harder than anybody I know. There's a famous saying that "the early bird gets the"! What do you call it? Whatever the hell it is. So my strength has really been my persistence and the fact that I don't give up. The more difficult something is, the more stubborn I become. I don't like to lose. Some people achieve great things by being clever and inventive. I'm not a genius. I'm a very pragmatic person when it comes to getting things done. I succeed through hard work, not inventions.

Where were you trained?

I was born in Tabriz, Iran. When I was five years old, World War II ended and my family moved to Tehran. My father's family were all in the military. My father died as a General in the Iranian army. I was sent to secondary school in England. At the age of 19, I went to America and spent five years studying business administration and political science. You can't separate business from politics because they affect each other. But I wouldn't have made much of a politician. I wouldn't wish myself on people as a politician. I'm not always "politically correct." I'm correct, but not "politically correct".

Then I was hired by Firestone International Corporation. I went to Italy and Portugal where I spent 13 years managing Firestone companies. Then I started my own business in Lisbon in 1974. When the Portuguese Revolution broke out, I left a lot behind and moved to London with my American wife and three children. For two years, I managed a number of Iranian companies in Iran. Again a revolution broke out (1979).

Then I returned to England and America and decided I had been around too long and was planning to retire. I went to California where I have a beautiful home and moved my wife and children there. Then I got bored, so I decided to come over here and get involved building up the economy in a new country.

So you've been here for six years?

Yes, six years. But for me it's been a great satisfaction watching this country start from zero. I had never seen a country being built. It's an enormous task. Azerbaijan was lucky to have an important personality-a politician of international stature like Aliyev. He happened to be here at the right time. If he hadn't been, I don't believe that this country would have become a country.

Russians would have messed things up for them on one side and the Armenians on the other side. I think they were very lucky to have this person. And Russia was very unlucky not to have him. I don't think Russia would be in the mess they are today if Aliyev had been President of Russia. Russia would have still been a great power.

At various stages of development in a society, you need different types of people. When you start out, you need a strong man to establish stability and security so that people can walk the streets and obey the laws. As the economy develops, more democratic institutions will be built.

Where do you go from here? What do you want to do next?

I never plan where I'm going. One thing I know: I have to wake up every morning and have something to do. All my life I've been waking up at six in the morning. I wake up not because I can't sleep. I sleep very well. I go to bed at 11 o'clock and wake up at 6. I've got to have something to do. I look forward to every moment because I have something to do. If I didn't, I would be very depressed.

Maybe I'll get involved with some other investments. I can't stand the idea of importing flowers from Israel. I mean, my God, this country used to grow its own flowers. Maybe I'll raise chickens. These are great opportunities for somebody.

I lived in a paradise in California. Everybody's dream would be to go and live there. But I'm the kind of person who, if I lived in heaven, I'd have to go to hell on weekends. I can't stay in one place, can't sit still. If I sat still I might get sick, or start looking at my wrinkled skin or something. I don't have time to look at myself. But I do know one thing: there will always be something for me. I'll always come up with something. As long as I have energy, I think the situation will improve.

This President is going to make enormous efforts to make it easier for the foreign sector to make investments here. I would like to stay here as a model for foreigners, to encourage them to come and invest in this country.

I think the government will establish some kind of structure to help true investors-not those who come here on the "hit and run"-but genuine investors, who want to come and make long-term investments and become an integral part of the economic life of Azerbaijan.

I think there is going to be a great opportunity for them. Geographically, this country is in a perfect location. It has less than 8 million people. You don't have enormous misery like in Pakistan or India with their billions of people. Literacy is very strong, but we must invest in the schools; otherwise, everything is going to go downhill. And as everybody knows only too well-poverty lasts too long.


From Azerbaijan International (7.3) Autumn 1999.
© Azerbaijan International 1998. All rights reserved.

Back to Index AI 7.3 (Autumn 99)
AI Home | Magazine Choice | Topics | Store | Contact us