Summer 1999 (7.2)
Page 105

SOCAR
Exxon Mobil

Lerik



George MacDonald, General Manager

Exxon Mobil is the operator for the Production Sharing Agreement (PSA) for exploration of an offshore block in the Azerbaijan sector of the Caspian Sea. Exxon Mobil's Executive Vice President Bill Scoggins signed the contract along with Natig Aliyev, President of SOCAR (State Oil Company of the Azerbaijan Republic).

The block contains the Savalan, Dalga, Lerik-Daniz and Janub prospects, covering an area of approximately 316 square miles (850 sq km). Exxon Mobil has a 30 percent interest in the block, SOCAR holds a 50 percent interest, and the remaining 20 percent has yet to be awarded. The PSA calls for a seismic program and two exploration wells to be completed over the first three years of the agreement.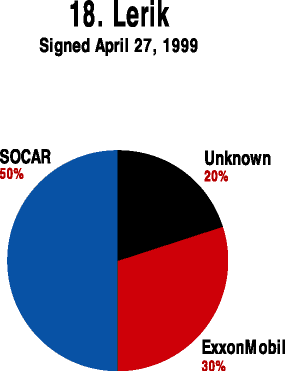 | | |
| --- | --- |
| Map: Click to enlarge | Bill Scoggins, ExxonMobil's Executive Vice President President signs with Ilham Aliyev, Executive Vice President of SOCAR for Lerik. |
From Azerbaijan International (7.2) Summer1999.
© Azerbaijan International 1999. All rights reserved.
Back to Index AI 7.2 (Summer 99)
AI Home | Magazine Choice | Topics | Store | Contact us