Summer 1999 (7.2)
Pages 58-59
Elbey Rezaguliyev
(1927- )

Optimism as Fresh as a Rose

by Azad Sharifov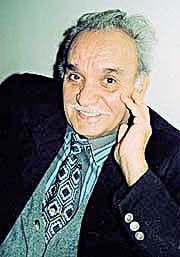 There must have been something in the air in the neighborhood where Elbey Rezaguliyev grew up. It's as if the desire to create art was contagious for everyone who lived there. Nearby was the home of the famous Azerbaijani artist Azim Azimzade. Elbey remembers that he and his father often visited Azimzade's home, and it was there that Elbey's creative yearnings were first awakened. Other artists were sprouting up all over the neighborhood-Javad Mirjavad and his brother Tofig Javadov, Gorkhmaz Afandiyev and Rasim Babayev-all of them very talented.

One important thing that these younger artists all had in common was that they were veering off in artistic directions that did not correspond with traditional painting styles or Socialist Realism and that went counter to the directives of the Soviet government. Elbey recalls how Javad's father used to say about him and his group of friends, "You're all crazy. And you-you're the king of the crazies." Here Azad Sharifov writes about his April 1999 interview with Elbey, describing what has happened since Elbey first got "infected" with art 60 years ago.

_____
Elbey Rezaguliev grew up in a family of seven children. He admits he was a rather disobedient and naughty child though it's hard to believe. He remembers his father as being sick a lot of the time. His father worked hard to make a living for them making translations of Nizami and other poetic works including those of Samad Vurgun's.

Elbey entered Baku's art school in 1940. Three years later his father died, but Elbey says that the good people who surrounded him eased the pain of his father's passing. His education continued at Moscow's Cinematography Institute, where he studied under Fyodor Bogorodski. Even though the entrance exams were very tough, Elbey was exempted from many of them because his work was so impressive.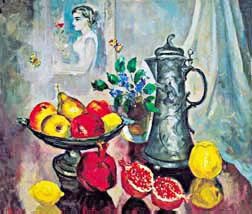 Luckily for Elbey, the Cinematography Institute was much more progressive than many of the other art schools in the Soviet Union. Students were not cut off from new ideas and trends; in fact, many of the school's professors had lost their jobs at other institutions because they had fostered new directions in art. Bogorodski didn't discourage his students from experimenting with styles such as Impressionism and didn't like any interference from higher authorities on this matter. Elbey was one of the first Azerbaijani artists to graduate from the Cinematography Institute as a Director of Art for feature films.

Elbey Rezaguliyev, "Still Life With Fruit", 80 x 60 cm, oil on canvas, 1998.

One of his most memorable works was the film "Sevil", which is a story about the emancipation of women in the East, based on Jafar Jabbarli's play with music by Fikrat Amirov. In the film, there is a famous scene that features ten canvases-silhouettes of slender women covered in black chadors (veils) against gray stone walls with no windows or doors. These canvases together with the music made such a strong impression that when the film was first shown, the audience burst out into applause.

During his study in Moscow, Elbey was waiting for Sevinj, the beautiful girl he had fallen in love with, to become old enough to get married. Eventually, he and Sevinj were married and had two daughters. Elbey remembers Sevinj, who has since passed away, as being an extraordinarily kind and patient woman. "Sevinj was like a flower to me," he says. "There were often evenings when I would sit up talking with artist friends until early in the morning. She never complained; instead, she encouraged those get-togethers."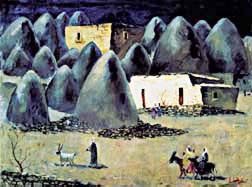 Elbey's travels abroad have played an important role in his creative development. During visits to countries such as Czechoslovakia, Mexico, France, Japan and India, he met world-famous figures such as Leopoldo Mendes, Luis Aragon and David Alfaro Sikeyros. (Several years later, Sikeyros and his wife reciprocated the visit in Baku.) Arabic motifs appear in some of the works inspired by these travels, such as "The Castle", "The Mosque of Omar in Jerusalem" and "A Village in Syria." Perhaps most interesting is the series of portraits Elbey painted during his trip to the enigmatic Nepal.

Elbey Rezaguliyev, "A Village in Syria", 60 x 80 cm, oil on canvas, 1986.

Elbey has always shied away from official roles; he says that he's a painter, not a politician. Once after Azerbaijan gained its independence, someone suggested that he apply for nomination to become a Member of Parliament, as is quite usual among Azerbaijan's intellectuals-artists and writers. But he refused, insisting that his vocation was painting, and that Parliament should be represented by professional politicians. Another time, much to his regret, he was elected secretary of Azerbaijan's Artists' Union and was given the responsibility of allocating studio space. As there weren't enough studios to go around, it was easy to offend some artists. Somehow Elbey succeeded in resolving the problem fairly, but he didn't like the headaches.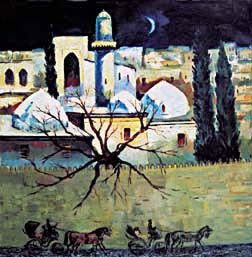 Today, Elbey prefers working at his country house in Pirshagi, rather than dealing with the bustle of the city. There he paints tranquil scenes like bathhouses abandoned in the sand, fig and pomegranate trees as well as flat-roofed cottages with their cone-shaped chimneys surrounded by cozy courtyards and fences. Inevitably, these things will someday disappear from the landscape and will exist only in Elbey's paintings.

Elbey Rezaguliyev, "Inner City of Baku", 60 x 80 cm, oil on canvas, 1993.

These days, especially since his wife's passing, Elbey likes to paint still lifes of flowers, often surrounding her portrait with flowers on the canvas. Paintings of flowers are everywhere in his house: white and red roses, carnations and poppies. They seem so alive that you can almost smell them. "Flowers are like human beings. I see human faces in them. I see them as living beings and associate them with goodness and kindness," says Elbey.

When asked what advice he would give to young people embarking on a career of art, he replied: "Advice? There is so much new breath, such fresh ideas, so many talented youth, I learn from them."

Azad Sharifov is a frequent contributor to Azerbaijan International and a personal friend of the artist for many years.

Jala Garibova also contributed to this article. Elbey Rezaguliyev can be reached at (99-412) 98-75-08.


From Azerbaijan International (7.2) Summer1999.
© Azerbaijan International 1999. All rights reserved.
Back to Index AI 7.2 (Summer 99)
AI Home | Magazine Choice | Topics | Store | Contact us