Summer 1999 (7.2)
Pages 94-95
Sevil Nuriyeva

Viewpoint Nightly at 10
Azerbaijan News Service - ANS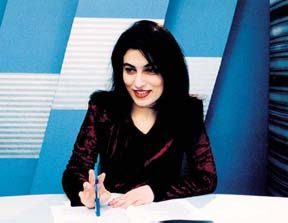 Sevil Nuriyev works as a journalist and producer for ANS (Azerbaijan News Service), a channel that claims to have 90 percent of the viewing audience of Baku. She was just named "Best Journalist of the Year" (1998). Sevil graduated from Baku State University in 1994 with a degree in broadcast journalism.

She has worked for several different television stations in Azerbaijan, including AzTV. Her first program, shown on AzTV, was called "Dissident". After this program, the AzTV leadership invited her to work for them. At the time, Sevil was only 18 years old.

In 1993, a fire broke out in Baku's Supreme Soviet building. Always anxious to track down a good story, Sevil Nuriyeva was one of the first reporters on the scene. Soon reporters from other television stations began to arrive. Intent on being the first to get the story, Sevil dashed into the building, held up her microphone and began to speak.

Sevil remembers, "One of the firemen kept saying, 'Miss Sevil, stand back, please, stand back.' But I was so involved in my news coverage that I didn't pay attention to him. So he came up to me, picked me up and carried me to the other side of the pavement. The funniest thing was that the cameraman was filming the entire thing, including the last scene with the fireman."

Sevil is famous for this no-holds-barred style of journalism. With her dynamic opinion and interview programs, she regularly stirs up controversial ideas in order to help find solutions to Azerbaijan's problems. In her own way, she is contributing a newer, more outspoken quality to Azerbaijani television.

Day in the Life
Sevil's day at the studio starts at 11 a.m. She begins by catching up on the latest news, which means reading English newspapers like the Washington Post and watching television channels such as BBC (British), NTV (Russian), CNN (American) and the Turkish D-Channel.

By 2 p.m., she has picked the subject for that night's "Viewpoint" (Nazar Nogtasi) program. "For me, 'Viewpoint' is a stage where I can express my own opinions and attitudes," says Sevil. "I feel comfortable on this stage. All of the events going on in Azerbaijan are close to me, and I always try to be at the center of each of them."

Since she wants each night's topic to be timely, she doesn't choose it any further in advance. She contacts the guests for the program and asks them to appear with her that night. To make sure her facts are correct, Sevil consults with various experts on the specific topic. She also does research at the library to review relevant articles or sources.

The program's topic is usually related to current events in Azerbaijan. On occasion, Sevil covers major world events, such as the bombing of Iraq or Madeleine Albright's meeting with the Russian Minister of Foreign Affairs. The subject matter has to fill 20 minutes each evening. Saturday's program extends to 30 minutes.

Unlike a reporter at a major international network, Sevil doesn't just read the news on television. She has to research and prepare the material herself. She doesn't have a team to do it for her. Sevil wouldn't have it any other way, saying, "Professional journalists are those who create their own programs."

Sevil is also the producer for "Mirror" (Guzgu), which is broadcast every Saturday for 45 minutes through Internews. The program is meant to reflect the political and economic processes going on throughout the Caucasus. As with "Viewpoint", Sevil chooses the subjects for "Mirror" herself.

Fiery Debates
Sevil is known for staging impassioned debates. By choosing

controversial topics and inviting opposing sides to present their arguments, she provides Azerbaijan with an unprecedented forum
for competing ideas.

Some debates are more volatile than others. In 1995 while working at AzTV, Sevil managed to bring together two celebrities, Flora Kerimova and Ilhama Guliyeva, known to be long-time enemies. Sevil calls it "the most scandalous program ever broadcast in AzTV." Heated arguments that usually happened behind curtains were exposed to a television audience.

Some public figures refuse to be interviewed on her program. Giving an example, Sevil says, "Once I invited Abit Sharifov to a program devoted to the subject of oil. When he came, I changed the subject without warning him. I admit that the method I used was not the best one, but I don't regret it. There's no other technique I could have used. I'm sure he'll never agree to be interviewed by me again."

Sevil's unconventional methods fit well with those of her station. As the only independent television company in Azerbaijan, ANS is known for this kind of "edgy" broadcasting. The station got its start in 1991 and received its own channel in 1994. It is very popular among Azerbaijanis, perhaps because it sticks to a middle ground. In fact, President Aliyev recently praised it for its unbiased coverage. The station doesn't side with either the current government or the opposition party, but gives a chance for numerous opinions to be expressed. Sevil notes the trend for this third type of journalism, as she calls it.

Slave to the Facts
Sevil's biggest complaint about journalism in Azerbaijan today is that it is too partisan. One set of journalists serves the government, and another set serves the opposition. Sevil, on the other hand, tries to be fair to both sides.

"A professional journalist must be a slave to the facts," Sevil says. She can't stand journalists who praise a leader while he's in power but then insult him the minute he's out. In her mind, this kind of tactic is highly unprofessional.

Thanks to her news programs, Sevil is now somewhat of a celebrity in Azerbaijan. She says she feels a bit ambiguous about being recognized by people on the street. The down side is that if she wants to conduct a secret investigation, she has to get someone to do it for her. On the other hand, she likes being recognized by people because it gives her more personal contact with her viewers.

Free Thinker
Reflecting on how her upbringing has affected her career, Sevil says, "I was brought up to be a very independent person, in spite of the fact that I was born into a family that was part of Soviet society. My family has a lot of respect for free thinkers. If I don't like something, or if I have an argument about something, then I say what I think-I'm not afraid. It doesn't even matter if the President or the ex-president is sitting there.

"I remember when I was in third grade, my older sister was getting married. My father asked my opinion about it. For an Azerbaijani parent, it was very unusual to consult anyone else about a daughter's marriage, much less a 10-year-old. I thought about his question for 10 minutes, then I asked my father to give me some more time to think about it. This is the kind of atmosphere I was brought up in.

"I hope the day will come when he have an army of free-thinking journalists," she says. "Journalism is generally regarded as the mirror of society. As Hazrat Ali [the first Shiite Imam] once said, 'May those walking in front, stop and wait for us and may those walking behind, catch up.' I'm hoping that the same thing happens in journalism."

From Azerbaijan International (7.2) Summer1999.
© Azerbaijan International 1999. All rights reserved.
Back to Index AI 7.2 (Summer 99)
AI Home | Magazine Choice | Topics | Store | Contact us