Summer 1999 (7.2)
Pages 38-39
Gorkhmaz Afandiyev
(1928-1993)
Visit AZgallery.org for more works of Gorkhmaz Afandiyev, his wife Bayim Hajiyeva and his daughter Fovziya Afandi.

Reflections by his Wife, Bayim Hajiyeva, and Daughter Fovziya




Gorkhmaz Afandiyev's name is often closely linked with that of his colleague Javad Mirjavad. As dissident artists, they were known for encouraging younger artists to follow their own individual paths rather than adhering to the government-endorsed style of Social Realism.

During a recent interview with Gorkhmaz' wife Bayim Hajiyeva and daughter Fovziya Afandiyeva, we learned about the personal tragedy that drove Gorkhmaz to reject the Soviet system and take such a radical stance.
The men in Gorkhmaz Afandiyev's family each dedicated their lives to very different ideals. Gorkhmaz' great-grandfather was a religious man, a Mufti (chief of the Moslem Sunnite priesthood). Gorkhmaz' father, Sultanmajid Afandiyev, was one of the top leaders of the Bolshevik Revolution like Nariman Narimanov and Hamid Sultanzade who helped bring communism to Azerbaijan and organize a socialist government. As is well known, the Soviet system did its best to undermine religious belief and destroy churches and mosques. Fourth-generation Gorkhmaz, on the other hand, totally disapproved of the Soviet system that his father had helped establish.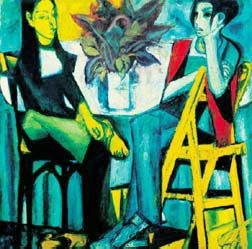 The tragic year of 1937 left indelible scars on Gorkhmaz' art. His father, who had taken an active part in establishing the Soviet system in Azerbaijan, became one of its own victims and was killed during Stalin's Repression that year.

Right: Gorkhmaz Afandiyev, "Adila and Fovziya" (his daughters), 140 x 140 cm, oil on canvas, 1980.

Other members of his family, including his mother, were sent into exile in Siberia. The three children-Gorkhmaz and his two sisters-were left without any means of support and spent their childhood living with relatives. According to his wife Bayim Hajiyeva, who is also an artist, this was the reason that Gorkhmaz never used bright colors in his paintings up until his death in 1993. "That doesn't mean that he was dull by nature. On the contrary, he was very cheerful and kind. Simply his reminiscences of childhood and youth had a profound psychological effect on him," she explains.
Deep in his heart, Gorkhmaz never forgave his father for his Communist principles. He refused to join the Communist Party. When he was asked to draw his father's portrait, he refused, though on occasion he did draw Lenin's portrait (even though it was against his convictions) just to earn money.
Friendship with Javad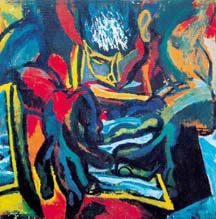 By the time Gorkhmaz entered the Azim Azimzade Art Institute in Baku in the early 1940s, he was worn out and starving. Javad Mirjavad, a fellow art student who was five or six years older than Gorkhmaz, took care of him.

Left: Gorkhmaz Afandiyev, "Searching", 140 x 140 cm, oil on canvas, 1958.
Right: Fovziya Afandi (Gorkhmaz' daughter) (1963- ), "The Poet Nasimi", 30 x 90 cm, stained glass, 1987.

Javad took Gorkhmaz to his cottage in Buzovna and nursed him back to health. Gorkhmaz' daughter Fovziya recalled, "It was a kind of fatherly love and care that my father never forgot. Despite their disagreements, he always considered Javad to be his closest friend."

Gorkhmaz and Javad were very influenced by Russian art. They also studied French art, especially the works of the Impressionists, rather than the realistic presentation of Social Realism that the Soviet system strongly endorsed. Gorkhmaz went on to study in Moscow, then went to Lvov because he found the inclement weather in Moscow was not good for his health.

In 1956 he returned to Baku. Even though Stalin had already died [1953], Gorkhmaz still found it difficult to find work in

Azerbaijan because he was descended from an "Enemy of the People". He had offers to work in Russia, but turned them down because he wanted to remain in Azerbaijan.

Fovziya remembers that her father used to say that art could not develop and flourish during the Soviet period unless the official attitude toward art changed. In his opinion, art was innately symbolic. "When there is no notion about abstraction in art, it cannot be real art," he used to say. The language that Gorkhmaz spoke in his art was never understood by Party members, and his abstract pictures were not accepted for the exhibitions that were being held at the time. [It wasn't until May 1999 that the Artists' Union under the direction of Farhad Khalilov finally organized an exhibition of Gorkhmaz' works to commemorate his 70th Jubilee].

Fovziya says that her father was among those artists who tried to break the information blockade created by the Stalinist system. They desperately wanted to find out what was going on in the world, especially in the arts. They wanted to know and be known. This quest invariably resulted in an impasse. This process is illustrated in one of Gorkhmaz' paintings. "One of my father's works is called 'Searching'. In it he depicts a man sitting and looking up something in a book. The scene recalled the time when he had no library of his own and had to spend a lot of time in the library."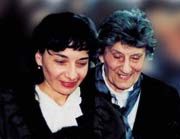 Left: Daughter Fovziya Afandi and wife Bayim Hajiyeva at Gorkhmaz' exhibition for his 70th Jubilee, May 1999. Baku.
Right: Stain glass of the poet Nasimi by Fovziya Afandi, daughter of Gorkhmaz Afandiyev.

Gorkhmaz and Javad laid an alternate path for many young talented artists to enter the art world. He was keen that his two daughters pursue art as well. As it turns out, they did. Adila works as an artist in Vilnius. Fovziya, who went on to study art in Lvov, now works as an artist in Baku.

From Azerbaijan International (7.2) Summer1999.
© Azerbaijan International 1999. All rights reserved.
Back to Index AI 7.2 (Summer 99)
AI Home | Magazine Choice | Topics | Store | Contact us