Spring 1999 (7.1)
Page 87

Youth at Work

Sabina Sharifova
British Airways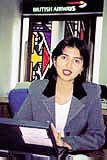 To give you a feel for some of the latest trends and attitudes in Azerbaijan,

we will be interviewing those who are most likely to notice them: the youth. This column is the first in a series entitled, "Youth at Work" which focuses on Azerbaijan's complex transition to a market-based economy. Those who know English, computer programs and have a youthful drive are at a distinct advantage over their seniors. Eventually, they will determine the future direction of Azerbaijan.
Sabina Sharifova, 24, works with British Airways in Baku as Sales and Marketing executive. She has three years of experience in the airline industry and has worked at British Airways for the past year. Sabina handles the company's corporate accounts, specifically sales and marketing, which includes calling on her clients to make sure they are satisfied with British Airways' services. Someday she dreams of being Sales Manager.

Photo: Sabina, busy at work as a Marketing Executive at British Airways.

Our Generation
Sabina had considered studying journalism at the university, but was afraid that she wouldn't be able to find a job. (In fact, many of her schoolmates who even pursued medicine have still not yet found jobs in their profession.) Sabina notes, "I decided to learn English so that I could get a job and do whatever I wanted."

Previous generations of Azerbaijanis did not enjoy so much self-determination. "They depended on their parents for everything," says Sabina. "Their parents fed them, chose their education, chose their profession and sometimes even their spouses. If your parents happened to be doctors, for example, it could be difficult for you to become an artist. Your parents wouldn't understand."

When asked about her position at British Airways, Sabina is very enthusiastic. "I don't think I could find a more interesting job than working in the airline or travel business. I have so many opportunities to travel and meet people. I get to talk to so many different people and help solve travel-related problems." So far Sabina has traveled to London, Paris and Prague on training assignments.

Women at Work
Until just recently, it would have seemed unusual for a young woman to work in a managerial position in Azerbaijan. Today, the opposite is true, at least in the offices of foreign companies. "It's completely different than it was two years ago," explains Sabina. "Today, most of the young people working in foreign companies are women. I don't know why. Maybe they find us more industrious or more responsible. When Europeans and Americans hire new employees, it seems they're more concerned about the skills of the applicant than the gender."

Like so many other youth, Sabina has set a precedent by taking on the major support of her family. Previously in Azerbaijan, it would have been unacceptable for a parent to be supported by a son's income, much less a daughter's.

Leisure
This new freedom also manifests itself in Sabina's leisure time. Whereas she used to spend a lot of time at home reading, she now goes out much more often. "We [women] have a lot of places to go now," says Sabina. "We couldn't do that when I was still in school. Girls weren't supposed to sit outside anywhere. Now we can go out alone to drink a cup of coffee or eat in a restaurant. No one will even look at you. I don't smoke, but you can if you want to, and no one will make a big deal of it. Life is so different these days-I like it. We're not abusing our freedom; we're deeply appreciating it."

This exposure to the outside world does have at least one drawback. "The only bad thing is that it's more difficult to be impressed," says Sabina. "For example, it used to be a big deal to be able to see a Michael Jackson music video. We'd get together with friends to watch it and talk about it. Now it's not such a big thing. You get used to new stuff pretty quickly."

Sabina realizes that her generation finds itself at a unique moment in Azerbaijan's history. The path that she and her peers stake out for themselves is very different from the paths of the generations that precede and follow hers. "My generation is very conscious of what we are doing," says Sabina. "It seems to me that the younger generation is much more aggressive than we are. They are concerned that something could happen later and that they will lose everything."

Knowing Who We Are
Sabina's generation also has a different attitude toward history. "I remember when we were

happy to be able to go to Moscow and the Red Square," Sabina recalls. "Teenagers today laugh at that. They don't remember this period of time. I know who Stalin and Lenin were and what World War II was all about. They don't. Some of them don't know their history. But if you don't know your history, how can you know your future? If you're going to live here, you have to know what has happened in this country.

"Today's teenagers were growing up just as Azerbaijan was gaining its independence (since 1991). I think it's spoiled them. They need to accept their background. They look down on their elders, saying, 'You haven't seen anything. You don't know anything. The future is better.'"

Sabina is fairly optimistic about Azerbaijan's future, just as she is about her own. "Everybody is uncertain," she says. "I don't know what tomorrow will bring. I don't know what will happen five years from now [after the next Presidential election]. I'm trying to do everything I can today to secure my future for my family and myself. We have to be brave and believe in ourselves. If something bad happens tomorrow, we don't have to accept it, but we do have to cope with it. Something bad might happen in the future, but today, things are good."

From Azerbaijan International (7.1) Spring 1999.
© Azerbaijan International 1999. All rights reserved.
Back to Index AI 7.1 (Spring 99)
AI Home | Magazine Choice | Topics | Store | Contact us