Spring 1999 (7.1)
Page 93


SOCAR Section
Developments at Mobil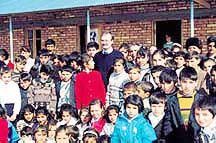 Mobil has had a presence in Azerbaijan since 1992. The company operates the Oguz Offshore Block (50%) and is looking to expand into other projects in Azerbaijan. Over the past five years, Mobil has been involved in various humanitarian and community-related projects and continues to make plans for future involvement.
Refugee Schools
In March 1999, new schools opened in two internal refugee communities: Veysalli in Jeranboy and the Shotlanli village in Tartar. Construction was funded by Mobil. The project aims to provide an education for the many displaced children, especially girls, who do not have access to a nearby school facility. Mobil has also provided school supplies 15 such schools.

Azeri Karate Team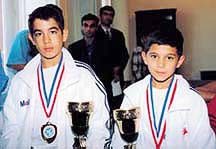 In September 1998, Mobil sponsored the Azeri National

Karate Team's travel to compete in the Ninth International English Karate Open in London. Sportsmen from 22 countries competed including 17 Azerbaijanis. Rustam Madatov (11) and Rafael Agayev (13) both won gold medals and Seymur Huseinov (22) won a bronze medal. This was a great opportunity for the Azerbaijani team, as they are not always able to participate in the most important international tournaments because of the major expenses involved.

In 1996, Mobil provided the uniforms of the Olympic Team of Azerbaijan for the summer games in Atlanta, Georgia. Twenty-two athletes from Azerbaijan competed, and one of them, Namig Abdullayev, received a silver medal in freestyle wrestling (52 kg).

Metro Fire Assistance
In 1996, Mobil rendered support to the victims of the Baku Metro Fire at the request of the Azerbaijani government. More than 300 commuters lost their lives in this tragic accident.
Other projects
In 1996, Mobil together with Save the Children provided assistance for basic repair for four institutions, including Children's Cardiology Sanatorium No. 39, the Psycho-Neurological Children's Institution, Psycho-Neurological Sanatorium No. 22 and the Republican Center for Children's Aesthetic Upbringing. Mobil has joined with seven other corporations to sponsor the Baku Opera Trust Fund for 1998-2000. In addition, Mobil was the general sponsor of "La Traviata" at the Opera House in March 1998. In 1998, Mobil also funded the Caspian Project for an eye surgery clinic project.


From Azerbaijan International (7.1) Spring 1999.
© Azerbaijan International 1999. All rights reserved.
Back to Index AI 7.1 (Spring 99)
AI Home | Magazine Choice | Topics | Store | Contact us