Spring 1999 (7.1)
Page 91


SOCAR Section
Exxon Developments

Bilasuvar Camp Community Center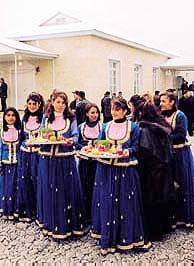 A community center was recently opened in March 1999 at the Bilasuvar

camp for Azerbaijan's internal refugees. Bilasuvar is one of numerous camps near the southern border close to Iran that houses several thousand refugees (out of Azerbaijan's near million). Exxon Azerbaijan Operating Company funded the center's construction.

Photo: Noruz Celebration in front of the new Bilasuvar Community Center sponsored by Exxon.
The first event at the newly built community center was a wedding for two couples from each of the two regions from which the refugees of this camp originated-Fuzuli and Jabrayil. President Heydar Aliyev honored the event by attending the ceremony, as did Deputy Prime Minister Ali Hasanov and representatives from Exxon and the Red Cross. Construction of the community center is part of a long-term sustainable program funded by Exxon to help improve the living conditions in refugee camps until the people can be relocated to their homes. International Federation of Red Cross and Red Crescent Societies (IFRCRC) has been commissioned to build numerous community centers in Bilasuvar, Sabirabad and Saatli that will be used for projects related to women, vocational training, sports, libraries, and kindergartens. The residents of each camp are employed to help build the facilities.

Noruz Celebrations


Baku's Kaynat Youth Center held a week-long series of Noruz holiday celebrations for refugee children funded by a grant from Exxon. The celebrations took place at the Nizami Movie Theater on March 20-25. About 5,000 refugee children were bused in to Baku from Saatli, Imishli, Kurdamir, Hajgabul and other regions. The children enjoyed concerts, games, holiday gifts and traditional Noruz sweets. Also in January, Exxon sponsored a New Year's Concert with Azerbaijan Children's Organization for 2,000 refugee children.


| | |
| --- | --- |
| | |
Left: The first major event there was the wedding of two couples: Tugay Rezayev and Aygun Guliyeva (from Fuzuli) and Azer Javadov and Kifayat Muradova (from Jabrayil).
Right: President Heydar Aliyev attended the event. March 99.

Grant for Water
Exxon gave a $200,000 grant to the International Federation of Red

Cross and Red Crescent Societies (IFRCRC) in December 1998 to supply clean water and educational materials to the internal refugees living in Bilasuvar, Sabirabad and Saatli. These camps in the southern region shelter 20,000 refugees, including more than 5,000 children. Exxon is providing potable water for drinking and cooking, as well as textbooks, notebooks and other educational materials.

From Azerbaijan International (7.1) Spring 1999.
© Azerbaijan International 1999. All rights reserved.
Back to Index AI 7.1 (Spring 99)
AI Home | Magazine Choice | Topics | Store | Contact us