Spring 1999 (7.1)
Page 53
Stalin's Oppression
(1920-1950s)

Nigar Rafibeyli
(1913-1981)

To the Dear Memory of Mishginiz Khanim
(November-December 1976)
These lines, dedicated to Mishginiz Khanim, the wife of poet Husein Javid, were composed upon the occasion of her death in 1976. Javid was arrested in 1937 at the height of Stalin's repression for being a "counter-revolutionary" and sentenced to eight years in exile. The poet, who had never belonged to any party and never been involved in any political organization, died in Siberia in 1944, one year short of completing his sentence.

Mishginiz, his wife, never saw her husband again after that fateful night when he was arrested and his unpublished manuscripts were confiscated. In addition to the unspeakable psychological trauma of losing her husband, Mishginiz was forced out of their three-room apartment to raise her son and daughter alone in a tiny single room.

The poet Nigar Rafibeyli nearly suffered the same fate of exile. Here she mourns not only the passing of Mishginiz, but also the cruel injustice of Husein Javid's death, which she fears history will never be able to expose.
[See AI 4:1, Spring 1996, "Husein Javid -The Night Father Was Arrested" by his daughter, Turan Javid.
Why, why on earth was innocent blood shed?
Why, why on earth did the cold consciences keep silent?

-Nigar Rafibeyli (1976)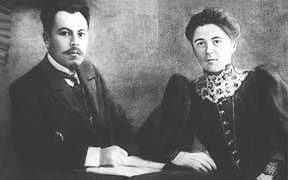 Photo: Khudadat Rafibeyli, physician and governor of Ganja, and his wife Javahir Khanim (parents of Nigar Rafibeyli, grandparents of Anar). Khudadat was murdered in 1920 at the age 43 by Bolsheviks under false pretenses. Javahir was left to raise three children.
Oh, what a beautiful woman has passed away,
I feel as if my own soul has just left my body.
The inspiring shrine of a great poet
Has closed, closed her eyes forever...
One broken life, one broken love
Has passed away from this world.
One pride, one chastity has passed away.
The flirtatious queen of the realm of beauty,
The melancholic saga of one tragic biography,
Having soundly reprimanded the era.
Mother with her child's pain at heart
has passed away.
Why, why on earth was innocent blood shed?
Why, why on earth did the cold consciences keep silent?
The crime of the century will never be exposed,
History will hide it all in its pages.
Even if the coming generations inquire of it,
Their questions will be frozen on their lips...
History will hide it all in its pages,
It will not answer for the blood unjustly shed,
It will not answer for those times...
This blot will remain on the conscience of the century.
Perhaps, the blood of nameless martyrs shed
Will awaken numb consciences,
Perhaps, it will awaken the world soiled with blood...
One suffering mother has joined the silent majority,
Passed away, having soundly reprimanded the era.
Translated by Aynur Hajiyeva.

From Azerbaijan International (7.1) Spring 1999.
© Azerbaijan International 1999. All rights reserved.
Back to Index AI 7.1 (Spring 99)
AI Home | Magazine Choice | Topics | Store | Contact us