Spring 1999 (7.1)
Pages 101-102
AIOC:
Current Developments

by Tamam Bayatly

AIOC President's Visit to Georgia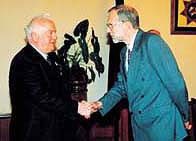 AIOC President David Woodward visited Georgia in late February to see firsthand the current status of activities related to the Georgian section of the

Western Route Export Pipeline (WREP) and the terminal at Supsa on the eve of the full operation of the pipeline system.

During his three-day trip, Woodward met with President Shevardnadze, updating him on AIOC's production progress from the Chirag platform. Woodward advised President Shevardnadze that the first tanker loading could begin in March. Woodward said he was looking forward to the inauguration of the WREP, which should be a celebration for the people and the governments of both Azerbaijan and Georgia.

Photo: AIOC's president, David Woodward, met Georgia's President Shevardnadze in regard to the Western Route Export Pipeline.

AIOC In 1999
AIOC's first year of Early Oil production from the Chirag platform was very successful, exceeding 1998 projections. Now the company is working toward another successful year in an attempt to build a record of success that will encourage new investment from shareholders. However, the company will have to reduce its operating costs to meet the challenge of low oil prices. AIOC activities this year will be aimed at maximizing returns to its investors by delivering each barrel of crude oil to international markets at the lowest-possible price.

Accident-Free
AIOC's principal contractors and company employees working on the Azerbaijan section of the Western Route Export Pipeline (WREP) began 1999 with an achievement of 3 million man-hours without any lost time incident. Management contractor Kvaerner presented commemorative plaques to Azfen, Tekfen, Petrofac and AIOC at the project camp in Kurdamir in late January in recognition of this outstanding achievement.

Speaking at the ceremony in Kurdamir, John Hollis, AIOC Vice-President-Oil Transportation, said, "First Oil in the Western Pipeline from the Caspian has put us on track to achieve the first tanker loading in the Black Sea in April 1999. As we focus on the completion of the project, we fully realize that our first objective is the safety of our workforce. Safety must be managed with a passion and practiced on-site with total commitment. Nothing less will enable us to successfully achieve our final milestone of completing the 853-km pipeline system, capable of delivering 105,000 barrels per day, without an accident. It is First Oil and safety is first."

First Oil Reaches Supsa
The First Oil that AIOC pumped into the Western Route Export Pipeline (WREP) from the terminal at Sangachal near Baku on December 10, 1998 reached the newly-built Supsa terminal on the Black Sea coast of Georgia on March 11, 1999. The oil is now flowing into the tanks of the Supsa terminal; from there it will be pumped into the offshore tanker-loading system for its further journey to world markets.

The loading of the first tanker in Supsa with AIOC oil is now scheduled to take place at the end of March. The official inauguration of the Supsa terminal is scheduled for April 17, 1999.

The WREP starts its route at the Sangachal terminal on the Caspian Sea shore near Baku and finishes at a loading buoy in the Black Sea linked to the Supsa terminal in Georgia. The 830-km long WREP extends through Azerbaijan and Georgia and has a throughput capacity of 105,000 barrels of crude oil per day (5 million tons per annum). The full operation of the WREP system completes AIOC's crude oil export strategy for the Early Oil project. At peak activity, the project employed more than 4,000 people, with Azerbaijani and Georgian nationals accounting for more than 70 percent of the workforce.

In 1999, AIOC is planning to maximize the use of the Western Pipeline through Georgia; however, the company remains committed to the successful operation of both pipelines-the Northern Pipeline through Russia to Novorossiysk and the Western Pipeline through Georgia to Supsa. The flexibility of having two export routes will improve the reliability and economics of delivering Azerbaijan's oil to Western markets.

Chirag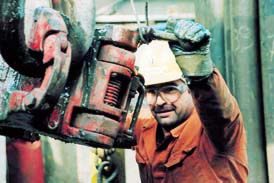 AIOC is currently producing 100,000 barrels of oil per day

from eight production wells on the Chirag platform and exporting its crude via the Baku-Novorossiysk Pipeline, which has been operational since October 1997.

Photo: Drilling operations on AIOC's Chirag platform. February 1999.

Well-11 was spudded late February, and the next production well is expected to be on stream shortly. AIOC's successful operations on Chirag have allowed its shareholders to lift three to four tankers from Novorossiysk per month. To date the total production from the Chirag platform is more than 3.3 million tons since November 7, 1997, when the company delivered its First Oil.

Production for 1999 is expected to be 14,000 tons per day. As to future production plans, a major challenge this year will be to identify an attractive development concept and to move forward the Full Field Development of the Azeri, Chirag and deepwater Gunashli fields in the Azerbaijan sector of the Caspian Sea.

Main Export Pipeline
As part of the Joint Working Group, AIOC's negotiations with Turkey on the Main Export Pipeline project are still underway. It seeks to identify a proposal that will attract the investments necessary to build the line, while bridging the gap between commercial and political requirements. Here the key to success will be the quality of options presented for each of the three routes-Baku-Novorossiysk (Russia), Baku-Supsa (Georgia) and Baku-Jeyhan (Turkey).

David Woodward, AIOC President, said, "The better the choices, the more likely we shall succeed in finding a solution that will win the support of those who will choose to invest in the Main Export Pipeline project. We should complete the negotiations with Turkey, then work with representatives of Georgia and the Russian Federation. All three Main Export Pipeline options are still on the table."

Public Awareness
The first event in a series of AIOC's Western Route Export Pipeline public awareness meetings took place in the district of Tovuz (in the northwestern corner of Azerbaijan near the Georgian border) at the end of February. Similar events will be held throughout the year in other districts along the line as part of AIOC's public awareness program.

The program was launched with the Azerbaijan section of the Northern Pipeline last year when a group of AIOC representatives had meetings in Sumgayit and eight districts along the line.

During the meeting in Tovuz, AIOC representatives, including Namig Abbasov, Pipeline Operations Manager, Giles Wright, Western Route Pipeline Superintendent, and other members of the delegation, began a dialogue with the local authorities and communities to hear their thoughts on AIOC's line inspection, safety and environmental plans.

Plans are to ensure that the farmers and those who live along the line as well as the community leaders in the district understand AIOC's operations. The audience was told that to make these plans workable, AIOC would have permanent contact with them through patrols and technicians based in the districts. The public was informed that AIOC had also introduced helicopter flight observations along the line for pipeline inspection purposes.

AIOC will also carry out educational projects in local schools in Tovuz by establishing textbook library funds and providing educational materials. Namig Abbasov said, "We are committed to effective operation of both the Northern and Western pipelines for the full 30 years of our contract term to benefit Azerbaijan's children and grandchildren. We believe that education is the key to development. That is why we in AIOC have concentrated our community support activities on the schools."

Community Events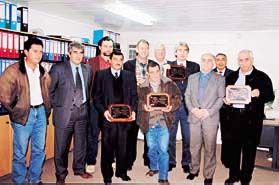 Left: In recognition for the superb

safety record of 3 million man hours without accident on the pipeline between Azerbaijan to Georgia.

AIOC recognizes that March is the month that Azerbaijani children love the most, because of the Noruz holiday celebrating the first day of spring and the tradition of New Year's Day. To make this year's Noruz even more memorable for hundreds of children from Baku orphanages and needy families, AIOC organized several major Noruz celebrations.

On March 26, AIOC hosted a Children's Noruz Party in Nizami Cinema, treating 1,200 children between the ages of 3 and 15 to a colorful cultural program with Kechal and Kosa-heroes of all Noruz festivities. The children who attended the party are from orphanages and other institutions for mentally and physically handicapped children in and around Baku; they were taken there in AIOC-arranged buses. Other guests included children from refugee and war-displaced families, as well as families of victims killed in Black January (1990) and the Karabakh war (1988-present). The children received AIOC gifts with their favorite Noruz cookies.

An AIOC/SOCAR Community Noruz concert called "Flowers of Spring" was held at the Rashid Behbudov Song Theater. It featured talented children's groups, young performers of Azerbaijan's national dances and songs as well as dances from other nations. AIOC's guests at the concert enjoyed a children's fashion show and a number of other exciting pieces by Noruz folk characters Kosa and Kechal.

AIOC also sponsored a Noruz Celebration for children from vulnerable social groups-refugees, internally displaced persons, war veterans and orphanages-organized by the Women's Association "Sevil". The event took place in the Republican Hall (Respublika Serai).
Tamam Bayatly is Media and Government Affairs Specialist at AIOC.

From Azerbaijan International (7.1) Spring 1999.
© Azerbaijan International 1999. All rights reserved.
Back to Index AI 7.1 (Spring 99)
AI Home | Magazine Choice | Topics | Store | Contact us