Winter 1998 (6.4)
Architecture of the Oil Baron Period
Philharmonic Hall

Corner of Niyazi and 32 Istiglaliyat (Independence Avenue)
Various views of the Philharmonic Hall which is currently under reconstruction. The building has both an indoor and outdoor theater.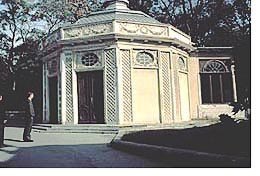 The Philharmonic Hall was designed by Ter-Mikalov in an Italian Renaissance style in 1912. The building consists of a concert hall, an outdoor summer concert stage and a restaurant. The auditorium was built in a spherical shape, its roof covered with a cupola. Outside, two well-proportioned towers flank the central hall. During the Soviet period, the building was designated as a music recital hall.
The Philharmonic Hall was named after Muslim Magomayev (1885-1937) who composed the famous operas "Shah Ismayil" (1917) and "Nargiz" (1935). Since 1997, the building has been undergoing major reconstruction and renovation sponsored by the government. The Philharmonic will be the second major architectural project related to cultural development in the city since Azerbaijan's independence in 1991. The first such building was the Musical Comedy Theater, which opened in December 1998.
From Azerbaijan International (6.4) Winter 1998.
© Azerbaijan International 1998. All rights reserved.
Back to Index AI 6.4 (Winter 1998)
AI Home | Magazine Choice | Topics | Store | Contact us