Winter 1998 (6.4)
Architecture of the Oil Baron Period
Old Department Store

Entrances on M. A. Rasulzade Street and Alizade Streets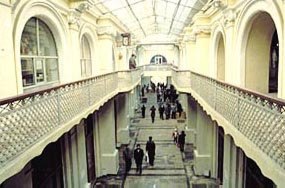 Familiarly known during the Soviet period as the Old Department Store "Kohne Univermag", this building was the first European-style shopping arcade ever to be built in Baku. It consists of two levels of stores built along a single thoroughfare which admits natural light via a skylight.

Interior of Baku's first shopping arcade ever built by Taghiyev. Today it is a very active center bulging with goods. Photo 1994.
The owner who commissioned the building was the famous Oil Baron Zeynalabdin Taghiyev. K. B. Skurevich was the architect who designed the project in an Italian Renaissance style. The project was built between 1896 and 1899.

Today, the building is still used as a shopping mall and nowadays, the stores are bulging with merchandise that has been imported especially from Turkey, Iran and Dubai.

From Azerbaijan International (6.4) Winter 1998.
© Azerbaijan International 1998. All rights reserved.
Back to Index AI 6.4 (Winter 1998)
AI Home | Magazine Choice | Topics | Store | Contact us