Winter 1998 (6.4)
Architecture of the Oil Baron Period
Mammadov Residence

Asaf Zeynalli 45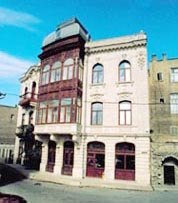 This residence was built by Gani Mammadov, a cotton merchant who owned various ships used for transporting goods on the Caspian between Russia, Central Asia and Iran. Nikolay Georgiyevich Bayev (1878-1949) was the architect. He graduated from St. Petersburg Civil Engineering Institute in 1901, and went on to design other Baku landmarks including the Opera House (1910) and the Naghiyev Hospital (formerly Semashko).

The Mammadov Residence which has recently been renovated by Mobil Azerbaijan Venture.
The three-storied residence, combining both Eastern and Western styles of the period, was built under the supervision of the famous Baku contractors, the brothers Imran and Haji Gazimov. It was completed in one year, 1908-1909, an incredibly short period, given the size of the building and the amount of artistic detail involved. All exterior walls are solid and 90cm thick. The grand staircase from the entrance is extremely elaborate and is lined with magnificent murals on either side.

When the Bolsheviks occupied Baku, Mammadov first escaped to Russia, then Poland, and from there his whereabouts are lost to history. After 1920, the building was vacant for several years. Later it was used as a government office, then a children's nursery. Eventually, the first and second floors were subdivided into numerous flats. Due to a lack of maintenance, the building deteriorated so much that it became uninhabitable, and was unoccupied for more than 18 years. During this time, most of the original fixtures were vandalized or confiscated including the extravagant chandeliers, curtains, paintings, carpets and even door handles.

Mobil leased the building in 1996 in this very poor condition. Basing their reconstruction work on original drawings, historical photographs and assistance from the Baku historical society, Mobil made a tremendous effort to restore it to its former elegance. The company currently uses it as its Baku office.

From Azerbaijan International (6.4) Winter 1998.
© Azerbaijan International 1998. All rights reserved.
Back to Index AI 6.4 (Winter 1998)
AI Home | Magazine Choice | Topics | Store | Contact us