Winter 1998 (6.4)
Architecture of the Oil Baron Period
Architects' Union

Murtuza Mukhtarov 14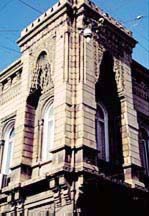 This beautiful residence was built by Aghabala Guliyev who earned his wealth, not as an Oil Baron, but as the "Flour Mill King" of Old Baku. Skibinski designed the two-storied building in what might be called the National Romantic style. Constructed in 1899, the building features ornate stalactite arches above the windows on the corners of the second floor, a design reminiscent of the ornamental façade above the entrances of the Shirvan Shah Palace (14th century) in Baku's "Inner City" (Ichari Shahar).

The Architects' Union Building and interior hallway (left) was once the residence of the Baku's "Flour Mill King".

During the Soviet period, this residence was subdivided into apartments. As is true of several other buildings that were subdivided in a similar way, the major artistic features still intact today are located in the communal stairway leading to the upper floors. To see them, enter the doorway on the side of the building, then climb the stairway where you will find elaborate ornate ceilings and murals.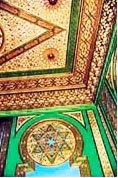 On the first floor, the building looks out onto an inner courtyard from a corridor lined with a row of windows. While the hallway is flooded with light, the inner rooms are protected both from the intense heat of the summer and the severe driving cold winds of winter. The inner courtyard allows women and children to be outdoors while guaranteeing their safety and security. Such features are typical of the indigenous architectural style in Baku.

Today, the building primarily houses the Architects' Union on the main floor although the basement has been converted into a bar and restaurant and the second floor has been beautifully restored and converted into a commercial office.






From Azerbaijan International (6.4) Winter 1998.
© Azerbaijan International 1998. All rights reserved.
Back to Index AI 6.4 (Winter 1998)
AI Home | Magazine Choice | Topics | Store | Contact us