Winter 1998 (6.4)
Pages 85-87
Yanan Tava, Atashgah and Mugan Daniz

On December 25, 1998, four Japanese companies signed a contract with SOCAR (State Oil Company of Azerbaijan Republic) for development of three offshore oil prospects in the Azerbaijan sector of the Caspian Sea. The consortium includes Japan Petroleum Exploration Corp. (JAPEX), Teikoku Oil Co., Indonesia Petroleum Ltd. (INPEX) and Itochu Corporation.

The contract area of Yanan Tava, Atashgah and Mugan Daniz covers 510 sq km and contains estimated oil reserves of 75-90 million tons. The $2.3 billion exploration, development and production sharing agreement marks the first time that Japanese petroleum developers have undertaken oil exploration in the Caspian Sea outside of a consortium of international oil players. The Japanese company Itochu is already a member of both the AIOC and the NAOC Consortiums. Mitsui is a member of the Eni-operated Kurdashi project in the Caspian.


| | |
| --- | --- |
| | |
The Signing Ceremony for the Japanese Consortium for the exploration and development of Yanan Tava, Atashgah and Mugan Daniz Prospects. The contract was signed on December 25, 1998, the 16th contract that SOCAR has signed with international oil companies. The consortium consists of JAPEX (operator), Teikoku Oil, Indonesia Petroleum (INPEX) and Itochu.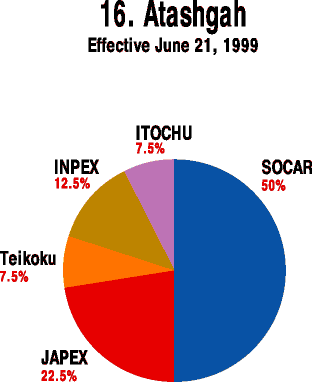 Signed December 25, 1998
Operated by JAPEX



Map: Click to enlarge

The Japanese Consortium marks the 16th contract that Azerbaijan has signed with international oil companies; thirteen are for offshore projects and seven have been signed in 1998 alone. As all previous contracts have been signed primarily with Western international oil companies, President Aliyev noted that this occasion marked a new page in the history of oil in Azerbaijan which would play a special role in expanding Azerbaijani-Japanese economic cooperation.
Speaking on behalf of the Japanese government, Japan's Ambassador to Russia and Azerbaijan, Takihiro Togo, said that Japan attaches a particular importance to broadening Azerbaijani-Japanese economic relations and considers Azerbaijan to be an important economic partner. He pointed to the historical connections between Azerbaijan and Japan via the ancient Silk Route.

The following company representatives signed the contract: SOCAR President Natig Aliyev, JAPEX President Kazuko Vakasuki, INPEX General Executive Director Minoro Nagata, Itochu President Kharumichi Uneda, and Teikoku General Executive Director Tosio Simada. The signing ceremony was attended by government officials, heads of foreign companies operating in Azerbaijan, leaders of diplomatic missions and Azerbaijani members of parliament. JAPEX is the operating company.

From Azerbaijan International (6.4) Winter 1998.
© Azerbaijan International 1998. All rights reserved.
SOCAR Contracts
Back to Index AI 6.4 (Winter 1998)
AI Home | Magazine Choice | Topics | Store | Contact us