Winter 1998 (6.4)
Page 90

Restoring the Glory
Ramco Refurbishes Old Residence



Left: Exterior of the new Ramco office. Right: Building site at rear connected to 11th century mosque.

The building at Boyuk Gala 9 in Baku's "Inner City" now houses the company's offices including the newly organized Muradkhanli Operating Company.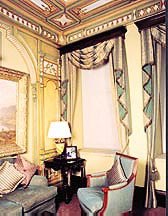 Long before major interest in Azerbaijan and the Caspian began, Ramco had already made a serious commitment with a permanent team in-situ working out of the old Intourist Hotel. As the team grew, Ramco's Founder and CEO Steve Remp went in search of permanent premises that would reflect the character and spirit of the company.

Left: The Board Room.

The original construction of the building that he chose dates back to the 14th century and adjoins what may be the oldest remaining mosque in the Caucasus, built in 1076. According to a photo from the 1860s, the original residence was single-storied. In 1891, a wealthy merchant family added two floors and had plans for a future wing that was never built. Even the mulberry tree standing in the front yard has historical ties and is said to have been the inspiration for the Azerbaijani folk song entitled "Under the Mulberry Tree." In the old courtyard area, pottery and other artifacts were found along with a well dating back to the 14th century. Azerbaijan's Institute of Archaeology carried out restoration on the well.

After the Bolsheviks took over Baku in 1920, the house was confiscated and the upper floors were divided into five apartments. More families moved in, and the merchant's family was relegated to a wooden cabin in the courtyard. By the time Ramco acquired the building in 1995, it was in serious need of repair. Ramco provided generous relocation allowances to the current tenants, including the merchant's granddaughter still living there who, by then, was in her eighties.


Left: Entrance hallway. Right: The ram head banister detail.

The refurbishment team researched the building in order to restore the original architectural design as much as possible. Ramco hired a firm of Western architects, MNA of Nottingham, for the job, but the on-site team was comprised of local craftsmen and labor. Renovation was completed in 1997, and Ramco moved into its new "home in Baku" in May 1998.


From Azerbaijan International (6.4) Winter 1998.
© Azerbaijan International 1998. All rights reserved.

Back to Index AI 6.4 (Winter 1998)
AI Home | Magazine Choice | Topics | Store | Contact us