Winter 1998 (6.4)
Pages 50-51
The Architectural Face of Modern Baku
Profile: Alish Lambaranski

by Azad Sharifov


With an influx of money and foreign influence, Baku's landscape changed dramatically during the city's first Oil Boom at the turn of the last century. In the early 1960s of the Soviet period, during the term of Baku mayor Alish Lambaranski, "micro-regions" (suburbs) were created outside Baku and old, crumbling buildings gave way to Soviet-style architecture. Narrow streets were widened into boulevards to accommodate more vehicles.

Nearly 40 years later, Lambaranski is still working to improve the living conditions and appearance of the city. Here Azad Sharifov gives us a look at Lambaranski's efforts to give the capital a "makeover"-the results of which we can still see today.
In April 1960, Nikita Khrushchev came to Baku to celebrate the 40th Anniversary of Soviet power. As part of the festivities, a walking tour was organized to show him some of the features of the city. Part of the tour was supposed to pass over a brand-new walkway made of colorful blue and pink concrete slabs, each one about a square meter in size.


This expensive, showy walkway (originally located off Fountain Square near the cinema theater and statue to the poetess Natavan) had been designed specifically for the premier's visit, in an effort to win his approval. The people were hoping that he would like it. They jokingly referred to it as "a million for a smile" referring to the money they supposed had been spent to create such an impression.

It turns out, however, that Khrushchev never saw the walkway. His itinerary changed, so he never got to see it. Ironically, it was during Khrushchev's period that architecture throughout the Soviet Union was stripped of all ornamentation.

The man behind this colorful walkway was Baku mayor Alish Lambaranski. Although the "million for a smile" walkway no longer exists, many of the other changes that he instituted are still visible. Today, at the age of 84, he is still working to improve the city.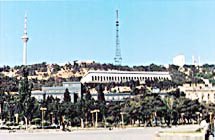 Background in Oil
Alish Lambaranski was born in 1914 in the town of Lambaran in the Karabakh region, territory which is currently under occupation by Armenians.

Lambaranski pursued a career in the oil industry and eventually became chief of a large oil processing plant. He won a Stalin medal for his work in fuel mining, a process that is still used for jet-propelled aircraft. After that, he led Azerbaijan's union of oil refineries, Azpetrolplants (Azneftezavods).

Horizontal building is the Gulistan Palace where major national events take place such as the signing of the international oil contracts. The gray building in the foreground is Old Intourist Hotel.

Opposite page: Alish Lambaranski in his youth. Below: Lambaranski today. Courtesy National Archives.
Lambaranski came to be mayor under unusual circumstances. At an important meeting with the heads of government, Lambaranski spoke out on behalf of the oil workers, expressing their dissatisfaction with the city's lack of housing. He told the officials that people were living in damp, cold basements and other unfit places. He also made some proposals for how to improve the city's economy. The governmental officials listened carefully.
When he finished complaining, they agreed: "Yes, Alish, you're absolutely right. We need an energetic, motivated person for the city. It looks like you're exactly the right person for the job." With this on-the-spot promotion, Lambaranski was appointed mayor of Baku, a position he held from 1958 until 1966.

A Vision for Baku
That evening, Lambaranski sat in his new office in one of Baku's most luxurious buildings-the City Hall. How was he to get started? he wondered. There was so much work to do. Lambaranski knew that one of the most persistent problems in Baku was a lack of housing. In addition, the existing facilities were very poor. In order to change the situation, he would have to assemble a strong, professional team of city leaders. He knew the job would be a thankless one as every Azerbaijani has an opinion and considers himself an expert on every topic under the sun, including city architecture and planning.

Lambaranski soon developed a plan to solve the housing problem. When he was first appointed mayor, there wasn't much construction going on in the city, only one-tenth of what was needed. By the time he moved to Moscow eight years later, 700,000 square meters of space were being constructed per year.

Early each day, Lambaranski's Volga (a Russian model used for government authorities) would appear in various parts of the city. There would be a short meeting around 8 a.m., a task assigned for the day, then all would leave for their own regions and organizations, gathering again at the end of the day to analyze the progress.

His plan was to create "micro-regions" with public utilities and playgrounds like the ones he had seen in Vilnius, Lithuania. He widened Baku's crowded streets, and replaced the noisy, old trams with trolleys and motorized buses. Older, single-storied buildings were torn down to make room for new construction.

Many Changes
The list of building projects that Lambaranski carried out is long and noteworthy. It includes the Republic Palace, Gulustan Palace, the renovation of the Opera and Ballet Theater when it burned down, the Theater of Young Spectators, the Baku Plant of Consumer Conditioners and the Plant of Deep Water Sea Foundations, not to mention several large residential districts. New cinemas, schools, kindergartens and cafes appeared in Baku as well.

Before Lambaranski intervened, Baku's famous Maiden's Tower was partially blocked from view by a row of old two- and three-storied buildings. Although his opponents resisted the change, Lambaranski saw to it that the space was cleared in order to make the centuries-old monument more prominent and accessible for tourists.

Lambaranski also completely changed the seafront, building up the shoreline and widening the seaside boulevard. Workers filled up the shoreline with large boulders, then covered them with sand and concrete. Lambaranski also saw to it that new street lamps were put up along the boulevard park.

Lambaranski traveled quite extensively for a Soviet official. Once while abroad, he noticed beautiful, colorful benches placed under trees. He knew that the people of Baku liked to stop and chat whenever they met, so he began producing benches to give the people a place to rest while they talked. The benches became so popular that the famous Azerbaijani composer Tofig Guliyev, a good friend of his, composed a lively tune called "The Benches of Baku."

Known for his efforts, Lambaranski soon became popular among the people of Baku. They respectfully and affectionately called him "our mayor" instead of the usual title, "Chairman of the City Executive."

Still at Work
Lambaranski's passion to build and create still drives him today. Recently, he consulted on the reconstruction of the Musical Comedy Theater which just opened this past December [See the story, "Mashadi Ibad"]. The building has a modern auditorium and foyer, both in keeping with the spirit of the original theater built by Taghiyev which stood there more than 100 years ago.

Currently, Lambaranski is making plans to renovate Baku's History Museum. This palatial residence, now run down and desperately in need of repair, used to be one of the most elegant residences in Baku and has an incredibly ornate gold-leaf interior. Azerbaijani philanthropist and oil baron Haji Zeynalabdin Taghiyev had it built and lived there until the Bolsheviks took over the city (1920) and confiscated it. Fortunately, during the Soviet period, the mansion was not demolished or divided into single-roomed apartments like so many other buildings were. At least the Soviets preserved it by transforming it into the National History Museum.

Before finishing one project, Lambaranski is already thinking about the next. In his mind, there are still so many tasks to be completed. For instance, the city's sewage, water and power systems are all in need of repair. Other important buildings need to be rebuilt or renovated instead of being destroyed.

In spite of the fact that he is filling a high post as a deputy to the Prime Minister, Lambaranski is still operating out of the same trailer that he has used for the past 30 years. It has been patched and repaired dozens of times. Lambaranski doesn't change it and hauls it from one construction site to the next. Some people assume it's because of superstition. Workers sometimes joke that he wants to privatize it.

For many years, Lambaranski and I have enjoyed somewhat of a ritual of buying our newspapers at the same newsstand on Saturdays. We often sit together on one of "his" benches under the shade of a palm tree. However, these days, it's nearly impossible to carry on a conversation because passersby constantly interrupt, greeting him, asking about his health or about his current projects. In Baku, it's a rare person who doesn't know him and appreciate his work. At age 84, he's still cherished, or as Azeris are so fond of saying, still considered "dearest among the dear."
Azad Sharifov heads the Journalism Department of the Higher Diplomacy College of Azerbaijan and often writes profiles about Azerbaijan's most influential and colorful figures for Azerbaijan International.


From Azerbaijan International (6.4) Winter 1998.
© Azerbaijan International 1998. All rights reserved.
Back to Index AI 6.4 (Winter 1998)
AI Home | Magazine Choice | Topics | Store | Contact us