Winter 1998 (6.4)
Page 89
Exxon Developments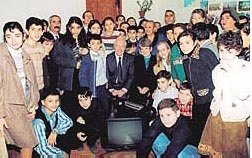 Cardiovascular Center

Exxon has contributed $50,000 toward a feasibility study for a world-class cardiovascular facility to be built in Baku. The study is headed by Dr. Michael E. DeBakey, 90, the world-famous heart surgeon from the Baylor College of Medicine in Houston, Texas, and will focus on the design, financing and location of the proposed 100-bed facility.

Dr. DeBakey visited Baku in August 1998 at President Aliyev's invitation to assess the local medical facilities. (For more information on Dr. DeBakey, see AI 6.3, Autumn 1998).
Photo: Exxon's manager in Baku, George MacDonald, with students at School #46. Exxon's humanitarian emphasis is primarily on educational projects, beginning with the publication of a major Azerbaijani-English dictionary in both Cyrillic and Latin alphabets.

Natural Gas Study
Representatives from Exxon and the State Oil Company of the Azerbaijan Republic (SOCAR) are currently conducting a year-long study of Azerbaijan's gas resources. The purpose of the study is to evaluate Azerbaijan's gas needs and export potential as well as find alternatives for production, transportation and distribution of gas resources.

State String Quartet
The Azerbaijan State String Quartet held its premier performance October 14, 1998 at a concert sponsored by Exxon Azerbaijan Operating Company (EAOC). The Quartet is composed of Uran Seidov, first violin; Vasif Jafarov, second violin; Rauf Karimov, viola, and Rasim Abdullayev, cello.

Dictionaries to Schools
Exxon (EAOC) has donated copies of the new Azerbaijani-English dictionary with Latin script to all of the libraries and schools in Baku. The dictionary was edited and compiled by Professor Oruj Musayev, Vice Rector of Baku's Institute of Foreign Languages. Exxon published both the Cyrillic script version (1996) as well as the Latin script version (1998). This is the first time in the linguistic history of Azerbaijan that a major Azerbaijani-English Dictionary has ever been published. It contains 45,000 terms, 648 pages. (For more information on the dictionary, see "Linguistic Milestones: Azerbaijani-English Dictionary-New Latin Alphabet," AI 6.3, Autumn 1998).

School Sponsorship
Exxon (EAOC) is the corporate sponsor for School #46 in Baku for the 1998-99 school year. The company is providing textbooks, audio-visual equipment, writing boards and other necessary classroom materials for the students. In addition, several Exxon employees volunteer as English-language teachers at the school.

From Azerbaijan International (6.4) Winter 1998.
© Azerbaijan International 1998. All rights reserved.

Back to Index AI 6.4 (Winter 1998)
AI Home | Magazine Choice | Topics | Store | Contact us