Winter 1998 (6.4)
Page 79
Amoco Targets Youth
Special Olympics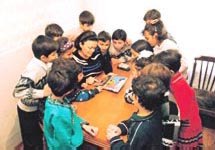 The First National Special Olympics Games were held in Baku November 7-10, 1998. About 200 mentally retarded children competed in sports such as basketball, power-lifting, swimming, table tennis and track and field. Amoco Caspian Sea Petroleum Limited, the sponsor for the event, has been sponsoring Special Olympics projects in Azerbaijan since 1995.
The Director of Ahmadli Orphanage looking through the art book of their children's work, "Come Along with Me," published by Amoco.

Book of Children's Art
A delightfully bright colored new publication entitled "Come Along With Me" features artwork by Azerbaijani children from the Ahmadli Orphanage. The publishing of the book was funded by Amoco and proceeds from the book's sale will go to establish a college scholarship fund for these children. For copies, contact: Toddler Town Daycare Center, Wellington Heights. Tel: (99-412) 97-56-12 (Photo at bottom of page).

Primers Donated
Amoco recently funded the publishing of 20,000 first-grade alphabet primers for Azerbaijani schools. Some of the "Alefba" textbooks were presented along with school supplies to refugee children in camps located in the Sabirabad and Imishli region. Accor-ding to the Ministry of Education, there are 175,000 first-graders in Azerbaijan today, but only 100,000 textbooks are available for classroom use.

Educational Emphasis
Beginning in 1992, Amoco has sponsored a number of educational projects in Azerbaijan. Twelve specialists from the Institute of International Education spent one year at the University of Texas in Austin. Four employees from the Ministry of Foreign Affairs attended classes at Georgetown University in Washington, D.C. Amoco has also sponsored three seminars on economics for secondary school teachers conducted at Baku's Advanced Teachers' Training Institute by the U.S. National Council on Economic Education (1994, 1995, 1996).

As a result of these seminars, the Ministry of Education introduced the study of economics in high schools in Azerbaijan. In addition, Amoco is sponsoring the publication of a new textbook on economics currently being prepared in the U.S. by the National Council on Economic Education.


From Azerbaijan International (6.4) Winter 1998.
© Azerbaijan International 1998. All rights reserved.
Back to Index AI 6.4 (Winter 1998)
AI Home | Magazine Choice | Topics | Store | Contact us