Azerbaijan Oil Contracts

Yalama
| | | |
| --- | --- | --- |
| | Rim Bagmanov | The original agreement for the Yalama prospect was signed in Moscow on July 3, 1997, between LUKoil (60%) and SOCAR (40%). Since then, LUKoil has assigned 100 percent of its interests in the production sharing agreement (PSA) to LUKARCO. This prospect is located in the northern part of the Azerbaijan sector of the Caspian Sea near the Russian border. |

LUKARCO is a joint venture company owned by LUKoil (54%) and ARCO (46%). In addition to Yalama, LUKARCO also owns interests in Tengiz (Kazakhstan) and the Caspian Pipeline Consortium (CPC).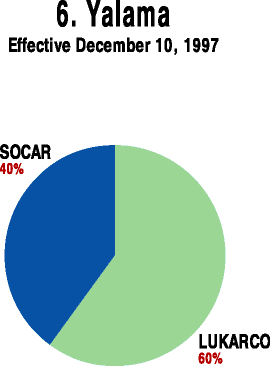 Signed July 3,1997
Ratified November 3,1997



Map: Click to enlarge

LUKARCO is a new company in Azerbaijan, having been registered only in April 1998. Recently, they opened offices in Baku and appointed Warren McFatter of ARCO as the President of the LUKARCO Operating Company and Rim Bagmanov of LUKOIL as First Vice President.
The company has plans to conduct 2-D seismic operations on Yalama as soon as possible and later this year to follow with a 3-D seismic program.



LUKOIL
11 Taghiyev Street
Tel: (99-412) 92-32-35
Fax: 93-48-30
E-mail: office@lukoil.baku.az
| | |
| --- | --- |
| Right: The Signing Ceremony between LUKOIL and SOCAR for the Yalama prospect signed on July 3, 1997 in Moscow. SOCAR's President (left) Natig Aliyev signed with LUKOIL's President Vahid Alakbarov. President Heydar Aliyev and Russia's President Boris Yeltsin also attended. | |


From Azerbaijan International (6.2) Summer 1998.
© Azerbaijan International 1998. All rights reserved.

Socar Contracts
Back to Index AI 6.2 (Summer 1998)
AI Home | Magazine Choice | Topics | Store | Contact us