Azerbaijan Oil Contracts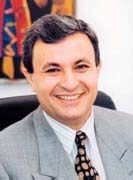 Shah Daniz
Rashid Javanshir, President of Shah Daniz, Alov and Inam (as of January 1, 1999) - all projects are operated by BP Amoco.
The three year exploration program for Shah Daniz is now 50 percent completed. All the major requirements are on schedule. The location for the drilling of the first exploration well, SDX-1 has been determined from excellent 3D seismic and seabed surveys followed by intensive subsurface interpretation.
The drilling will begin in June 1998 using the Dada Gorgud semi-submersible drilling rig for the first 2,700 meters. Then, in September, when Shelf-5 has been completely rebuilt, it will be the rig used to continue drilling to a depth of 6,100 meters. The Shelf-5 works are on schedule and represent the most extensive refurbishment program of existing marine facilities in the Caspian to date.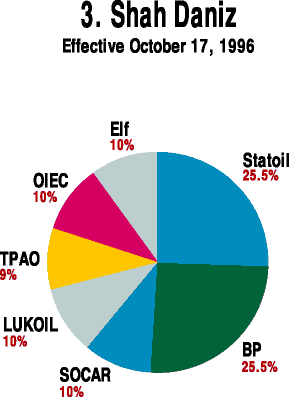 Signed June 4,1996
Ratified October 4,1996



Map: Click to enlarge

In March this year, 1 million man-hours have been completed on Shelf 5 since the work began in March 1997. No lost time incidents have occurred which is a remarkable achievement, deserving the highest commendation and credit to all concerned, particularly Azerbaijanis who comprise 80 percent of the workforce.

The Shah Daniz Project is committed to maximizing Azerbaijan infrastructure and resources. The KMNF Shipyard, where Shelf 5 is located, is receiving a multi-million dollar upgrade both to support the works and as an investment towards Azerbaijan's future prosperity. Similar upgrading of drill rig support vessels is also in progress. In advance of the results of the first well, Shah Daniz Project is undertaking conceptual engineering studies now in order to be in a position ready to determine the most economical concept for the production of hydrocarbons.


BP (operator)
Villa Petrolea, 2 Neftchilar Prospect (Bayil), Baku
Tel: (994-12) 97-90-00, 97-97-54
Fax: 97-96-02, 97-97-37
bayatltf@bp.com
www.baku.bpweb.bp.com

Shelf 5 drilling rig.


From Azerbaijan International (6.2) Summer 1998.
© Azerbaijan International 1998. All rights reserved.

Socar Contracts
Back to Index AI 6.2 (Summer 1998)
AI Home | Magazine Choice | Topics | Store | Contact us