Spring 1998 (6.1)
Page 8

Reader's Forum
Kasimova Voices Worthy of World Recognition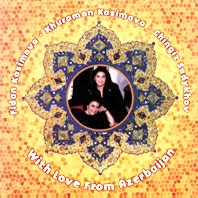 Newly released CD featuring the soprano opera singers, Sisters Fidan and Khuraman Kasimova, accompanied by Chingiz Sadigov.

Contact: Shapoor Ansari
e-mail: sevard2002@yahoo.com
As always, I enjoy receiving Azerbaijan International and always read it first when it arrives. This time I really enjoyed the issue [Winter 97: "Legacy of Music"] as it was devoted to my favorite subject-the music of Azerbaijan. What made it especially unique was that last November I had the chance to go to Baku and attend the 100th Jubilee for the singer Bul-bul and the Vocal Competition that was established in his name. Also, I should mention that when the magazine arrived, the famous Azerbaijani opera singing sisters, Fidan and Khuraman Kasimova were visiting us in our home here in Michigan.
I would like to congratulate you on five years of excellent work on this publication, which in my opinion, is one of the highest quality journals printed. Keep up the great work! I'd like to suggest that it would be very valuable if this issue on music could be translated into Azeri (Arabic alphabet) for the large population from Southern Azerbaijan living in this country and in Canada.
Let me mention some of the activities that we have been organizing here in the U.S. with the Kasimova Sisters. In September 1997, I sponsored a concert for them at the Detroit Symphony Orchestra Hall. The director told me later that his people were telling him that they had never seen such a performance in the past 15 years. It was truly amazing! The public loved their pieces. It was the Americans who observed that the Azerbaijani selections were the "frosting on the cake."
Then, the director of the Toledo Opera visited us in our home last October to audition the Kasimova Sisters. After hearing them, he invited them to the Toledo Opera Gala in February. We did not realize that he had changed his program just to accommodate them after admittedly being "blown away" after hearing them. The director has promised to open every door possible to assist them in the U.S.
The sisters feel so pressured by time and need not only the help of one family and one opera director, but of everyone who is interested in the music and arts of Azerbaijan. Talent like theirs should not be swept under the rug.
We have just produced a CD from the live performance in Detroit entitled, "With Love from Azerbaijan," which is now available to the public. The album includes 24 selections of favorite Azerbaijani songs accompanied by Pianist Chingiz Sadigov.
Shapoor Ansari, M.D.
Bloomfield Hills, MI

From Azerbaijan International (6.1) Spring 1998.
© Azerbaijan International 1998. All rights reserved.

Back to Reader's Forum
Back to Index AI 6.1 (Spring 1998)
AI Home | Magazine Choice | Topics | Store | Contact us