Spring 1998 (6.1)
Page 55
President Levon Ter-Petrossian Resigns
His Final Words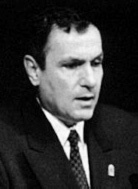 On February 3, 1998, the President of the Republic of Armenia, Levon Ter-Petrossian announced his resignation. The full text of his resignation speech follows.

Dear Compatriots,
Well-known political powers have demanded my resignation. Therefore, since my ability to fulfill the constitutional duties of the presidency under the current situation is fraught with the real danger of destabilizing the country, I have accepted their demand and I am announcing my resignation.
I will refrain from making any comments or assessments in order not to aggravate the situation. However, I do think it necessary to comment in regard to the speculation that the Karabakh problem was the cause of this crisis of power. The problem is much deeper and is related to the fundamental concept of statehood and the alternative between peace and war.
Time will tell who did what for Karabakh and who is, indeed, selling it out. Nothing out of the ordinary is really happening. Simply, the party of peace and decent accord has lost. The party of peace has also suffered defeat in even more developed societies, like Israel. But both in Israel as well as in Armenia, this is a transient phase-a temporary retreat. Sooner or later, peace will pave its own path.
I call on you to display restraint, to maintain order in the country and to carry out legal, civilized elections for the new presidency. Such conduct will manifest the maturity of the state that we have created together during these last eight years, and a guarantee for our country's credibility abroad.
I wish the new President success for the benefit and welfare of the Armenian people. I am very grateful to you for the trust and support you have given me all these years.
I would also like to thank all my supporters who have constantly and unconditionally stood by me. Believe me, my decision to resign means that I consider the alternative to be more dangerous for our state. If I have done anything good, I do not expect any gratitude. I beg your forgiveness for my mistakes and the things I did not do.
All my best wishes to you,
Levon Ter-Petrossian

From Azerbaijan International (6.1) Spring 1998.
© Azerbaijan International 1998. All rights reserved.

Back to Index AI 6.1 (Spring 1998)
AI Home | Magazine Choice | Topics | Store | Contact us