Spring 1998 (6.1)
Page 11
Editorial
Quest for Independence
by Betty Blair


On May 28, 1998, Azerbaijan will celebrate the 80th Jubilee of the Azerbaijan Democratic Republic (ADR), the short-lived independent government that was crushed when Soviet troops entered Baku less than two years later on April 28, 1920.
The ADR existed during the most turbulent, unstable and politically complicated days of early 20th century, plagued by the aftermath of World War I (1914-1918), the Russian Revolution (1917), bloody ethnic conflicts with Armenians (1918) and the Soviet scramble for power outside of Russia.
Though extremely brief, the ADR succeeded in leaving an indelible mark on the memories of Azerbaijanis, giving them the hope that independence could again be achieved, hopefully within their own lifetimes. This dream came true on October 18, 1991, about 70 years later.
Symbols of that earlier period resurfaced immediately. Most conspicuous are the tri-colored flag and the national anthem, composed by Uzeyir Hajibeyov with lyrics written by Ahmad Javad (featured here) whom the Soviets found too independent minded for their liking.
Language is also part of that legacy, especially the trend to use Azeri more and to write in a Latin script. Though the Latin alphabet did not officially replace Arabic until 1928 (only to be replaced by Cyrillic in 1938); nevertheless, it was part of the intellectual discussions during that period. One of the first laws that Azerbaijan's new parliament passed when the Soviet Union collapsed was to rid themselves officially of Cyrillic and adopt the Latin script (December 25, 1991).
Nor should it be forgotten that the basis for the educational system in Azerbaijan today was established by the ADR in 1919 though Soviets used to manipulate the dates and credit themselves for its establishment in 1920.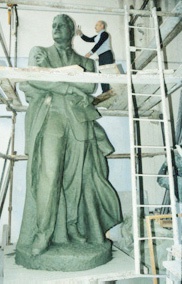 Statue to Mammad Amim Rasulzade, one of the early

founders of the Democratic Republic of Azerbaijan (1918-1920). Designed by Omar Eldarov, Sculptor.

But our focus in this issue on "Quest for Independence" is broader than a discussion of dates and borders. We have tried to capture some of the spirit of independence - the consciousness and pursuit to break old patterns of dependency whether they be political, economic, cultural or psychological. Rustam Ibrahimbeyov, one of Azerbaijan's most prominent writers, wrote a play in the 1980s about a lion, who when freed, did not want to leave his cage. Independence is like that, too. You have to make it happen.
In the pages that follow, you'll find a wide range of articles. Vagif Samadoglu, one of the most profound poets, reflects upon the era of the 1960s to break away from state-required socialist realism in the arts.
Journalist Azad Sharifov researched KGB files and has profiled three exceptionally talented individuals - Sharifzade (actor), Javad (poet) and Rafibeyli (physician and administrator). To our knowledge, this is the first time such material is available in English. Even those who read Azeri won't be able to find the events surrounding their arrests and subsequent deaths in the Encyclopedia of the Soviet Azerbaijan.
Which brings us to another point. For many Azerbaijanis, especially the younger ones, notions of these critical moments in Azerbaijan history are fuzzy. Soviets rewrote history to reflect their own perspective after they crushed the democratic government in 1920. In describing their military takeover in Baku, overthrowing the democratic movement, the Soviet Encyclopedia writes: "For the first time in their history, the Azerbaijani people had their own sovereign socialist state."
Even the recent events of Black January (1990), the determining point for the most recent independent movement, is not documented well as the Soviets managed to carry off all official investigative files to Moscow. What remains is mostly scattered, anecdotal and not very systematized accounts. To this day, it is not known with certainty how many people were even killed during those bloody days.
We've deliberately given tribute to journalists in this issue. On their shoulders lies much of the burden of independence and democracy. Azerbaijan, unfortunately, has just lost one of its most professional commentators - Elmira Amrahqizi, 47. Elmira was our Baku news correspondent. We dedicate this issue, "The Quest of Independence" to her tireless efforts as one of the first journalists who helped shape the free press in Azerbaijan. According to her colleagues, "Elmira went to places male journalists were scared to go and asked questions other journalists hesitated to ask." It was extremely fitting that President Aliyev (himself in Japan on an official visit at the time) arranged that Elmira be commemorated in Baku's Cemetery of the Honored Ones (Fakri Khiyaban).
Speaking of journalistic courage, Reza, world renowned photojournalist was the only member of the foreign press to document Black January. We share his personal account of how he smuggled himself into the country and got the photos out to the world.
These days we don't know of anyone who is keeping a closer eye on how the international media is writing about Azerbaijan than university student Adil Baguirov. With this issue, we inaugurate a new column called "Media Watch" to check out the trends.
Even though more than six years has passed since the collapse of the Soviet Union, Azerbaijan's quest for independence is not over yet. President Aliyev is quick to admit that he is using the nation's vast reserves of oil to secure it. By inviting the world community to his banquet table for a "piece of the pie," he seeks their commitment to help solve the risks and dangers that plague his tiny nation. Oil brings money. Azerbaijanis are also counting on it to help bring independence through interdependence. If they manage to succeed, it will be the first time in their modern history.

From Azerbaijan International (6.1) Spring 1998.
© Azerbaijan International 1998. All rights reserved.

Back to Index AI 6.1 (Spring 1998)
AI Home | Magazine Choice | Topics | Store | Contact us