Winter 1997 (5.4)
Page 99
NAOC: Current Developments
by Tom Klockenbrink

North Absheron Operating Company (NAOC) is already busy drilling its first exploration well only nine months after ratification of the Ashrafi Dan-Ulduzu license area and less than one year after signing the agreement in Gulustan Palace. This is Azerbaijan's fourth multibillion dollar consortium contract for oil exploration and development in the Caspian. NAOC, as the operating consortium, represents five shareholder companies-Amoco, Unocal, ITOCHU, Delta Oil and SOCAR. Drilling began on November 30, 1997, with the Dada Gorgud rig which is targeting the promising Ashrafi structure-the first of two large structures lying in 170 meters of water within the 453 sq km contract area, 100 km east of the Absheron Peninsula.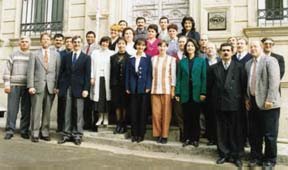 The NAOC staff outside their newly refurbished office
in the"Inner City" (Ichari Shahar) in Baku. November 1997.
Future Plans
The 1998 work program includes the drilling of a second exploration well, continued investment for the upgrading of the Shelf 5 and Dada Gorgud semi-submersible drilling rigs and ongoing technical evaluations for the prospect area. The first Caspian Sea "rig sharing" agreement between four international consortiums was finalized in early 1997, which will provide two semi-submersible floating drilling units to be used by various consortiums to operate in water depths up to 700 meters and drilling depths up to 7,600 meters. Earlier this year, the Dada Gorgud was used for drilling wells for AIOC and CIPCO. The second drilling rig, Shelf 5, is expected to become operational in October 1998. NAOC will invest approximately $25 million towards the refurbishment of these two drilling units.

Several other key work program milestones have also been achieved. The 3D seismic data that was acquired from Caspian Geophysical in the spring identified two large prospective structures, Ashrafi and Dan-Ulduzu, in the contract area. They both will be tested during the ongoing work program. The Environmental Impact Assessment Study on the exploratory drilling has been presented at a public meeting in August, building upon previous work in the Caspian. NAOC's work plan is designed to protect the Caspian environment. Baseline data will be monitored during operations to ensure there is no adverse impact.

NAOC Staff
The real success story of NAOC is its people. Since the beginning of 1997, our staff has grown to 26. We moved into our refurbished offices at 22 Boyuk Gala Street in Baku's old "Ichari Shahar" (Inner City) in March. There are 20 full-time Azerbaijani staff and six expatriates permanently assigned to Baku from the partner companies who are responsible for drilling, geoscience and finances. The expatriates bring past work and cultural experiences from eleven countries-Japan, Egypt, Philippines, Trinidad, Somalia, Thailand, Poland, Scotland, Iran, Pakistan and the U.S. They represent three international exploration and production companies-Amoco, Unocal and ITOCHU.

The Azeri employees have come from regions as far away as the Georgian border and bring decades of total work experience from the private, diplomatic and government sectors, including SOCAR and the military. The Azerbaijani staff forms the core of NAOC, mainly in positions of accounting, administration, drilling, engineering, geoscience and other disciplines. The ages of the employees range from 19 to 50. Women make up the majority, including the top national position.

Staffing the new consortium was a challenge those first few months. The NAOC management is convinced the staff is "right sized" for the work program. The recruiting assessment included questions about what prospective employees expected from NAOC and how they would solve and deal with specific problematic situations.

In addition, NAOC is involved with training to ensure that employees have an opportunity to reach their full potential. Two Azerbaijani staff members have recently returned from separate assignments in the U.S. where they worked and trained with new geoscience and computer technology. Konul Mammadova, who handles computing support and network management at NAOC, took classes for Microsoft Certification which acquainted her with state-of-the-art technology. She also got the chance to visit NAOC's partner company offices of Amoco and Unocal in Houston to learn how computing technology is managed in large corporations.
Since its inception, NAOC has been committed to building its foundation on the strength of the Azerbaijani people, which it considers to be Azerbaijan's greatest resource.
Tom Klockenbrink of Amoco is president of NAOC.

From Azerbaijan International (5.4) Winter 1997
© Azerbaijan International 1997. All Rights Reserved.

Back to Index AI 5.4 (Winter 1997)
AI Home | Magazine Choice | Topics | Store | Contact us