Autumn 1997 (5.3)
Page 65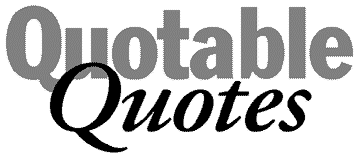 Adams - Crucial Global Player
Aliyev - Democracy-Not An Apple
Guluzade - Unforgivable Silence
Ibrahimbeyov - Artists Initiate Change
Mirgasimov - Azerbaijan Undergoing Surgery
Pashayev - Nagorno-Karabakh Conflict
Democracy - Not An Apple
"Some people think we should be able to establish democracy in a short time, but that's impossible. Azerbaijan is a young nation and democracy is a new concept. The U.S. has been advancing on the path of democracy for a long time-more than 200 years. You've achieved a lot, but you're still working on it. Democracy is not an apple you buy at the market and bring back home."

Heydar Aliyev, President of Azerbaijan, on his first official visit to the United States, speaking at an Open Forum sponsored by the U.S.-Azerbaijan Chamber of Commerce at Georgetown University in Washington, D.C. on July 30, 1997.
Azerbaijan - Undergoing Surgery
"The concept of market economy is not something that we can comprehend all at once. We need time to get used to the idea. Foreign journalists often ask whether cinema has improved or worsened since independence. I always compare our current situation to a patient undergoing surgery to save his life. The patient suffers considerably during the operative and postoperative stages, but then, due to the surgeon's timely intervention, there's a great likelihood that he will recover.

Ogtay Mirgasimov, film director, in Baku in June 1997.
Crucial Global Player
"There has been much speculation in the media that Azerbaijan and the Caspian will be like another Middle East. However, a more accurate comparison would be the North Sea. Coincidently, Azerbaijan's proven reserves of 17.5 billion barrels is exactly equivalent to that of the North Sea's. But from the known database, geologically speaking, at least, the equivalent of two more North Seas may be found in the South Caspian."

Terry Adams, President of Azerbaijan International Operating Company (AIOC), at the AmCham Luncheon in Baku on June 26, 1997.
Nagorno-Karabakh Conflict
"I'm optimistic about the settlement of the Nagorno-Karabakh conflict for one simple reason: both history and facts are not on the side of extremists in Armenia.

History in the 21st century will not be on the side of aggression. History will not favor those who create a million refugees and then claim they themselves are the victims. And history will not be kind to those who live in the past but do not learn from it."

Hafiz Pashayev, Azerbaijan's Ambassador to the U.S., at the conference "Azerbaijan-An Economy in Transition" sponsored by the U.S.-Azerbaijan Chamber of Commerce in Washington, D. C. on May 21, 1997.
Artists Initiate Change
"There have always been people who have felt the necessity of change earlier than others. And this is critical for every society. Nothing is more important than human initiative and the freedom to create. . . To find and support such people is the great task of literature and art."

Rustam Ibrahimbeyov, screenwriter of "Burnt by the Sun," winner of the Academy Award Oscar for "Best Foreign Film" (1995) and "Grand Prix" at the Cannes Festival (1994).
Unforgivable Silence
"Western democracies cannot be forgiven for their silence when in 1988 to 1989-in Armenia and in the Nagorno-Karabakh region of Azerbaijan-hundreds of thousands of Azerbaijanis were subjected to ethnic cleansing at the hands of Armenians with the support of the Soviet regime. This initiated the bloody conflict that today threatens Western interests in the region.

Nor can Western democracies be forgiven for failing to condemn Armenia's full-scale military aggression against Azerbaijan...which has led to the occupation of one-fifth of Azerbaijan territory. As of now, Western democracies have taken no effective remedial actions."

Vafa Guluzade, Foreign Policy Adviser to President Aliyev in a letter published in the Washington Times on September 22, 1997.

From Azerbaijan International (5.3) Autumn 1997.
© Azerbaijan International 1997. All rights reserved.

More Quotes
Back to Index AI 5.3 (Autumn 1997)
AI Home | Magazine Choice | Topics | Store | Contact us