Autumn 1997 (5.3)
Pages 90-93

Catalyst for Change
by Terry Adams
This is an edited version of an informal presentation which Terry Adams made at the Am-Cham Luncheon (Azerbaijan-American Chamber of Commerce) at the Hyatt Regency on June 26, 1997.
When you look at the AIOC consortium, there's one word that clearly describes it- "complexity." But it is this same complexity which brings strength to the project and which has been absolutely crucial both for the success of our Early Oil project and for the incredibly rapid pace of delivery that we've made under very difficult circumstances.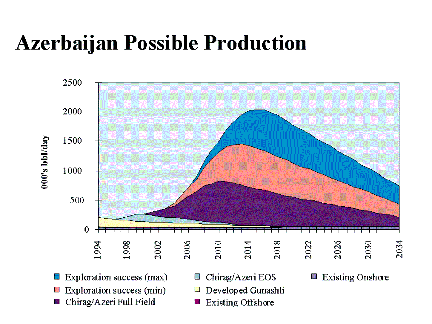 Foreign Oil Companies (FOC) deliver this strength in a variety of ways. First of all, and perhaps the most important means, is through technology transfer. There has never been any doubt that AIOC could handle such an offshore project.
Secondly, our financial strength. Two and a half years ago Azerbaijan was an untested entity, and AIOC was perceived as a very high risk investment. However, each partner was able to fund its share of the initial investment within their companies. AIOC did not need to go to the market for third-party funding to obtain the $1 billion needed to kick-start the project.
Thirdly, the AIOC partnership, representing seven nations, has brought incredible international geopolitical support to Azerbaijan.
AIOC was the first Production Sharing Agreement (PSA) to be signed in Azerbaijan. The event took place back in September 1994. Still to this day, it is the only development production sharing contract-meaning the only field with proven oil reserves. The oil reserves are known to exist, and the commercial contract reflects this essential fact.
In the last twelve months or so, four more contracts have been signed [for the blocks of (1) Karabakh, (2) Shah Daniz, (3) Ashrafi and Dan Ulduzu and (4) Lankaran-Talysh] but they are all Exploration Production Sharing (EPS) contracts. People tend to refer to them as oil fields but, in fact, none of them has yet to be tested. Inevitably, some of them will turn out to be successful; others will be failures. There is no guarantee that each of these contracts will deliver oil. Nevertheless, each contract demonstrates the oil strategy that the Azerbaijan government has so successfully pursued. Let me point out four major points related to their strategy.
Oil Strategy Favors Azerbaijan
First of all, each of these contracts has been negotiated very successfully and has resulted in tough commercial terms which favor Azerbaijan. Consequently, there's not likely to be any temptation for either party to want to re-negotiate.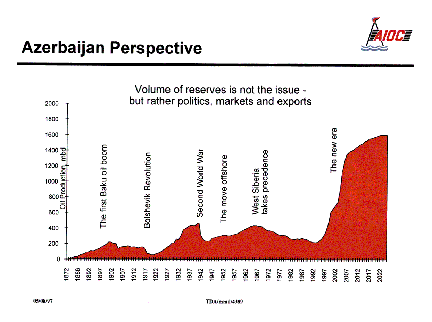 About three weeks ago, there was a very interesting article in the "Oil and Gas Journal" ranking 124 Production Sharing Agreements that currently exist worldwide. No. 1 represented the contract most favorable to the investor; No. 124 meant that the contract was most advantageous to the government. The AIOC contract ranked No. 104. So when people complain that Azerbaijan may have "given away the family jewels," the truth is that SOCAR has negotiated a very tough commercial contract that favors Azerbaijan.
Contracts Enforced by Law
The second strategic element that the Azerbaijan government has achieved has been to ensure that each of their Production Sharing Agreements became a force of law in its own right. All have been, or will be, ratified through Parliamentary process.
Again, for each contract, the contractual ground rules and the commercial terms are very clearly defined from the beginning and, consequently, will be very difficult to change in the future. These gives the foreign investor confidence in the longevity of the contract and its reinforcement by law.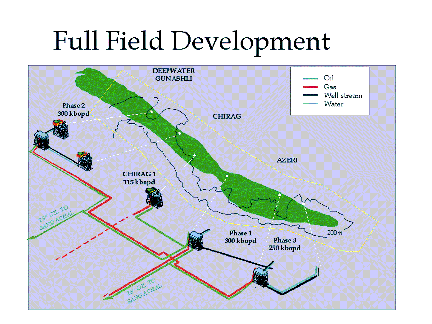 Geopolitical Strength
Thirdly, these contracts have created remarkable geopolitical strength for Azerbaijan's long-term independence. There are now twelve international capitals firmly represented in the investment in these five contracts-Washington, Moscow, London, Oslo, Paris, Berlin, Rome, Brussels, Ankara, Tehran, Tokyo and Riyadh. In other words, the countries these capitals represent are aligned with Azerbaijan, through their own commercial national interests.
Of the five contracts that have been signed so far; clearly, the U.S. has taken the lead. However, Russia comes in very close behind, then U.K., followed by every major European capital along with Turkey, Iran, Japan and Saudi Arabia. Azerbaijan's global importance has clearly emerged as a direct consequence of its oil strategy.
Economic Renewal
Fourthly, the contracts now carry between $20-$25 billion dollars of work investment commitment which will form the basis for the overall economic renewal of Azerbaijan. The oil strategy of Azerbaijan is clearly a strategic and political statement, representing the vision of President Aliyev and working to the unique advantage of the country. Such a successful economic geo-political strategy has not been achieved anywhere else in the former Soviet Union, including the Russian Federation!
International Strategy
The question must be asked: "How did such a strategy work in the geopolitical complex region of the Caucasus?" It's because of the presence of two world-class leaders in the Caucasus at a unique time in history when international engagement is required. President Heydar Aliyev in Baku and President Eduard Schevardnadze in Tbilisi have created an international bridgehead for Western investment in the Caspian as a direct result of their international reputations on the world stage.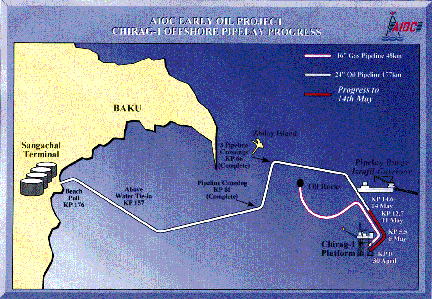 AIOC Early Oil Project Chirag-1 Offshore Pipelay Progress
This international strategy coincided during a period of significant internal political distractions in Russia, Turkey and Iran, giving Azerbaijan and Georgia a chance to get on with business. Since the AIOC project began 30 months ago, international business is facing a very different situation than when we started. The business environment in which we operate is substantially more secure than it was in the past. Azerbaijan is enjoying a sustainable oil boom in which "flag has followed trade."
The Future
What does the future look like? Generally speaking, Azerbaijan has a very high probability of producing up to 1.5 million barrels of oil a day within the coming decade. And, potentially, they could produce perhaps 2 million barrels a day just from the existing contracts alone.
Two million barrels a day is equivalent to Kuwait's current production in OPEC. However, this does not mean Azerbaijan is another Kuwait. There has been much speculation in the media that Azerbaijan and the Caspian will be like another Middle East. However, a more accurate comparison would be the North Sea. Coincidently, Azerbaijan's proven reserves of 17.5 billion barrels is exactly equivalent to that of the North Sea's. But from the known database, geologically speaking, at least, the equivalent of two more North Seas may be found in the South Caspian.
Azerbaijan's oil production potential of 1.5-2 million barrels per day will arrive during the first decade of the next century when there will be global demand for this supply, and when other global oil provinces will have begun to decline. As a result, the Caspian will become a crucial player in the international oil industry for many decades to come.
In addition, the production profile very clearly shows that there is a need for a main export pipeline sometime around 2002 or 2003 when AIOC excess production will exceed existing export capacity and other contracts will also be onstream for export to the West.
The need to select a main export pipeline route is already a matter of urgency; as it will take five years lead time to negotiate, finance, and build such a line. However, the decision for the direction of the route remains open to negotiation.
Why have foreign investors dared to take the risks in this region? Simply, the Azeri, Chirag, deep-water Gunashli oil field is a very large, but essentially, very simple structure. AIOC predicts a recoverable reserve of at least 4 billion barrels, making it a super-giant field by any global measure. Access to such large reserves in a single structure presents a very rare opportunity. If you were to superimpose this field onto a London map, it would extend from one end of the M25 motorway to the other end.
Northern Pipeline-Russia
The Early Oil project essentially has been quite straightforward despite the complexity in ensuring its delivery to Western markets. The crucial element was resolved last year (1996) with the successful negotiation of inter-governmental and transportation agreements for the use of existing pipeline infrastructures to get Early Oil to the Black Sea. Agreements were first signed with the Russian Federation for access via a northern pipeline to the port of Novorossyisk. AIOC will operate this line up to the border of Russia and then transfer custody to Transneft, a Russian oil company, which is obliged to deliver the equivalent volume of oil, but not necessarily the same oil, to our tankers.
AIOC have been given contractual priority to export up to 5 million tons (or 100,000 barrels a day) of Azerbaijan oil through the Russian Federation to this Black Sea Port. Azerbaijan's oil is already waiting in the pipeline at the border to transit through Russia. Unresolved issues between the Chechens and Russia have currently stopped its flow.
Western Pipeline-Georgia
In terms of the Western pipeline, we are already constructing a marine terminal at Supsa on the Black Sea in Georgia. Contracts have also been awarded for the refurbishment of the existing pipelines that connect the two countries. We are issuing tenders for building new pressure reducing stations and various pump stations along the pipeline system. Everything should be completed between Azerbaijan's terminal at Sangachal and the port of Supsa by the fourth quarter of 1998.
These two export lines should give AIOC considerable flexibility. Considering that AIOC did not get shareholder sanctions for the Early Oil offshore project until March 1996 which was the same time that export pipeline agreements were also signed, everything has moved ahead very rapidly in a year and a half between March 1996 and September 1997. In fact, this is probably the fastest delivery of any offshore project I've seen in any part of the world. It has clearly demonstrated that through mutual cooperation and commitment, major things can happen in Azerbaijan. It proves regional logistics work! We have relied very heavily on the cooperation of SOCAR and the Azerbaijani government along with the exceptional support of our contractors. We should all be proud of what has been achieved collectively!
AIOC should be very close to delivering offshore Early Oil by the end of August or early September. Remember, we gave the President a "time window" for delivery. We told him there was a 15 percent chance of delivering by August 28; with a strong incentive bonus to be paid if we achieved this. And there was about a 50 percent chance that we would finish by the middle of November, with no bonus to be paid. Despite serious delays caused by harsh weather, and mechanical problems brought about by the untested infrastructure, the project has gone extremely well.
Suppliers
So, how has AIOC spent its money? Where did it all go? Our sources of supply have been essentially international. In general, the most successful companies are those which arrived early on the scene in Baku. The U.S. has done well, as has the U.K. But Azerbaijani companies, on a truly competitive basis, have learned quickly and been very successful. The rest of the suppliers are international.
At the beginning, we wondered how we were going to get all our supplies to Azerbaijan. Originally, we planned to transport them via the rivers and canals of Russia and the Russian railway system. In the end, most of our shipments have been delivered to Georgian ports on the Black Sea and transported by rail or road to Azerbaijan.
Let me comment on the quality of local workmanship in Baku. Quality and delivery has been exceptional. As for logistics, two and a half years ago, we thought this would be another business risk. AIOC has been truly amazed at the productivity and standards that have been achieved for Early Oil. In fact, productivity and quality performance in Baku have matched that of the Gulf of Mexico and the North Sea-a fact that bodes extremely well for the future.
Lessons Learned
So what are the positive business messages that we've learned? Clearly with commitment and mutual respect and understanding, Western companies can make it happen; and it's possible to make things happen very quickly!
The lessons we've learned so far include:
1. Recognize complexity and plan for it.
2. Maintain clarity of vision. Know what you want to do. Know where you want to go. And know when you want to be there. Unless you have a very clear vision, things probably won't work very well.
3. Milestones. Set targets and dates by which you can measure performance. Identify problems they arise and solve them quickly.
4. Define your standards and maintain them. AIOC committed to international standards and we have kept to them. This is not just professional pride; but a prime requirement from our shareholders.
5. Maintain business ethics. AIOC has been extremely firm in handling our business. We are totally cognizant of the rules and requirements of the U.S. FCPA and are committed to full compliance of them. International tendering has been conducted according to Western standards. We have had no evidence of corruption or coercion on this project. It may be our size and the national priority given to our project but AIOC has maintained high standards and will continue to do so. We are fully open to audit and are proud of our track record. "Quality, Delivery and Price"-that's our business motto, and it's not likely to change.
6. Be mindful and sensitive of local interests. We are working in Azerbaijan-a former Soviet economy which has essentially collapsed. Therefore, we must not compromise standards, nor quality or price. If we continue to recognize that local interests are important for long-term success, then the future is assured. I always say "If Azerbaijan wins, we all win. But if Azerbaijan loses, we all lose."
The Future Prize
The real prize lies in the future-Full Field Development (FFD). We intend to build three production super complexes. The first will be located in the middle of the Azeri field; the second, on deep-water Gunashli, and the last, on the eastern end of Azeri. Each complex will have a production potential for up to 300,000 barrels a day. We anticipate a sustainable peak production of 800,000 barrels per day by about 2006-2007. We have already committed $30 million dollars to the front-end engineering of the first super-complex, which is being carried out in London. We call this, the "Next Step," and it will require $3 billion investment.
Early Oil, by comparison, costs just in excess of $1 billion. Full Field Development will cost $10 billion.
The Oil Strategy of Azerbaijan is working well. All this must be seen in a truly regional political context. Clearly, there are risks; but I'm sure that from what we've achieved so far, things will continue in a very positive direction.
Remember that oil has a very long tradition in Baku. Azerbaijan created the first international oil industry at the turn of the last century. It was Baku that supplied the majority of oil to support the Eastern Front during World War II. And it was Azerbaijan which developed the first offshore fields in the world.
Future Pipeline Route
There has been so much speculation in the media as to which route will be chosen for the main export of oil from this region. This pipeline must be completed by 2003 at the latest. There's such an intense interest in the issue. There are so many agendas and solutions that have been presented.
Recently, the American Embassy complained to me that we were being inconsistent in our approach to the problem. They said that two weeks ago we announced that the pipeline would be a "political" decision, but then that last week we claimed it would be "economic." Today, I'll tell you that the solution must be "diplomatic." When I'm asked where the pipeline will go, I continually say: "It may go through Russia, it may go to Supsa (Georgia), or it may go to Jeyhan (Turkey). And that's official!"
Terry Adams has been the President of AIOC since its founding in 1995.

From Azerbaijan International (5.3) Autumn 1997.
© Azerbaijan International 1997. All rights reserved.

Back to Index AI 5.3 (Autumn 1997)
AI Home | Magazine Choice | Topics | Store | Contact us