Summer 1997 (5.2)
Pages 10-11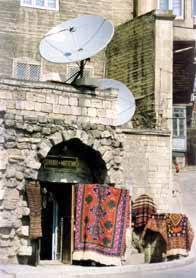 The following letter was addressed to Reuters:
Religion
Don't Confuse the Issues in War
I've been reading Reuters' extensive coverage of the Caucasus and Former Soviet Union area for several years now, paying especially close attention to news about the Azerbaijan Republic and the surrounding region.
Unfortunately, Reuters, like various other news wire services, continues to rely on old, outdated, recycled and false clichés in its reports. One such example is the tendency to include a line in your reporting about the Nagorno-Karabakh conflict that reads: "Christian Armenia is engaged in a war with Muslim Azerbaijan."
This does not correspond to the true origins of this war at all. First of all, Azerbaijan has NO official state religion; therefore, all religions are protected equally by law (Azerbaijan Constitution ratified November 1995). Second, there is an increasing number of Christians among ethnic Azerbaijanis. Third, there are other religions well established in Azerbaijan including the Jews. There are atheists, also. But more importantly, religion is not a factor and essentially has NOTHING to do with this war.
Armenia began its well-planned and calculated aggression against Azerbaijan back in 1988. Its goal was clearly the acquisition of land, which proved to be successful as Armenia now occupies 20 percent of Azerbaijan's territory. In the process, more that 1 million Azerbaijani civilians have been displaced and have been living as refugees for the past four years or more.
So where does religion enter the picture? And what is the intent behind the very condensed releases that Reuters disseminates where each word counts and should be carefully weighted? There is absolutely no reason to include such unhelpful information about religion when describing this war. It is entirely irrelevant to the situation and , furthermore, distorts and hinders the peace process as it confuses and sidetracks the main issues of conflict-sheer aggression on the part of Armenians against Azerbaijan.
By the way, according to Human Rights Watch/Helsinki and various other publications, the number of people who have died because of Armenian aggression in the Karabakh region is 25,000 and rising.
Adil Baguirov
University of Southern California (USC)
Los Angeles, California
Missing Baku
It seems like ages since we said good-bye to Baku. We are just now beginning to feel a bit settled in Bonn on our new assignment. When we left Baku last December, we decided to drive back to Germany as we needed to say a slow good-bye to the life in which we had been so intensely immersed during the past two years. To fly from one world to the other in a matter of five hours seemed somehow too abrupt.
So we set off on an unforgettable journey of 5,735 kilometers that lasted 16 days. Our route took us through Georgia (Tbilisi), Turkey (Trabzon, Samsun, Ankara and Istanbul), Bulgaria (Sophia), Romania (Bucharest and Sibiu), Hungary (Budapest), Austria and finally into Germany. We crossed the Danube River several times, and felt as if we had come full circle when we reached Passau, the city through which so many Germans traveled on their way to Azerbaijan in 1819.
Our Land Rover became the first Azerbaijani auto in Bonn. Its bright red diplomatic license plate and its dark gray color bearing the dust of many countries attracted bewildered stares.
So far, we have spent most of our time unpacking, but at least we are now surrounded by Azerbaijani paintings, carpets, music and literature (not to mention Azerbaijan International magazine!)-all poignant reminders of a rich and rewarding two years.
We miss our life in Baku-our friends, as well as the sense that what we were doing made a difference. Luckily, the German newspapers have recently featured several articles about Azerbaijan, and we've also discovered two new books, as well. We don't want to ever lose touch with what is happening there, so please continue to send us your magazine.
Maryann Schmunk
(wife of Michael Schmunk, former German Ambassador to Azerbaijan)
Bonn, Germany
Baku's Metro and Tourism
One of my hobbies is "collecting metros." I've managed to ride on 100 of the 114 metro systems that I've identified throughout the world. Recently, I visited Baku for the first time, primarily to ride the metro system. Though there was chaos at the airport around the passport control, the confusion melted into insignificance when the control officer smiled and said, "Welcome to Azerbaijan!" Then, the lady at the airline counter responded with a smile to my question about how to take a bus into town (easily, via the #16). Outside, I pushed past the taxi hustlers who were not too happy when they realized I intended to take public transportation. But I found my way, despite some confusion on several occasions, and succeeded in reaching the Hotel Absheron which provided a spectacular view of the Caspian from my 11th floor room. Later, I strolled around Baku, visited the old "Inner City" and the Maiden's Tower, and climbed up alongside the funicular tracks to where a statue of Kirov used to stand at one of the highest points in the city.
The U.S. Embassy warns foreigners not to ride the Baku Metro (because of a fire catastrophe blamed on faulty wiring which cost the lives of at least 300 people in October 1995, as well as two earlier bombing incidents credited to terrorists). But Im glad I ignored the warning. True, I was stopped and searched while entering the metro, but felt the police were justified in questioning a "different-looking foreigner," just as they would hve been anywhere else in the world under such circumstances. Unlike Russia, though, there was no implied bribe request. The police were consistently polite to me, in spite of linguistic constraints.
All this is simply to say that I was impressed with the overall friendliness of everyone I encountered in Baku, from the shopkeepers and personnel in restaurants to the folks on the street who all seemed relaxed and easy-going. I look forward to going back! If my experience is any indication, there is definitely a solid tourism industry to be developed in Azerbaijan.
P.S. By the way, this is the 229th country that I have visited.
Alan K. Hogenauer
Oakdale, New York
Alphabet Changes
I am a librarian at the University of Chicago where we have a collection of books in Azeri. The majority are in Cyrillic, but there are about 20 in the Arabic script, including, "Greetings to Heydar Baba" by Shahriar, "A History of Azerbaijani Literature" by Dr. Javad Hayat, "Mirza Mahammad Akhundzade" by Bahram Cyrus, "A Report on the National Movement of Azerbaijan" by Dr. S. Javid and "Khagani Shirvani" by Bahram Amiramadi. In the past, our bibliographic records have been transliterated via Persian, but we wanted to make sure that it is done correctly via Azeri. Finally, we got the bright idea of trying the Web for some help, and that's when we discovered your magazine. One of your earlier issues (AI 1.3, September 1993) deals with the transition of the alphabet from Cyrillic to Latin. Can you direct me to a chart of the entire alphabet in Arabic, Cyrillic and the official Latin script? Thanks for your help.
David Bade, Bibliographer
University of Chicago
Chicago, Illinois
Editor: A full chart comparing the four scripts (Arabic, Latin, Cyrillic and a modified Latin) which were officially adopted by Azerbaijan during the course of this century is available in this issue. See our article on the alphabet.
Minimizing the Risks
It's good to feel the support of Azerbaijan International magazine while living abroad. Whenever I see someone who is really interested in Azerbaijan, such as a professor here at Georgia State going on assignment to Khazar University in Baku, I give them some preliminary information about Azerbaijan and tell them, "Go and check out <azer.com> on the Internet." Many come back to thank me for directing them to Azerbaijan International's Web site. In return, let me thank you for establishing such a super resource.
In response to your issue about youth (AI 4.4, Winter 1996), I also believe in the prosperity of Azerbaijan. But as a young person, the unpredictability of our situation concerns me very much. It often reminds me of what happened to our super heavyweight boxer, Adaliat Mammadov, at the summer Olympics in Atlanta last year. Everything was going so well-fantastic, in fact. He had won his first two fights, and I was the proudest person at the boxing venue. The third fight was going even better, and then suddenly-"Bang!" The other guy played dirty and hit Adaliat below the belt. The referee didn't catch it, though many of us saw it and even captured it on film. No man is able to fight well after such a punch. Consequently, Adaliat lost his chance for the Gold. Thinking about Adaliat's loss reminds me that something similarly unpredictable could happen to our country. I just want to say that we still have a lot of work to do before we can feel secure about the future of our nation.
In the meantime, I'm trying to finish up my graduate program here quickly, so I can get back to Azerbaijan. So much is going on there now-I don't want to "miss the boat!" I felt this keenly on my last visit to Baku in the fall of 1996. Somehow, being involved there, you feel that you're a part of history in the making, contributing to the common success of all. It makes me want to return home as soon as I can.
Zaur Nazaly
Georgia State University
Atlanta, Georgia
Editor: Azerbaijan International's Web site includes the accumulation of five years of our publication. It is the largest site in the world related to Azerbaijan, with more than 300 articles, 1,000 photos and 15 sound samples. Check out <http://azer.com>.
Reinvigorated
I am an Azerbaijani temporarily working at a Turkish university as a visiting instructor.
No journal has ever thrilled me as much as Azerbaijan International. It's no exaggeration that after having read it, my dreams and aspirations which were sapped by the Karabakh crisis are coming back to me. I'm beginning to feel the joy, again, that I have been missing for ages. Your journal (or rather, "our" journal) is realizing what I have been dreaming of all my life: to promote my republic to the world, to make the dear names of composers such as Fikrat Amirov and Uzeyir Hajibeyov, along with their music, known to everyone.
Your journal reminded me of the fascinating world that once existed-where nationalities and religions coexisted peacefully. It was a small Azerbaijani world with warmth and colors, where patience and tolerance formed the basis for every thought and action.
Things have changed dramatically since those "good old days." The Karabakh conflict, which is always on my mind, does not let me enjoy my life. I feel very guilty being away from Baku in these difficult times. I do wish I were teaching at my native Institute of Foreign Languages where I had been working since my graduation, but the force of circumstances is something beyond my power.
Here in Turkey, far from Azerbaijan, I love and appreciate my homeland more than ever. I'm delighted to hear foreigners call us "the most highly educated and most culturally rich population" and "caring and sharing" people (AI 4.4, Winter 1996, pages 25 and 87).
But I would also like to hear about our faults and drawbacks, not only about our merits. And I'd like to get to know friends of Azerbaijan, no matter what their nationality. That's what we desperately need today-real friends-people, who by their actions and words, are managing to change the attitudes of people towards my republic.
There is really nothing like spreading the word, spreading it lovingly and intelligently. Thank you very much for this unusual journal. Thank you for lifting our hearts. I do not know whose brainchild this journal is, but God bless everyone who has contributed to its birth and growth, its charm and greatness.
P. S. I would also like to thank Lori Nichol, the choreographer for the 1996 world champion ice skater Michelle Kwan, who skated this season to music by Fikrat Amirov (AI 4.4, Winter 1996). Ms. Nichol was concerned that she might have offended some Azerbaijanis because she developed the choreography for Kwan's routine based on a story line about the Indian architectural monument, Taj Mahal.
Quite the contrary, no Azerbaijani can be offended. We are grateful to her for having discovered our music. Who knows? Maybe one of the architects or craftsmen who participated in the construction of the Taj Mahal was, indeed, Amirov's forefather. After all, we Azerbaijanis came to the Caucasus from Central Asia. No doubt, it was the spirit of Amirov's ancestors that enabled him to create music as exotic and arresting as the Taj Mahal itself. Thanks to Ms. Nichol for having such a sensitive ear to have imagined such a correlation between the architecture and the music. We applaud her.
Beture Mahmadova
19 May University
Samsun, Turkey
From Azerbaijan International (5.2) Summer 1997.
© Azerbaijan International 1997. All rights reserved.
Back to Index AI 5.2 (Summer 1997)
AI Home | Magazine Choice | Topics | Store | Contact us