Spring 1997 (5.1)
Page 11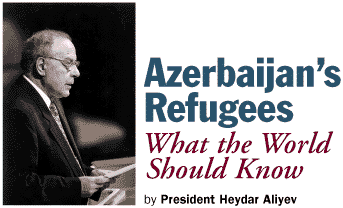 The world should know that of all the countries on earth, Azerbaijan has the highest ratio of refugees per capita. No other country in the world has such a great proportion of refugees. Out of Azerbaijan's total population of 7.5 million people, 1 million are refugees. Nearly one out of every seven people living in Azerbaijan is a refugee.

They've been living like this for the past four to five years. It's a great tragedy for us. Therefore, the world community should understand our plight and act on this knowledge to help us put an end to it. Refugees cannot continue to live as refugees forever. They ought to be allowed to return to their homeland - especially since it is within the boundaries of Azerbaijan, itself.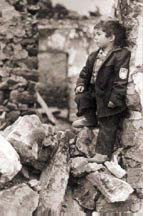 Right: Before the age of six, this young boy had lost his home twice due to the Karabakh conflict. On the road between Lachin and Shusha (1991). Photo. Litvin.

Armenians currently occupy nearly 20 percent of Azerbaijan's territory.

These occupied territories ought to be liberated. Of course, the majority of the refugees' homes and villages, schools and hospitals, towns and cities in this region have been entirely destroyed - burned, bombed, ransacked and stripped of their belongings. What awaits these people when they are able to return to their native land will not be the most joyous life. Many will have to start over withnothing in their hands.
Nevertheless, they need to begin. They need to start this new life in their motherland - in the lands that they grew up on, as did their parents and grandparents. We challenge the world community to join us in putting an end to this disruptive displacement.

Azerbaijanis live with this great hope of returning to their own lands. It is this consuming hope that enables them to tolerate the terrible conditions in which they live. They could hardly endure such strenuous and inhumane conditions without this dream.

Statement by President Aliyev to Azerbaijan International's Editor, Betty Blair, in the President's office in Baku on February 9, 1997.

Photo Essays
Fleeing
Settling In
Everyday Life
Self Portraits - Refugees Take Their Own Photos of their Lives (1994) and (1997)
Entire issues related to refugees (Spring 94) and (Spring 97)

From Azerbaijan International (5.1) Spring 1997.
© Azerbaijan International 1997. All rights reserved.
Back to Index AI 5.1 (Spring 1997)
AI Home | Magazine Choice | Topics | Store | Contact us