Winter 1996 (4.4)
Pages 60-61, 91

SOCAR Miscellaneous
Chamber Sponsors
Major Trade Conference

Washington, D.C.
On February 18, 1997, the U.S. Azerbaijan Chamber of Commerce (USACC) is sponsoring an Azerbaijani trade conference to attract U.S. investment in Azerbaijan, especially in service infrastructure. The conference, entitled "Azerbaijan from Communism to Democracy-Growth with Oil," is being led by Galib Mammad, Director of the USACC, and will take place at the Omni Shoreham Hotel in Washington, D.C. This is the first such trade conference ever to be held in the U.S.
Since gaining independence in 1991, Azerbaijan has signed more than $12 billion worth of oil and gas agreements with major international oil companies. Financial experts anticipate that for each dollar invested in petroleum, an additional $3 will be generated for the development of related infrastructure in Azerbaijan.
Azerbaijan is open to foreign investment and desires to build its economy with revenues earned from oil exports. The government is liberalizing economic policies to encourage foreign investment and to meet the World Bank and International Monetary Fund (IMF) requirements.
Some of the most knowledgeable and experienced business leaders working in Azerbaijan will be participants at the conference. T. Don Stacy, Chairman and President of Amoco Eurasia Petroleum Company and Co-Chair of USACC, will open the conference. The keynote address, entitled "U.S. Strategic Interests in Azerbaijan and the Caucasus," will be given by U.S. Senator Robert Byrd. The luncheon keynote speaker will be Dick Cheney, former Secretary of Defense under President Bush.
Other speakers and panel contributors include: John Maresca, former U.S. Moderator on the Armenia-Azerbaijan conflict; Richard Armitage, President of Armitage Associates; Hafiz Pashayev, Azerbaijan's Ambassador to the U.S.; and Richard Perle of AEI (American Enterprise Institute) and former Assistant Secretary of Defense.
Oil management experts scheduled to speak include: Ilham Aliyev, VP of Foreign Economic Relations of SOCAR (State Oil Company of Azerbaijan Republic); Terry Adams, President of AIOC (Azerbaijan International Operating Company); James Tilley, President of CIPCO (Caspian International Petroleum Company); K. Terry Koonce, President of Exxon Ventures (CIS); John Gore, External Affairs, British Petroleum Group; Gregory Rich, VP of AIOC; and William White, former U.S. Deputy Secretary of Energy.
Financial experts include Nancy Tuomey, VP of Riggs Bank; Kadir Yurukoglu of World Bank; Tom Butler, VP of Chase Manhattan; and Nader Alizadeh of Ernst & Young.
Conference registration is $250 for non-members and $225 for members. Special room rates of $140 (single or double) are available at Omni Shoreham Hotel, 2500 Calvert Street NW, Washington, D.C. 20008, Tel: (202) 234-0700.
Contact: Galib Mammad, Director USACC, 1825 Eye Street NW, Suite 400, Washington, D.C. 20006, Tel: (202) 857-8069; Fax: (202) 775-4188.
Total Opens Office
The French oil company, Total, is opening its Baku office in early 1997. They will be located at 97 Neftchilar Prospect.
In 1996, Total entered into an alliance with Mobil and Ramco called MRT Energy for the nearshore areas of Azerbaijan's sector of the Caspian.
Total's General Manager in Baku is Michael Lebedeff. Tel: (99 412) 90-44-56 (mobile) or 93-81-82 (home).
New Manager at Baroid
Since September 1996, David MacGinnis has directed the office of Baroid Drilling Fluids (a Dresser Industries company) replacing Jonathan White, who has been re-assigned to Nigeria. A native of Canada, MacGinnis received his B.A. from St. Francis Xavier University in 1977 and was first employed by Baroid of Canada in 1979 as a Drilling Fluids Engineer.
Contact: Baroid Drilling Fluids / Dresser Industries, 86 Chingiz Mustafayev, Baku, Tel: (99 412) 94-90-16, Fax: 98-12-44.
Daganaud at Elf

Jean François Daganaud has recently been appointed Elf's new Baku Manager, replacing Xavier Crespin, who is now working in Trinidad. Daganaud began his tenure with Elf in 1974 and has worked in many countries including Iraq, Gabon, Congo, Yemen and France.
Elf recently joined the BP-led Shah Deniz project with a 10% share. They are also in the process of negotiating with SOCAR for the Lankaran Deniz offshore field.
Contact: Elf Petroleum Azerbaijan, 42 Boyuk Qala, Baku, Tel: (99 412) 92-72-86; Fax: 98-08-71.
Caspian Geophysical Wins CIPCO Tender
In August 1996, Caspian Geophysical (CG) was awarded the tender organized by Caspian International Petroleum Company (CIPCO) to conduct 3-D seismic surveys in the Karabakh contract area. CG will use triple-streamer configuration-the first ever to be carried out in the Caspian Sea.
Caspian Geophysical was established as an Azerbaijani-American joint venture in December 1993 to provide modern geophysical services to western oil companies. The partners of this joint venture are SOCAR and Petro Alliance Services Company (PAS). CG owns specialized vessels including "M/V Baki," the flagship of the entire geophysical fleet not only in Azerbaijan, but in all of the former Soviet Union. In 1995, CG's first major contract was with AIOC (Azerbaijan International Operating Company) to carry out their 3-D seismic survey of the Azeri, Chirag and deep-water Gunashli oil fields.
Azerbaijan Oilwomen's Society
Azerbaijan Oilwomen's Society is an organization founded in 1993 to unite Azerbaijani women who work at State Oil Company of Azerbaijan Republic (SOCAR). One-third of SOCAR's employees are women (19,000), working in various positions from production operators to department chiefs. Many of them are highly qualified, with long experience in the oil industry. More than 700 women have 35 years of service with SOCAR, but still continue to work because of the country's current economic hardships. Because of their comparatively high salaries, many women refuse to change jobs and, instead, work side-by-side with men under difficult conditions offshore, away from their families 7-10 days at a stretch. The Society tries to sponsor SOCAR women who are pensioners, women who have many children to support, and women whose sons and husbands have been killed in the Karabakh war.
Oilwomen in Azerbaijan face many problems, including poverty, the polluted environment of oil fields, and the negative impacts on their health caused by working offshore. Yet, despite all of these difficulties, the Society women try to provide assistance to their colleagues who really need support. For example, this past year the Oilwomen sponsored New Year's (January 1) and Noyruz (March 21) parties during which clothes were presented to the 400 children of oilmen killed or injured during the Karabakh war. Also, at the beginning of this school year, the Oilwomen organized an "Off to First Grade" party during which the 100 mothers of first-graders were presented with school bags, supplies, summer and winter clothes, and 50,000 manats each .
The Oilwomen also carry out two major projects each year for refugees living in tent camps. Both in winter and spring, they provide them with foodstuffs, clothes, and medicine.
If you'd like to get involved or learn more about their projects, contact: Solmaz Hajiyeva, Chair of Azerbaijan Oilwomen Society in Baku, Tel: (99 412) 92-06-85; Fax: 93-64-92.
AGIP Sends Young Refugees to Resort
Last summer, eight Azerbaijani refugee children were invited to spend a month at AGIP's private resort in Cesenatico, Italy. The children, ranging in age from 9-13, came from tent camps in the Zangilan, Aghdam, Jabrayil, and Fuzuli regions of Azerbaijan. This was an incredible experience for these children, all of whom are victims of the Karabakh war and have been reduced to living in very primitive conditions in the tent camps, many of them for more than 3.5 years. Some of these young people have horrifying memories of suddenly being forced to flee their homes with nothing more than the clothes on their backs.
Below: Azerbaijani refugees and chaperons visiting AGIP's resort in Cesenatico, Italy.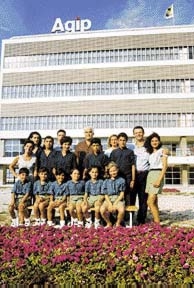 These eight children had been previously selected from 1500 young Azeri artists as winners of a UNICEF art competition entitled "Peace and Tolerance, A Child's Perception," sponsored by AGIP, Brown & Root, Mobil and Teksun.
Over the years, AGIP has arranged for many children to visit this resort, although this was the first time that they had hosted children of war. For this reason, the staff viewed the young refugees as special guests, and were delighted to observe how quickly they adopted to life at the resort and how well the Italian and Azerbaijani children came to understand each other.
The refugee children brought along postcards and videos from home to share with their new Italian playmates, who pored over the materials with great interest and enjoyed getting acquainted with the Azerbaijani children and their country.
The staff of the resort paid close attention to the children, making sure that their days were filled with entertainment, games, competitions, studies, excursions and opportunities to go swimming in the sea. The staff also prepared special meals which catered to the tastes of the Azerbaijanis.
Pietro Concina, AGIP's General Representative in Azerbaijan, expressed that his company has plans to become further involved with humanitarian projects in Azerbaijan.
Caspian Oil & Gas Show 97
The 97 Caspian Oil & Gas Exhibition scheduled to take place at the Sports Arena in Baku on June 3-6 promises to be a bigger event than ever before according to Susan Crouch of Spearhead Exhibitions, which has organized the event in partnership with the Azerbaijan Chamber of Commerce and Industry since its inception four years ago. Reservation space this year has already been extended to the upper level of the Sports Arena.
The Caspian Sea may well contain vast reservoirs of hydrocarbons that could equal, if not surpass, those of the Persian Gulf / Arabian Gulf. Statistics place the Caspian within the top petroleum provinces in the world. Many expect Baku to join Houston and Aberdeen as one of the three leading oil capitals of the world.
In 1996, more than 190 companies representing 20 countries participated in the Exhibition. Heydar Aliyev, President of Azerbaijan, opened the event as he has done every year.
For further details about space availability or conference participation, contact: Spearhead Exhibitions, Ocean House, 50 Kingston Road, New Malden, Surrey, KT3 3LZ, Tel: (44 181) 949-9222: Fax: (44 181) 949-8168; e-mail: <caspian@spearhead.co.uk>; Web site: <http://www.spearhead.co.uk>.
Petroleum Geologists Convene in Baku
The 1996 International Conference of the American Association of Petroleum Geologists (AAPG) and its affiliate, the Azerbaijan Society of Petroleum Geologists (ASPG), convened together this year in Baku on October 6-9. This year's conference focused on "Oil and Gas Petroleum Systems in Rapidly-Subsiding Basins" and attracted 250 participants from Azerbaijani and international research institutes and oil companies. The United States, France, Ukraine, Turkey, United Kingdom, Russia, Japan and Italy were all represented.
SOCAR Chief Geologist Akif Narimanov (ASPG) and Nahum Schneidermann (AAPG) were the Steering Committee Co-Chairs for the event. Narimanov observed that the unprecedented scope of scientific research and the wide range of oil industry representatives, academics and government officials who attended, reflects the growing attention to the Caspian on the part of world geologists.
Narimanov stressed the significance of the conference in resolving the previously debated questions about the age and origin of the Azeri oil and in attracting international petroleum scientists to study the geological issues of the Caspian. Many questions still remain to be answered by petroleum scientists about the composition of the Caspian oil, according to Narimanov, but an agreement was reached to try to exactly determine the age of the oil in the region.
Since Azerbaijan's scientists have a long history of petroleum geology research, they had a chance to learn about new, high-tech data interpretation and analysis methods used by the international scientific community. Participants also visited some of the fascinating geological sights in Azerbaijan, such as ancient hand-dug oil wells around Baku, active mud volcanoes, and oil-bearing source rocks on the Absheron Peninsula where Baku is located.
The Azerbaijan Society of Petroleum Geologists was established in 1993 to promote the exchange of scientific ideas among Azeri and foreign petroleum scientists. The society plans to expand its activities by sending promising young Azerbaijani petroleum scientists abroad to strengthen their education and improve their understanding of different analytical methods of data interpretation.
This international conference was made possible by a genuine cooperative effort between all of the major Western oil companies in Baku including Chevron, Exxon, Arco, Mobil, BP and Statoil Alliance, Elf, Conoco, Pennzoil, Unocal and TPAO (Turkish Petroleum).
TTC Opens Baku Office
Total Transportation Concept (TTC), an international transportation company, has established a new, fully staffed office in Baku.
TTC assists customers with all aspects of shipping, documentation, insurance, and the details of handling and transporting cargo, plus arranging local deliveries to and from Azerbaijan. They also have initiated a new courier service to handle smaller items.
"Even though we're new in Baku, our service is comprehensive, including door-to-door delivery and transportation whether by air, ocean or land," says Al Mahdavi, General Manager. "We expect the need for shipping goods to and from Baku will increase even more as SOCAR (State Oil Company of Azerbaijan Republic) begins moving its products in 1997."
TTC supports offices and shipping networks throughout the U.S., North America, Africa, Australia and the Middle East. TTC was established in 1987 and is based in Inglewood, California.
Contact: In Baku, Tel and Fax: (99 412) 92-13-04; e-mail: <total@ttc.baku.az>. In California, Tel: (310) 337-0515; Fax: (310) 337-7901.
"AmCham" - Welcomes New Members
The American Chamber of Commerce in Azerbaijan, known locally as "AmCham," was officially registered as a non-profit organization by the Azerbaijani government on November 1, 1996.
AmCham works with appropriate government agencies to promote American business interests and to improve business, economic, trade and financial relations between the United States and Azerbaijan. Presently, there are 21 Founding Members representing major U.S. companies already registered and doing business in Azerbaijan.
The Board of Directors consists of eight Founding Members including President Ken Bradley (Unocal), 1st VP John Hoholick (Exxon), 2nd VP Doug Hill (Amoco) and VP of Finance David Sicks (Pennzoil). AmCham welcomes new members: Company ($2,500), Individual ($1,500) and Associate ($1,000).
Contact: Don Stewart, Executive Director. Tel: (99 412) 97-50-22; Fax: 97-50-23.
Chevron Has Moved
Chevron's office is no longer at Hyatt Regency. They have moved to 48 Nizami Street, Apt. 27. Ms. Khaver Kambaizade is Chevron's Baku Representative and can be reached at Tel: (99 412) 98-70-17; Mobile: 90-05-65; Fax: 98-28-75.
Children's Hospital Needs Assistance
This winter, the children at Azerbaijan National Children's Hospital will be warmer, thanks to Chevron Overseas Exploration. For quite some time, the hospital has suffered from a serious lack of heat. Gradually, their water heating system became unusable, and there were no funds for repairs. Also, leaking water pipes destroyed walls, and an obsolete sewer system made some wards absolutely unusable.
Fortunately, Chevron has solved some of these problems by replacing the hospital's heating and plumbing systems in time for the cold winter season. They also plan to continue the refurbishment of the hospital by replacing its electrical system, and plastering and painting walls.
Azerbaijan National Children's Hospital is the country's central clinic for treating children with the most serious illnesses, including cardiac disease, ophthalmologic disease, and chronic blood-related diseases such as thalassemia, leukemia and hemophilia. Children come to the hospital from all parts of Azerbaijan. Many must stay for months because of the severity of their cases.
Yet the hospital is not very crowded these days-and not for a lack of sick children. It's experiencing the same problems as many other state institutions during this transitional period. (See Azerbaijan International's entire issue 3:4, "Health and Medical Care," Winter 1995). Among its most critical needs, now, are modern equipment and medical supplies. Chevron's efforts are only a start. Much more needs to be done in order to improve the quality of medical services for these chronically ill children.
Anyone wishing to contribute medical supplies or equipment or to combine resources with Chevron to continue the refurbishment of the hospital, please contact: Ms. Khaver Kambaizade of Chevron Overseas Exploration, Tel: (99 412) 98-70-17; Cellular: 90-05-65; Fax: 98-28-75; e-mail: <haver@coel.baku.az>. Or Dr. Farhad Mehtiyev of Azerbaijan National Children's Hospital, 79 January 20th Avenue, Baku, Tel: (99 412) 31-21-13.
Amoco Stimulates Economic Education
Sixty Azerbaijani teachers met in November for a six-day economic education training program, which was sponsored by Amoco and administered by the National Council on Economic Education in New York. The goal of the training program was to help Azerbaijani educators teach economics during the country's transition to a market economy. This is the third time that Amoco has sponsored this program, with the cooperation of Azerbaijan's Ministry of Education.
In addition to educational endeavors, Amoco has been very active in Azerbaijan these past four years in supporting various medical and health needs, including the sponsorship of a major campaign to vaccinate children against childhood diseases. This September they arranged, through AmeriCares, for the Oilmen's Hospital in Baku to receive supplies for kidney patients, including blood line tubing, dialyzers and needles.
German Experts Discuss Electricity
Azerbaijani and German experts of the electricity sector held a comprehensive meeting in Baku on October 25-28, 1996. The program was sponsored by the German Ministry of Economical Co-operation (BMZ) and organized by the Forum for Rationalism of the German Industry (RKW) with the support of AzerEnerji. In his opening speech, German Ambassador Michael Schmunk underlined the significance of a reliable, economical and environmentally acceptable electricity sector as well as a sensible usage of energy for the development of the Republic of Azerbaijan.
During the four days of presentations and discussions, both sides exchanged extensive information concerning organizational structure, legislative basis, operational and maintenance experience, modern generation and transmission and distribution equipment, modernization and reconstruction references, and financing and pricing issues. From the Azerbaijani side, more than 30 experts from the government, Parliament, AzerEnerji and other energy-related organizations and institutes were invited. Participants on the German side were high-ranking representatives of utilities such as VDEW, VEAG, MEAG, manufacturers of modern energy technology (e.g. SIEMENS and ABB), as well as consultants familiar with related questions (e.g. MVV).
Since this meeting, SIEMENS has installed a distributor supplying Azerbaijan authorities and companies with modern equipment in the fields of telecommunication, electrical and electronics installation equipment, cables and household machinery.
Contact: Nuri Egilmez, SIEMENS Baku Representative, 28 Prospect Bul Bul, Telephone and Fax: (99 412) 93-55-08.
From Azerbaijan International (4.4) Winter 1996.
© Azerbaijan International 1997. All rights reserved.
AI Home | Magazine Choice | Topics | Store | Contact us