Winter 1996 (4.4)
Pages 68-69

During the Soviet period, numerous youth and children's organizations, including cultural and performing arts groups, were sponsored by the central government. When the Soviet Union collapsed, these groups suddenly found themselves cut off from all financial support.
Above: The Atiqva Choir celebrated its 5th anniversary on October 5, 1996 with a concert which doubled as the 65th Jubilee for its Artistic Director, Mark Shapiro (right). The event was sponsored by AIOC, Azerbaijan International Operating Company.
Approximately at this same time (October 1991), a children's choir was founded in Azerbaijan with one sole objective: to nurture the future careers of musically talented youth. The name of the choir, Atiqva, is a Hebrew word meaning "hope." The International Jewish Agency, Sokhnut, underwrote its sponsorship. Today, Atiqva includes not only Jews but Azerbaijanis, Russians, Hungarians, Lezgians and numerous other ethnicities of youth living in Azerbaijan.
On October 5, 1996, Atiqva celebrated its 5th Anniversary with a concert which doubled as the 65th Jubilee for their musical director, Mark Shapiro. The concert was sponsored by AIOC (Azerbaijan International Operating Company) and took place in the old German church, known as the "kirche," which serves as the Chamber Music Hall in Baku.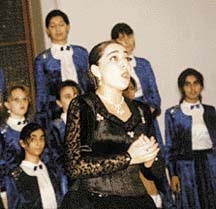 Shapiro remarked that Atiqva is no longer a children's choir despite the fact that it started as such. As the children grew, the choir matured and now has turned into a serious professional group. The members are no longer treated as amateurs but receive a small salary. Such well-known performers as the Music Academy's Rector and talented pianist Farhad Badalbayly, as well as Khuraman and Fidan Gasimova, sisters who are both opera singers, gladly accept requests to perform with the choir.
During the first few years, Azerbaijani composer Leonid Veinstein (who is also the uncle of World Chess Champion Garry Kasparov) wrote and arranged special songs for the group. Now songs and arrangements come from Tofig Guliyev, Tofig Babayev, Ogtay Rajabov and Elnara Dadashova, all beloved composers in Azerbaijan. Atiqva has an exceptionally broad repertoire now of more than 150 pieces, including 30 Jewish and 25 Azerbaijani songs. The remaining are classical or popular pieces from world music. "Irrespective of genre, our performance always has a classical basis. We prefer to present even popular folk songs in a classical style," says Rena Mustafayeva, a soloist of the choir who currently studies at the Academy of Opera Music in Ozimo, Italy.
Photo: Rena Mustafayeva, Azerbaijani soprano, who is now studying at the Academy of Opera in Ozimo, Italy.
The group strives to perform music in its original language, so their repertoire has grown beyond Azerbaijani to include Russian, English, Hebrew, Latin, and French.
Atiqva has performed in Israel and Georgia and is hoping to someday perform in Europe and the United States.
Mati Osmanoglu also contributed to this article.


From Azerbaijan International (4.4) Winter 1996.
© Azerbaijan International 1997. All rights reserved.
AI Home | Magazine Choice | Topics | Store | Contact us