Spring 1996 (4.1)
Pages 32, 34
Legacy of the Oil Barons - Part V
The Ironic Fate of the Ashurbeyli Family
by Fuad Akhundov
Sara Ashurbeyli, 90, in center, surrounded by her sisters Maryam, Adelya and Nazima. Author historian, Fuad Akhundov, is on far right. Photo: Betty Blair, 1995.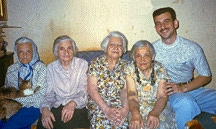 On January 27, 1996, the 90th Jubilee of Sara Ashurbekov (now Ashurbeyli) was celebrated in the Republic of Azerbaijan. It was an immensely festive occasion with music and accolades; even President Heydar Aliyev himself attended and presented her with the Republic's highest medal of honor for the contribution she had made to historical research in Azerbaijan. But Sara's background itself is a fascinating and significant page of the irony of history being played out in Azerbaijan these days now with independence. Sara was the eldest daughter of Bala-Bey and Ismet-Khanim.
She was born in a magnificent palace built by her grandfather as a marriage gift to her parents. The residence still stands today in the center of Baku and takes up an entire block. Needless to say, it's quite rundown and neglected and has been split into numerous apartments. In the past, her father had offices on the entire first floor. Her family with its six children (five daughters and one son) lived on the second. And her grandmother and an uncle occupied the third.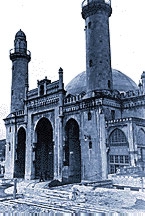 Left: Taza-Pir Mosque built in 1905-1914 by Nabat-Khanim Ashurbeyova.
For 60 years, Sara and her three sisters have lived in small two-room apartments in drab, Soviet block apartments. They have but few momentos of those glorious years-a few choice photos, and a few pieces of their mother's hand embroidery.

At the turn of last century, Sara's family was greatly respected as one of the most well-to-do families of inherited nobility, and was considered among the most distinguished among the oil barons. But the basic feature that endeared them to the people of Baku was the family's tradition of philanthropy. Two of Baku's four largest mosques were built by representatives of her family, Nabat Khanim Ashurbeyova and Haji Ajdar-Bey Ashurbeyov.

Sara still has wonderful memories of her early childhood, her parents and grandparents, French teachers and German nursery governess. "We were the children born in love and brought up in a very supportive environment," she recalls. There are even photographs today of her 8th birthday (January 14, 1914) of party guests gathered around a trimmed Christmas tree. The 50 children represented five different nationalities: Azeris, Jews, Russians, Germans and Estonians.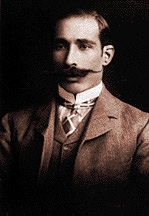 Left: Haji Ajdar-bey Ashurbeyov (1855-1921) the famous oil-industrialist and philanthropist, the builder of the Blue Mosque in Baku.
When the Bolsheviks (Communists) came in 1920, the family lost everything and, like many others, had to flee for their lives via Georgia and the Black Sea to Turkey. They remained there six years, living off the sale of diamonds that her mother managed to smuggle out when they escaped.

Her parents sacrificed everything to provide an education for the six children. In Istanbul, the four sisters studied at the French school and Sara graduated from college. Such wisdom and foresight turned out to be the only salvation for Sarah, Sitara, Maryam, Adelya, Mazima and Rishad Ashurbeyovs during the Soviet period after they returned to Azerbaijan.

In 1926, Sara's father, nostalgic for Baku, decided it was safe to return to Baku with his family. It was a tragic decision that resulted in his death. Under the New Economic Policy (NEP), there were massive arrests by Stalin's regimes and in the 1930s, millions of innocent people were annihilated simply because of their origin, previous affiliations or occupations.

Sara's father, Bala-Bey, was arrested in 1935. The indictment brought against him was typically brief and categorical: "a nobleman, landowner and oil-industrialist." According to a story later told by the prison doctor, an instigator in the prison set about to provoke him by ranting on and on against Stalin. Tired of the harangue, Bala-Bey finally interrupted and remarked that Stalin was nothing but a dictator. Those words brought on his sentence and subsequent execution in December 1937.

In Baku, with no resources to fall back upon, Sara started teaching French, English and German though she was paid only half a salary because of her disgraced family. Eventually, she was fired. It was a story that would be repeated over and over again throughout her life. The reason for each one of her frequent dismissals was simply her distinguished ancestry. However, unlike many other people with similar "bourgeoisie" backgrounds, Sara refused to conceal her true origin in job applications. It would have been useless anyway because her family was so well known. Moreover, she never considered her ancestry anything to be ashamed of. She gradually got used to being discharged from her jobs and humiliated by authorities.

Eventually, she succeeded in becoming immensely popular and widely recognized as an historian. Her contributions to historical research of Azerbaijan include three major books, "The Shirvan Shahs' State" (1983), (which, of course, was known for its wealth and power). "The Economic & Cultural Links Between Azerbaijan & India during the Middle Ages" (1990), and "The History of Baku" (1992). Today Sarah Ashurbeyli as Professor and Doctor of History is considered one of the best experts of the medieval period of the Caucasian history.

"The only thing I never lost through all those years was my optimism," she says smiling. "When I was prohibited from working in a specific field, then I turned to a new specialty." That's how she became historian, teacher and even an artist.

Sara still considers her family's return to Azerbaijan during the Soviet period a drastic mistake. "We would never have lost our father and brother or have been subjected to so much torture and humiliation had we stayed in Istanbul or Europe," she says. It is difficult to argue her point. On the other hand, Azerbaijan benefited from her talent as scientist and brilliant personality because she made something out of life despite the incredible obstacles.

All of Sara's sisters also managed to become specialists despite these pressures. Late Sitara-Khanim taught French; Maryam became a geologist; Adelya, a physician and Nazima, an architect. None of them ever married. Rishad-Bey, their only brother, suffered greatly, particularly after his father's arrest and exile. Nevertheless, he became a doctor and volunteered to go to the front as a medical officer in WW II.
He was one of more the 400,000 Azeris who never returned home from the war. His last letter came from Hungary in 1944. However, the sisters managed to conceal the notice of his death from their mother Ismet-Khanum. Until the day she died, in March 1954, on the day of the 50th anniversary of her wedding, she still eagerly waited the return of her son.

Like many houses of Old Baku, the Ashurbeyov's Palace still stands as witness to a glorious period. Though neglected, it hasn't lost its magnificence and splendor. Now with Azerbaijan's independence, who knows what the pages of history will record.

Fuad Akhundov is an architectural history enthusiast and a regular contributor to our magazine.


From Azerbaijan International (4.1) Spring 1996.
© Azerbaijan International 1996. All rights reserved.
Back to Index AI 4.1 (Spring 1996)
AI Home | Magazine Choice | Topics | Store | Contact us