Autumn 1995 (3.3)
Pages 12-15, 72
The Era of Van Cliburn
Musical Phenomenon in the Midst of Cold War
by Betty Blair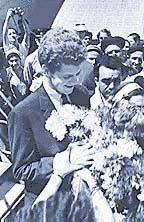 Left: Van Cliburn, 25, arrives in Baku for Concert. June 1960. Courtesy: Azerbaijan National Archives.
It was 35 years ago, on June 28, 1960, that a tall, lanky, youthful Texan gave a singular piano performance in Baku's Philharmonia. Two years earlier, he had caused a sensation both in the USSR and the U.S. by winning the coveted First Tchaikovsky International Piano Competition in Moscow.

To this day, Van Cliburn's concert in Baku is remembered as one of the most extraordinary foreign performances ever given in Azerbaijan. Those who were fortunate enough to gain admittance (approximately 1,500 people) still remember it vividly.

This past June, Nina Fischeva, Director of the Photo and Cinema Materials at Azerbaijan's National State Archives, along with Fuad Akhundov, author of our series, "Legacy of the Oil Barons", prepared an album of Van Cliburn's visit to Baku from photos they found buried in the archive's files. Cliburn's birthday was coming up on July 12th; he would be 61. Would it be possible to find him and pass on a little album as a gesture of the admiration that Azerbaijanis still hold for him? Nina had attended Van Cliburn's concert; Fuad had not yet been born although his mother had been one of the lucky few who managed to find a ticket.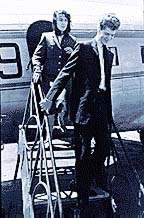 Left: Cliburn arrives in Baku. June 1960. Courtesy: Azerbaijan National Archives.

We found Mr. Cliburn in Ft. Worth, Texas. Extremely busy with concert tours and plans for the Tenth Van Cliburn International Piano Competition in 1997, he found time to reminisce about those concerts of his early youth in the Soviet Union. He had never seen photos of his concert in Baku and was deeply heartened that Azerbaijanis still held such deep affection for him. The photos of his visit to Baku are published here for the first time, courtesy of Azerbaijan's National Archives.

With the independence of the Soviet Republics in 1991 and the strengthening of East-West relations, our memories fade as to the circumstances that existed a mere 37 years ago in 1958 on the eve of the First Tchaikovsky International Piano and Violin Competition. At that time, an incredible icy-ness and animosity had built up between the United States and the USSR. The engines of the Cold War had starting revving.

Krushchev had just come into power on the heels of one of the most repressive regimes the world had ever known (Stalin). This was the same Krushchev who would be remembered by most Americans as the roly-poly Soviet leader who would bang his shoe on the UN table and threaten, "We will bury you (the West)!"

In the United States, this period followed the McCarthy Senate Hearings where anybody with the slightest, or even imagined, affiliation with communism was branded as subversive. To complicate matters, a few months prior to the Competition, on October 10, 1957, the Soviets had shocked the world by launching Sputnik, the first man-made satellite ever to orbit the earth. Americans had been beaten in the race to space. It was a devastating psychological blow. Sputnik symbolized the technological superiority of a totalitarian government. Even more frightening was the possibility that such rockets could carry atomic bombs. Americans feared communism would soon take over the world.

Enter 23-year-old Van Cliburn, child prodigy pianist from Kilgore, Texas. Cliburn was quite oblivious to the intrigues and posturings of international and military politics. Looking back, he'll admit to the fact that it "wasn't the friendliest of times between our nations."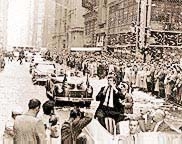 Left: Van Cliburn receives a hero's welcome back in the US after winning the Tchaikovsky Piano Competition. Ticker tape parade in New York City. 1958. Courtesy: Van Cliburn Foundation.

The Moscow of a Different Era
But since it was the first international piano competition ever to be held in the Soviet Union, and so rare for Americans to get the chance to travel there, Cliburn wanted to go. "I didn't see life in the present," Cliburn admits. "I was remembering the wonderful stories of the grandeur of the Russian musical life from the past that my mother had told me." Cliburn's mother, Rildia Bee O'Bryan, had been her son's only piano teacher and mentor from the time he was three until he entered Juilliard School at 17. An extraordinary pianist with unimpeachable musical credentials, she had grown up in a period of time when it was "not proper for a young lady from a good family to concertize." Fortunately, for many young people, she channeled her energies into teaching. She had studied in New York with the famous Arthur Freidheim, who had been born in St. Petersburg, and who, in turn, had studied with great pianists like Anton Rubinstein and later Franz Liszt.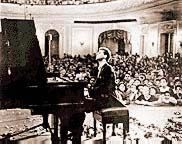 Left: Final round of the First International Tchaikovsky's Piano Competition where he won first place. Van Cliburn plays to a packed hall. Age 23. 1958. Courtesy of Van Cliburn Foundation.

Perhaps, it was Van's naiveté that served him so well. The Soviets detected his openness, spontaneity, and genuineness. They responded to his musical interpretations, many pieces of which had been composed by their own masters.

For the celebrated "masses" who chanced to hear Cliburn play one of the first live concerts ever televised nationwide throughout the USSR, he somehow didn't fit the stereotype of an "evil capitalist". For many, it was the first time they had ever seen an American, and they embraced him wholeheartedly.

Late March 1958, upon arrival in Moscow for the Competition before going anywhere else, Van wanted to see Red Square with the picturesque domes of St. Basil's Cathedral. A light snow was drifting down over the scene, making it even more striking than his childhood picturebook. "For me," Cliburn admitted, "it became one of the most memorable scenes in my life." It would be the beginning of many unforgettable experiences.

Tchaikovsky Competition
Fifty contestants from more than 19 countries took part in the competition which demanded three performances in front of a jury that was composed of some of the finest musicians ever gathered, including pianists Sviatoslav Richter and Emil Gilels (Jury Chair and first Soviet musician to perform in the U.S.); Lev Oborin; Dmitry Kabalevsky (Composer); Sir Arthur Bliss (Master of the Queen's Music from England); and others. The General Chairman for the entire competition (piano and violin) was the renowned symphonic composer and conductor, Dmitry Shostakovich.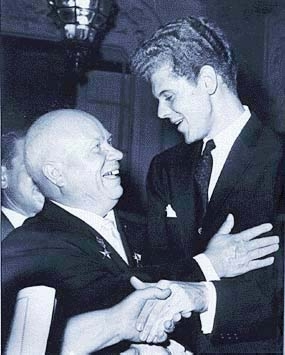 Left: Khruschev admires Van Cliburn who had just won the First International Tchaikovsky Piano Competition in Moscow. 1958. Photo: Sov Foto.

Actually, Van Cliburn's virtuosity turned out to be rather embarrassing for the Soviet jurists. Some had already selected Lev Vlasenko, a Russian pianist, as the winner. Cliburn presented a dilemma. No one was quite sure how Khruschev would respond to a foreigner, especially an American, winning the Grand Prize of the very first Tchaikovsky Competition.

It has since been discovered that some of the jurists, fearing Khruschev's indignation, were boycotting Cliburn despite his brilliant performances. On a scale of 0-25, some gave him scores of 15s, 16s and 19s and added one or two points more for other participants-just a slight enough difference to make no one suspicious that anything illegal was taking place.

Richter and a few others sensed what was happening and they set out to distort the scheme by giving Van the highest scores possible, perfect 25s. In the meantime, Richter gave twelve of the contestants zeros, even though some of them were quite good. When confronted by the head of the jury for his idiosyncratic voting patterns, Richter replied, "People either make music, or they don't."

By the time Cliburn was scheduled to play his third and final round in the competition, all tickets were sold out. There wasn't even standing room. Like all participants, he had to perform concertos by both Tchaikovsky and Rachmaninoff. He chose Tchaikovsky's No. 1 in B-flat Minor, and Rachmaninoff's No. 3 in D-Minor. The orchestra was conducted by Kiril Kondrashin of whom Cliburn sings only the highest praises: "He was one of the most fabulous conductors that Russia ever produced.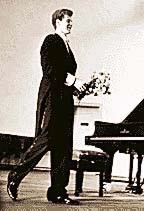 Left: Van Cliburn, 25, giving his only performance at Baku's Philharmonia in June, 1960. The performance was sold out. Courtesy: Azerbaijan National Archives.
(Cliburn would later bring Kondrashin to tour in the States, the first Soviet conductor to do so).

After Van finished playing, the Hall burst into applause! Everything backstage was in absolute confusion. "There was a rule that after you had taken your bow and left the stage, you could never return again." But the ovation continued for eight and a half minutes. "Suddenly, I saw Gilels coming towards me," Van recalls.

"He took me by the hand and led me back on stage where he embraced me publicly. The year before, I had heard this brilliant pianist play at Carnegie Hall and had admired him immensely, so his extraordinary public gesture overwhelmed me. He saw the jurists giving him a standing ovation and also was able to distinguish Khruschev's daughter and Queen Elisabeth of Belgium up in the Officials' Boxes. "It was such a thrilling moment." But the competition wasn't over. Several finalists had still not performed.

Getting Khruschev's Approval
It became clear to Gilels that the only thing he could do about this Cliburn phenomenon was to approach Khruschev directly about the Prize and let him make the decision. So together with the Minister of Culture, Ekaterina Furtsava, they sought Khruschev's opinion. "Well, what are the professionals saying?" Khruschev wanted to know. "Is Cliburn the best?" They avowed that he was. "Then, in that case," concluded the Communist Party Chief, "give him the Prize!"
Hero's Welcome Back Home
Winning the competition catapulted Van into stardom. He made the cover of "Time Magazine" as "The Texan Who Conquered Russia" (May 19, 1958). A caption showing him receiving the Tchaikovsky gold from Shostakovitch read, "He may be Horowitz, Liberace and Presley all rolled into one."

When he returned to the United States, he was greeted like no classical pianist had ever been before. For the first time in history, New York City commemorated the achievement of a classical pianist with a ticker tape parade-a distinction usually reserved for celebrating the conclusion of wars, or for admiring national figures such as presidents, astronauts, or sports heroes, but not a 23-year-old classical pianist. A trip to Washington to meet President Eisenhower followed. Then there were sold-out performances at Carnegie Hall, and a string of concerts in New York, Boston, Philadelphia, London, and Paris. Cliburn recorded Tchaikovsky's Piano Concerto No. 1 with Kondrashin for RCA. It sold a million copies very quickly and was the first classical recording to do so. It now has exceeded three million.

Time Out for Sabbatical
After that, Cliburn began a whirlwind of tours that didn't end until 1978 at which time he created a "sabbatical" for himself. Opera is really Van's favorite musical form and the voice, his favorite instrument. And so, Cliburn retreated to Opera Houses to watch many of his friends perform favorite operas. It also enabled him to return to a normal home life. It was a period of rejuvenation, a "golden period" especially since in the realm of classical music, a performer is constantly giving and serving as a intermediary between the composer's text and the audience's realization of the music.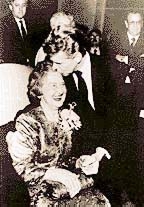 Left: Van Cliburn with his mother, Rildia Bee, at her 92nd birthday in Ft Worth, Texas in1989. A concert pianist herself, she taught Van piano daily from the age of 3 until he entered Juillard at 17. Photo: Courtesy of Van Cliburn Foundation.
New Schedule
But nowadays, Cliburn is back on the road again. Nearly every month, he's performing some place. This past July, he played in San Francisco; in August, he headed for Hawaii.

He's in the midst of plans for the Tenth Van Cliburn International Piano Competition which will take place 1997. The Competition, begun in 1962 (only four years after the Tchaikovsky), takes place every four years and offers a top prize of $25,000, along with added benefits of $300-400 thousand dollars in engagements. The first three prize winners get concerts. But even the fourth, fifth and sixth winners have been making careers out of music.

The Foundation organizes concerts for their winners free of charge until they can find managers. "We want to help these young musicians make careers. We want to cultivate them. There are more than 5 billion people on the planet. There aren't enough artists for all the potential audiences for classical music."

Musical Education for Youth
Cliburn is very concerned about the trends that he sees affecting musical education, especially in the United States. He's disturbed that classical music doesn't have the high profile it once enjoyed.
"Every time the budget gets slashed in school districts, they eliminate music and art. We need educators and politicians to realize that our young people need the mental development that comes from musical stimulation. Within the study of music, there are so many dimensions embedded-mathematics, architecture, philosophy, drama, and literature. In 385 BC, Plato observed that 'the highest form of mathematics is music. But while mathematical, music is also spiritual, and thus it ennobles the soul.'"

Cliburn thinks it's tragic when children play video games to the exclusion of learning to play an instrument. "Music has the capability of helping develop the synapses of the brain-both left and right sides, hence balancing both logic and aesthetics. It's crucial that such growth takes place between infancy and age seven. Age eight and nine is getting rather late. For music, it should be as early as possible. I always get a little distraught when parents approach me and say, 'My child is four and I wonder when I should start giving him music?' And I reply, 'Now! A child is never too young to be introduced to music.'"

The great pianist who benefited so much from music early in his own childhood, insists that children need to learn music as a language. "Music is readable, write-able, and recite-able, just like any other language. For a young child to be thoroughly educated, he needs to know the grand staff and how to read music. He should be able to sight-sing. He needs to know the three component parts of music-melody, harmony, and rhythm."

Early musical education
Van's own education started from infancy. He was surrounded by music, especially since his mother was a concert pianist. Music was as natural to him as the air he breathed. Radio became a critical part of his education with broadcasts of the Metropolitan Opera on Saturday afternoons and the New York Philharmonic on Sundays.

Formal lessons began at three and continued on a daily basis until he left home for Juilliard at 17. "Mother supervised my practice time, too. She was a great disciplinarian. She always tried to differentiate her role as mother from that of piano teacher."

"But she was always a great inspiration. She could make you want to climb Mt. Everest," he says of his mother who just passed away in 1994 at the age of 97. "She tried to guard me from bad habits at the keyboard. That was one of my great blessings, she would catch things before they had a chance to develop. I remember many times I would be practicing in the living room and she would yell out from the kitchen, 'No, no! Don't do that!'"

How many hours did he, and does he, practice a day? "Mother always told me that if you knew how long you had practiced, you hadn't done anything. She believed you had to become engrossed, so involved or it just didn't count for anything. Nothing happens if you watch the clock."

At 4, he was reading music and playing by sight. That year, Van made his first public performance at Dodd College in Shrevesport, Louisiana, where he was lifted up to the piano stool to play "Prelude in C Major from Bach's Well-Tempered Clavier, Book 1".

"I have an incredible memory bank and can still remember the occasion as if it were yesterday. I used to get as nervous back then as I do today. People sometimes say, 'Oh, it must have been wonderful when you were little, you didn't have any nerves.' And I say, 'Are you kidding?' I had the same emotions back then. Nothing has changed.'"

At 12, he made his orchestral debut with the Houston Symphony, playing the Tchaikovsky Concerto that would win him the Competition eleven years later. Back at school, it wasn't long until the Junior High principal began approaching Van's father about the possibility of his son playing basketball. Though Van had not reached his full height of 6' 4" back then, he had an enormous hand span-almost the same as today. His hands can play a 12-key spread and "on a good day", he can stretch to 13. Nevertheless, as he was already giving concerts, his parents saw a different future, and basketball was definitely not part of it.

"My father didn't want me to have stunned fingers so he bought me a beautiful Selmer clarinet. I then joined the Kilgore High School Marching Band and watched all the sports I wanted from the safe distance of the sidelines without risking injury to my hands." Van has no regrets and feels no deprivation from his childhood.

Back to the USSR
Cliburn returned to the Soviet Union five times after winning the Tchaikovsky-in '60, '62, '65, '72, and '89. In 1962, he took his mother, who was about 65 at the time. For one of his encores in Moscow, he invited her on stage and amidst the cheering crowd, coaxed her to play Moszkowski and Liszt which met with tumultuous applause. "That was one of the happiest moments in my life," Van says reflecting back on those days. "I adored my mother's playing. She was my first pianistic inspiration."
Cliburn had the chance to perform in Baku only once. It was his first trip back to the Soviet Union after the Competition. Actually, he had expected the entire concert to be canceled because of the U-2 Affair that had occurred in early May when the Soviets shot down the U.S. reconnaissance plane and captured pilot, Gary Powers, whom they imprisoned as a spy.

Relations between the two countries broke off. An Official State Visit by Eisenhower was canceled. Since Van's trip had been organized by the U.S. State Department as part of a cultural exchange, he expected the same until a special directive from Khruschev told him to proceed with the concert tour as originally planned.

Baku
He toured various cities in the Soviet Union on that trip including Moscow, Riga, Minsk, Kiev, Sochi, Leningrad, Yerevan, and Tbilisi. He managed to squeeze in two days in Baku where he gave a single concert-June 28, 1960.

Is there any chance he might stop back through Baku again? "I would certainly hope so. I have such beautiful memories of the fabulous hospitality and great music public."

One of the most vivid memories was the ride into the city from the airport-passing miles and miles of oil derricks. "The Azerbaijanis asked me whether I had ever seen anything like this before? I told them my father was an oil executive with Magnolia Petroleum (which later became known as Mobil Oil Company) and besides, I had grown up in Kilgore in East Texas which, in 1930, had had the largest oil boom up to that time in the history of the U.S. The oil wells in Kilgore are packed together so closely; it's amazing! They found it hard to believe that I was so familiar with similar fields like their own. Small world, isn't it?"

"By the way," Cliburn added at the conclusion of our interview. "Are those wonderful old oil derricks still standing in Baku? And are they still stretching far out into the Caspian Sea?"


For more information about Van Cliburn's concert tours, or the 1997 Tenth Van Cliburn International Piano Competition, contact the Cliburn Foundation, 2525 Ridgemar Ave, Suite 307, Ft Worth, TX 76116. Tel: 817-738-6536 or Fax: 817-738-6534.

From Azerbaijan International (3.3) Autumn 1995.
© Azerbaijan International 1995. All rights reserved.
Back to Index AI 3.3 (Autumn 1995)
AI Home Page | Magazine Choice | Topics | Store | Contact us