Autumn 1995 (3.3)
Page 86
Azerbaijan in Transition
FRIENDS Strengthen Azerbaijan's Arts
by Anne Kauzlarich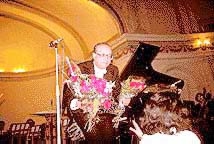 Azerbaijan prides itself for giving birth to one of the earliest ballets in the Caucasus, "Giz Galasi" (Maiden Tower) by Afrasiyab Badalbeyli in 1940. So a few months ago when I learned that the National Ballet didn't even have $5,000 to afford ballet slippers to continue dancing next season, I became so concerned. What could be done for the Arts in Azerbaijan? They had so much talent but so little money to support themselves.

During this transition period when the Republic is moving from centralized financial control to a privatized market economy, all the Arts, not just ballet, need critical economic support.

Last February, I contacted some of Baku's leading figures in the Arts: Akif Malikov (Director, State Opera and Ballet Theater); Rafiq Seyidzade (Director, State Philharmonia); Farhad Badalbeyli (Rector, National Academy of Music), Rafiq Guliyev (President, Composer's Union), Khuraman Gasimova (Opera Singer), Natava Syhova, (Singer); Mehriban Aliyeva (President's daughter-in-law and Patron of the Arts), Rafael Huseinov (Journalist), and Art McHaffie (First VP of AIOC). All agreed to join me in creating a new foundation to assist all forms of culture in Azerbaijan.
FRIENDS Foundation
"Azerbaijan Madeniyetinin Dostlari" (AzMD) or "Azerbaijan FRIENDS of Culture" is now registered in Azerbaijan. Our first concert took place at the Philharmonia on April 29th. Azerbaijan's State Symphony conducted by Yalchin Adigezalov performed pieces by Azerbaijan's distinguished composer, Qara Qarayev, along with well-known pieces by Tschaikovsky, Rimski-Korsakov, and Vivaldi. Concert pianist, Farhad Badalbeyli, performed Gershwin's "Rhapsody in Blue".

Afterwards, FRIENDS hosted a small reception and raised $1,000 cash and pledges of $30,000. But it's just a beginning. We're now in the process of establishing an account in the U.S. as a non-profit organization (501c3) to invest principle so we can use only the interest for projects.
FRIENDS has since sponsored several other projects. On May 24, we brought Hybla Herzmava, a Mezzo Soprano from Moscow to perform at the Philharmonia. Foreign guests attending the '95 International Caspian Oil & Gas Exhibition also attended.

For Azerbaijan's National Independence Day (May 28), we flew Khoraman Gasimova, one of Azerbaijan's dearly loved and superb opera singers, to Washington, D.C., for a concert organized by the Azerbaijani Embassy. She was accompanied by pianist, Chingiz Sadikhov.

Future Projects
FRIENDS has since donated $3,000 for organ restoration and instrument repairs at the Academy of Music. On September 17th, the National Ballet will be presenting "Seven Beauties" at which time we will present the ballet slippers-the initial project that gave birth to the concept of FRIENDS.
Throughout the musical season, FRIENDS plans bring famous opera stars, Teymuraz Gugushvili from the Bolshoi, Svetlana Dobronravova from Vienna, and Gennady Ohchul from the Ukraine Opera Theater for Puccini's "Tosca". Revenue will come from ticket purchases.

We're looking for promising Azerbaijani performers to send to expert classes or special events and envision a competition to select recipients for these scholarships. We have many plans, projects and dreams. Our first successful steps have encouraged us to move ahead with confidence. Requests may always outnumber our abilities to assist, but we hope to make our small contribution to the continuation of this immensely rich culture.

Co-chair, Mehriban Aliyeva, notes that assisting the Arts at this time is so important. "For the past seven years, we've been at war with Armenian forces which has caused so many difficulties. But culture must live on. We must support culture which has endured for centuries and millennia before."

Chance to Take Part and Join Us!
We invite readers of Azerbaijan International all over the world to join us. Donations are always welcomed. Our annual membership is $10 (inactive) or $50 (active); $1,000 or more (business). To date, we have received major commitments from Amoco, Elf, Exxon, Unocal, Lufthansa, Azal Airlines, Azimex, Azerbaijan International, Ahmed Jabarri and Nizami Piriyev.

We have modeled the FRIENDS Foundation on the American democratic system and hold elections once a year. Our Board meets once a week. We keep meticulous records to show how our money is spent. The magazine, Azerbaijan International, will be regularly reporting on our calendar of events.

For more information, contact Anne Kauzlarich at the U.S. Embassy (Fax: 99412-98-37-55 or e-mail: <72103.3340@ compuserve.com> or Farhad Badalbeyli at the Baku Arts Center (Fax: 99412 98-71-89). Make checks payable in U.S. dollars to "Friends of Azerbaijani Culture" and send to Anne Kauzlarich, c/o U.S. Embassy BAKU, Department of State, Washington, D.C. 20521-7050.

Checks may also be given to Art McHaffie, Treasurer, at AIOC in Baku. Direct deposits can be made to Account No. 700625, code 501 004 at the Azerbaijan National Bank, 19 Bulbul Avenue, 370070 Baku, Azerbaijan.

Anne Kauzlarich is the wife of Richard Kauzlarich, U.S. Ambassador to Azerbaijan and has taken a keen interest in Azerbaijan's Arts since she arrived in Baku in April 1994. She's admired throughout the community for her fine ability and fluency in speaking the Azerbaijani language.

From Azerbaijan International (3.3) Autumn 1995.
© Azerbaijan International 1995. All rights reserved.
Back to Index AI 3.3 (Autumn 1995)
AI Home Page | Magazine Choice | Topics | Store | Contact us